Eva Hesse – Exploring the Life and Artworks of the American Sculptor
This post may contain affiliate links. We may earn a small commission from purchases made through them, at no additional cost to you.
Eva Hesse's career spanned only a single decade, but the influence of her art has far surpassed that, as her prolific oeuvre still looms largely over the post-Minimalist art scene. Looming large as a Post-Minimalist sculptor, Hesse innovated a huge amount of materials in her field, with her hard work and success opening up the field to be more inclusive to women. However, her traumas and tragic death have long overshadowed her massive body of work. Below, we will be taking a look at the life and art of Eva Hesse.
Who Was Eva Hesse?
Eva Hesse has become a brand name in the world of post-Minimalism and feminist art circles. Sadly, her early life contained many heart aches and tragedies, which would later be explored and fed into the many themes of her work.
| | |
| --- | --- |
| Date of Birth | January 11 1936 |
| Date of Death | May 29 1970 |
| Place of Birth | Germany |
| Nationality | American |
| Art Movements | post-Minimalism |
| Genre / Style | Sculpture |
| Mediums Used | Latex and found materials |
| Dominant Themes | Feminism, Human Form, Duality, Sexuality |
Eva Hesse Biography: The Birth and Life of This Artist
In 1936, Hesse was born in Nazi Germany to Jewish parents, Wilhelm and Ruth. As an infant, her parents fled with her and her sister, Eva, to Amsterdam and then in 1939, they traveled to the United States to escape persecution. Sadly, most of her extended family died in the concentration camps.
During their escape, the two sisters were separated from their mother and father for a period of six months, as their parents had sent them away to the Netherlands for safety when she was two years old. Once reunited, they lived in Washington Heights in New York City, in a community of other German-Jewish immigrants. Her parents separated in 1944 and in 1945, her father remarried.
In 1946, when Hesse was ten years old, her mother committed suicide, after years of struggling with a suspected diagnosis of bipolar disorder. These traumas would deeply affect her throughout her life.
Hesse attended the high school of Industrial Arts and decided to pursue design at the Pratt Institute of Design, but left after three semesters. She worked at a magazine for a while and eventually enrolled in classes at the Art Students League.
At the Cooper Union School, she graduated with a design certificate. In 1957, she received the Yale-Norfolk Fellowship. Later on, Hesse graduated with a BA of Fine Arts from Yale, studying under the likes of Josef Albers and Bernard Chaet. After this, she continued to pursue art and paint, and supported herself by working various jobs as a textile designer and in a jewellery store.
During this time, Hesse befriended Sol LeWitt, an American Minimalist painter and sculptor, who would go on to greatly influence her work. Her work begins to gain some notoriety as she was involved in several group exhibitions.
In 1962, Hesse met and married Tom Doyle, an American sculptor, but ended up divorcing 4 years later. For a year, they had worked together in an empty factory space in Germany after Hesse's first exhibition by a German collector, who received several of the couples artworks in exchange. In 1965, she had a solo Eva Hesse paintings exhibition in Dusseldorf and after this period, she put down her brushes and focused solely on sculpture, which she would later became known and celebrated for.
Eva Hesse had her first US solo exhibition a year later at the NY Allan Stone Gallery. When Hesse was 33 years old, she received the startling diagnosis for a brain tumor. Sadly, she died from the tumor a year later despite having undergone three operations. This sudden and unexpected illness prematurely ended her decade long career.
Art and Hesse's Influence
Hesse was a post-Minimalist and a Neo-Surrealist. As a teacher at the School of Visual Arts in the 1960s, she was working in the post-Minimalist movement that was sweeping across the United States. Later, this movement would become synonymous with her legacy. This style made her work less constrained, more organic, and more abstract than the Minimalists who had come before her, who emphasized downplaying the influence of the artist.
Hesse believed in leaving her works imperfect and characteristic of her touch.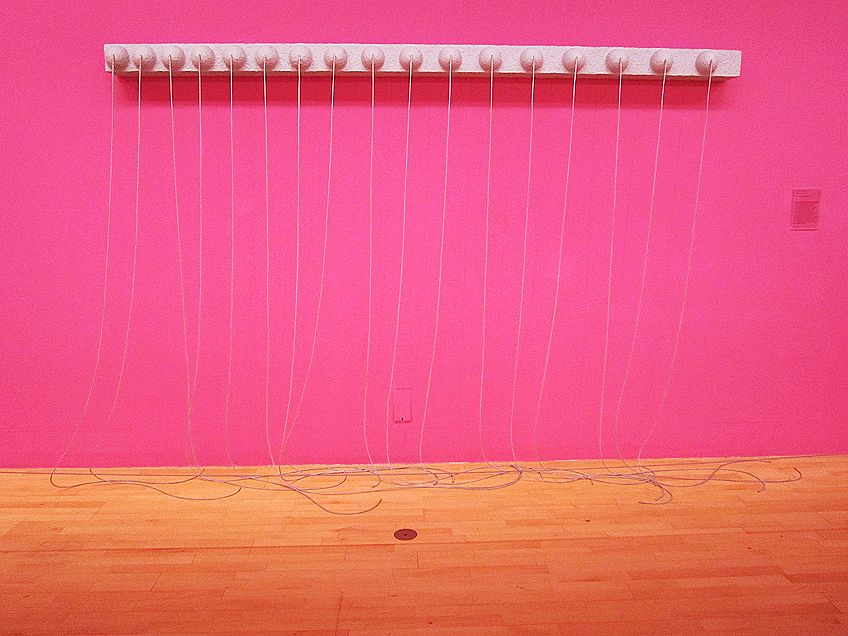 A 2012 picture of Addendum (1967) by Eva Hesse, located in the Tate Liverpool gallery; Rept0n1x, CC BY-SA 3.0, via Wikimedia Commons
Hesse's early works ranged from compositions of figures and photograms, to abstract collages. It was only after her father's death and her own divorce did her post-Minimalist sculptural works take shape.
Despite living in Germany for some time, Hesse did not enjoy her time there. However, it was an influential time that hugely inspired Hesse, as she not only mixed with European artists but explored and drew on the industrial materials in the warehouse which later become staple materials and inspiration in her found objects sculptures.
While in Germany, she completed her first sculpture and her first work with industrial materials, Ring Around A Rosie (1965), which she composed entirely of cloth, electric wires, cord and Masonite.
Thanks to her time at Yale with Josef Albers, Abstract Expressionism had a strong foothold in her work. The New York art scene delivered Hesse into the arms and ideas of other young Minimalists, like Sol LeWitt and Yayoi Kusama, who influenced her artwork. Together with Sol LeWitt, they shaped each other's work and were close friends right up until her death.
Her work as a post-Minimalist instilled nuance and innovated the practice of Minimalism, as she abandoned and kept conventions however she saw fit. It was because of this that Hesse's works demanded time and attention from viewers to truly unlock their nuance.
The 1960s delivered artists like Robert Morris, Robert Smithson and Richard Serra, who were working with flexible and pliable materials. These artists all influenced Hesse's work and choice of her own materials.
At first, from 1965 to 1966, her sculptures denoted the human form and contained many sexual undertones. After this, she created a series of reliefs out of papier-mâché and string. These artworks were colorful, ambiguous, and incredibly mysterious.
From 1967 to 1968, she focused on creating graphical matrices with various motifs. When working with everyday "found" objects and materials, Hesse drew on their nature rather than their composition and purpose, and boiled them down to their essence.
Hesse's Notable Artistic Contribution
Exploring a variety of topics and moods with different, every-day materials, Hesse went on to produce many influential sculptures. Below, we will be taking a look at some of her important artworks, the materials she used within most pieces, themes she touched on, as well as some of her most noteworthy exhibitions.
Important Eva Hesse Sculptures and Artworks
| | | | |
| --- | --- | --- | --- |
| Title | Date | Medium | Exhibited |
| Untitled | 1963–64 | Oil on canvas | The Jewish Museum (Manhattan) |
| Ring around A Rosie | 1965 | Pencil, acetone, varnish, enamel paint, ink, and cloth covered electrical wire on papier-mâché and masonite | Museum of Modern Art, New York |
| Laocoön | 1965-66 | Acrylic, cloth-covered cord, wire, papier-mâché over plastic plumbers' pipe | Allen Memorial Art Museum, Oberlin |
| Untitled or Not Yet | 1966 | Polyethylene, paper, lead weights, and cord | San Francisco Museum of Modern Art, San Francisco |
| Hang Up | 1966 | Acrylic on cloth over wood; acrylic on cord over steel tube | Art Institute of Chicago, Chicago |
| Addendum | 1967 | Painted papier-mâché, wood and cord. Dimensions variable | Tate Collection |
| Repetition Nineteen III | 1968 | Fiberglass and polyester resin | Museum of Modern Art, New York |
| Sans II | 1968 | Fiberglass and polyester resin | San Francisco Museum of Modern Art, San Francisco; Glenstone Museum; Whitney Museum of American Art; Museum Wiesbaden; and Daros Collection, Switzerland |
| Contingent | 1969 | Cheesecloth, latex, fiberglass | National Gallery of Australia, Canberra |
| Accession II | 1969 | Galvanized steel and vinyl | Detroit Institute of Arts, Detroit |
| Right After | 1969 | Fiberglass | Milwaukee Art Museum, Milwaukee |
| Expanded Expansion | 1969 | Fiberglass, polyester resin, latex, and cheesecloth | Guggenheim Museum, New York |
| No Title | 1969–70 | Latex, rope, string, and wire | Whitney Museum of American Art |
Materials Used in Eva Hesse Sculptures and Artworks
Hesse began as an abstract painter and worked as a designer, but after her experimental period in Germany, she devoted the rest of her short career to sculpture. Upon her return to New York, it was the unconventional industrial materials that she had worked with in the warehouse in Germany that continued to be her inspiration, as she used materials from machine parts and tools. Later, she tried her hand at using fiberglass, latex, and also plastic, with these materials becoming staples in Eva Hesse's work.
"Found" materials, utilized by other Minimalists, were also used by Hesse as she transformed everyday ropes and wires into sculptural masterworks.
The discrimination and traumas that Hesse faced have no doubt had an impact on her continued impact on the art scene, but her inventive use of materials and experimentation is what truly set her apart. In the 1960s, she became a trailblazer after experimenting with latex (from 1966) and fibreglass (from 1968).
Many of her materials in the 1960s yielded great flexibility, and suggested a temporal approach. Her use of these materials pushed the boundaries of post-Minimalism. Furthermore, her work included less industrial and non-traditional materials over time, which led to her expansion into papier-mâché, wax, molten lead, felt, and cheesecloth.
Themes Present
The themes in Eva Hesse's work are as diverse as the works themselves. Hesse never identified herself as a feminist, but many have applied feminist theories to her work. Certainly, her experiences as a female artist affected and inspired her work.
Her marriage to Doyle and her struggles to develop as an artist in a male-dominated field, while supporting her fellow artist as a wife, no doubt had an influence.
Her sculptures, which play with the contours found in nature, are often interpreted as referencing the contours of the female body or as sexual innuendos. Thus, bringing sexuality back into the Minimalist conversation was yet another valuable contribution she made.
Duality often plays a big part in her work, in which hard and soft materials, fragile creations on a massive scale, free shapes, geometric elements, as well as masculine and feminine materials converse and oppose one another in her sculptures. While the industrial influences in her work denote masculinity, she often combines this with labour and materials that we consider to be feminine, such as weaving, wrapping, and threading with ropes, cords, and cloths.
These contrasts make her works interesting, appealing, and challenging. Others, however, see these as playful indications of the spontaneous use of and experimentation with ordinary materials, which is why her works are often labelled as "eccentric" and "ambiguous".
However, these paradoxes of ideas and diversity of materials also reflect Hesse's expert eye, as they form a unity and harmony, and never seem disjointed. Hesse played with materials and psychology in such a way as to express her moods and her individuality in her works, making them quietly reflective.
Important Exhibitions
Long after her passing, Eva Hesse artwork exhibitions have continued to be put on, with her work being celebrated around the globe. Despite her early death, she did not lack exposure, opportunity, or awareness of her artworks while she was alive.
Her gouache paintings and drawings were on exhibition in 1961 at the Brooklyn Museum and the John Heller Gallery. Hesse had several notable solo sculpture exhibitions, her first being in Düsseldorf (1965), while her first paper works were on exhibition at Allan Stone Gallery (1963).
Her most important exhibition was Chain Polymers (1968) at the Fischbach Gallery, a momentous turning point that changed the direction of her career and path to fame. Sadly, this was the only solo exhibition of her sculptures in the United States that was held while she was alive.
The list of exhibits featuring her work posthumously has not ceased in growing. The most important perspective of her artwork was held in Paris, New Haven and Valencia between 1992 and 1993. Her works have been shown at the Guggenheim Museum (1972), Tate (2002), San Francisco Museum of Modern Art (2002), and Allen Memorial Art Museum (2019), among many others. She has also been honoured for her Jewish heritage at the Jewish Museum of New York (2006), and by the National Museum of Women in the Arts (2007).
Legacy and Influence of Eva Hesse
As with many artists, Hesse's art and life are often conflated in retrospectives on her work. Her escape from Nazi Germany, her parent's divorce and deaths, her own divorce, and illness play big parts in the retelling of her decade-long career.
The true legacy in her work lies in her experimentation, invention, and her revolutionary approach to post-Minimalist and post-Modern sculpture in a post-war world. Her work went on to inspire many other artists like Eiji Sumi, who is a renowned Japanese sculptor.
Hesse blazed a trail for many other female artists, and opened up the male-dominated world of sculpture by using industrial materials. This helped begin many important conversations about the experience of womanhood, which are continuing today.
Today, most art historians recognize her as among the top sculptural innovators that emerged in the post-war era within the United States. Although her career spanned only a mere decade, Eva Hesse's legacy, influence, and her desire to celebrate and honour her art has never wavered.
Recommended Reading
If you have enjoyed reading our Eva Hesse biography, we have suggested three reading recommendations for further exploration of the many Eva Hesse artwork pieces below. These books will help you explore the intricate world surrounding the Eva Hesse paintings, as well as her sculpture, and will provide a deeper look into Hesse's extraordinary life and mind.
Eva Hesse: One More than One (2014) by Hubertus Gassner, Brigitte Kölle, Petra Roettig, and Renate Petzinger
This book explores a late exhibition from Hesse's career, one of the last that she would ever be part of before her sudden passing. The Hamburger Kunsthalle details a period of increased productivity during which Hesse created an incredible number of sculptures and drawings. Translated in both English and German, this book details Hesse's life and takes a deep and detailed dive into this period of her career.
Good overview of the artworks produced by Eva Hesse
Thorough exploration of Hesse's last exhibition
Available in both English and German
View on Amazon
Eva Hesse: Diaries Paperback (2020) by Tamara Bloomberg, Barry Rosen, and Eva Hesse
Any interpretation of Hesse's work through the lens of her life is incomplete without diving into the rich, inner life that the artist documented in letters and diary entries. Full of insights, self-doubt and reflections of a tumultuous life, Hesse's writing is as poignant and thought-provoking as her sculptures. An intimate glimpse into her life and that of the art circle's she ran in, this book is sure to stir artists and art lovers alike.
Voluminous collection that tracks the artist's insights, doubts, and process
Beautiful and sleek design befitting of Hessa's artistic aesthetic
Seen as a voice into Hessa's personal life
View on Amazon
As one of the most renowned American artists to emerge immediately after the Abstract Expressionism movement, Eva Hesse produced truly influential artworks during her lifetime. Experimenting with industrial and found materials alike, Hesse had an incredibly ability of combining the most straightforward objects together in a way that was able to suggest a wide range of ideas and moods. If you have enjoyed reading up about Eva Hesse's work and life, we encourage you to research further!
Frequently Asked Questions
Who Created Accession II (1969)?
The famous sculpture was created by Eva Hesse, a Jewish-German sculptor, in 1969. It is made up of a simple cube with a systematic grid and tubing, which came to symbolize Hesse's work.
How Did Eva Hesse Die?
Hesse was diagnosed with a train tumour in 1969 and underwent three operations for it. Sadly, Hesse passed away in 1970 at the age of 24, after a decade-long career.
What Art Movements Did Eva Hesse Work In?
Eva Hesse was a part of the post-Minimalist and Neo-Classic movements. She taught art during this period, and influence the sculpture of this art movement and era. Today, Hesse has become synonymous with these movements.