Rachel Whiteread – Discovering the Life and Artworks of Rachel Whiteread
This post may contain affiliate links. We may earn a small commission from purchases made through them, at no additional cost to you.
Rachel Whiteread's sculptures are extremely unique, to say the least. No artist had ever made the space surrounding an item the focus of their work until Rachel Whiteread. Instead of putting a liquid, such as plastic, molten metal, or rubber, into a mold to create a reproduction of an existing piece, she created a plaster cast of the empty or invisible space that surrounds an object, such as Rachel Whiteread's House (1993) sculpture.
The Life of Rachel Whiteread
Rachel Whiteread flipped the typical technique of casting sculpture, using the entrapped air within a hot water bottle, the area beneath a bed, and the inside of a three-story house. Whiteread, the very first female to receive the UK's most significant art award, the Turner Prize, continues to create works that are notable for their propensity to reflect on concepts of loss and absence in colossal and delicate ways.
| | |
| --- | --- |
| Nationality | English |
| Date of Birth | 20 April 1963 |
| Date of Death | N/A |
| Place of Birth | Ilford, Essex |
Childhood
Rachel Whiteread, who was born in the Essex town of Ilford, came to London when she was seven years old. In the 1980s, her mother, the artist Patricia Whiteread, was engaged in key feminist art shows at the Institute of Contemporary Arts in London.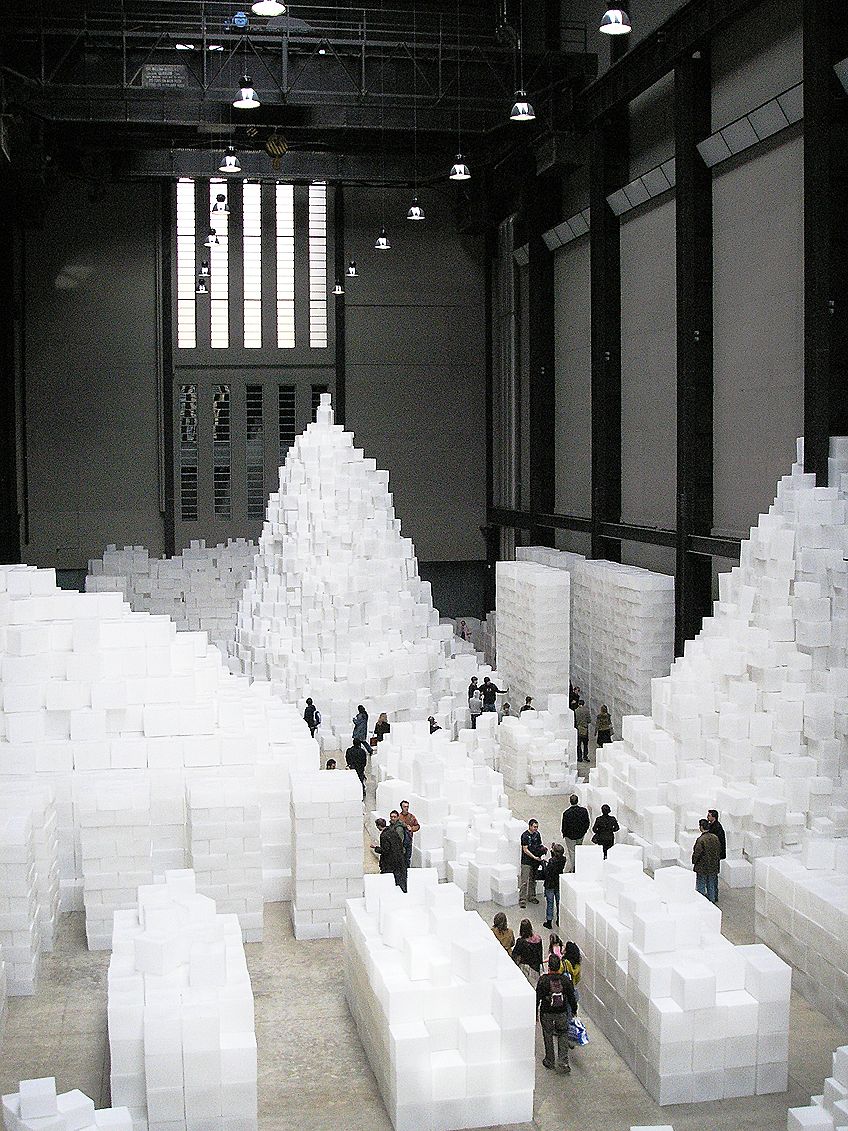 Embankment (2006) by Rachel Whiteread; Gryffindor, Public domain, via Wikimedia Commons
As a result, Whiteread and her elder twin sisters were surrounded by art growing up. Her father encouraged his wife's business by converting a portion of their home into a workshop, where Whiteread recalls helping to lay a floor as a youngster.
The artist has consistently emphasized the significance of her childhood in her subsequent work, owing to a special obligation to her spatially minded father, "whose fascination with industrial archaeology helped me to look up" and comprehend themes such as design, spatiality, and recollection.
Early Training and Work
Whiteread went on to study fine art on a foundation level after high school and then went on to study painting at Brighton Polytechnic. She trained under Richard Wilson, the English sculptor at Brighton, who introduced her to the casting method that would be so important to her subsequent work.
She enrolled at the Slade School of Fine Art in London for sculpture and painting studies, but selected sculpting because "I couldn't make things remain on the wall and they were constantly ending up on the floor."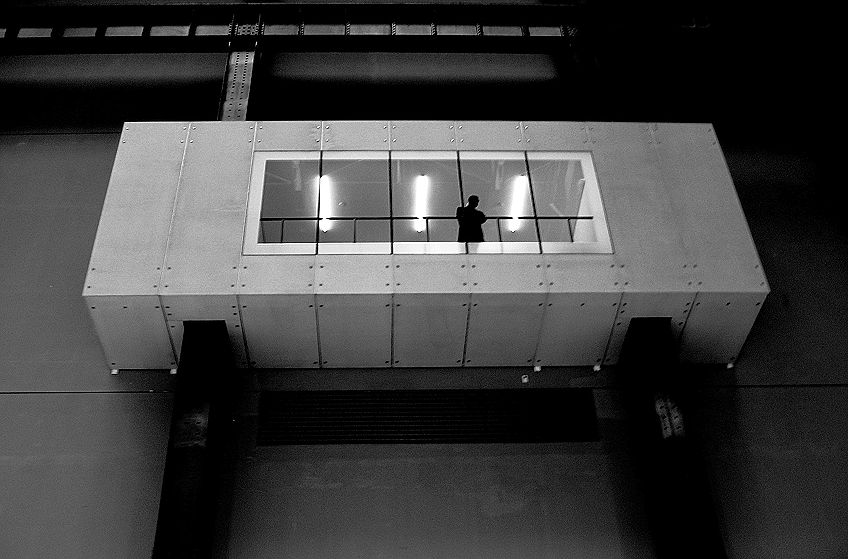 Close up of Embankment (2006) by Rachel Whiteread; http://www.cgpgrey.com, CC BY 2.0, via Wikimedia Commons
Phyllida Barlow and Alison Wilding, two highly regarded contemporary sculptors, were among their Slade professors. Whiteread's characteristic approach, casting the negative areas present in common things, had emerged by the time she graduated in 1998. Whiteread held her first exhibition a year after graduating, at a modest London gallery, where she displayed only four pieces. Casts of the interior of a closet and the area beneath a bed were among these works, which signified the start of her mature phase.
She was residing in East London at the time, and her workshop was part of a big complex on Carpenters Road in Stratford. She has happy memories of her time there, but recalls that the neighborhood was extremely run-down at the time: "Fiona Banner, Grayson Perry, Fiona Rae, and Simon English were among us. It was almost like some kind of unofficial club: if a person was able to make it in Carpenters Road, then they were able to make it everywhere. It was a Wasteland."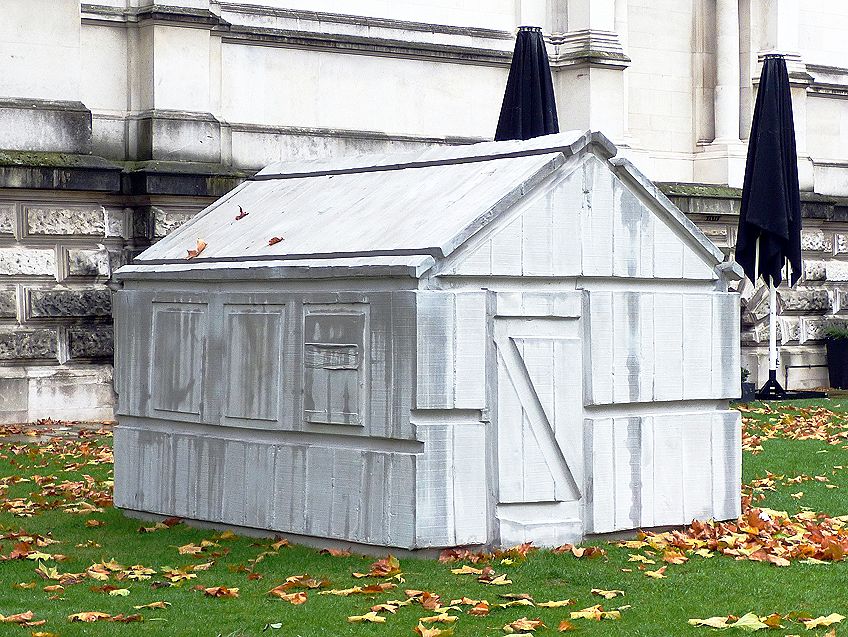 Chicken Shed (2017) by Rachel Whiteread; Peter O'Connor aka anemoneprojectors, CC BY-SA 2.0, via Wikimedia Commons
Even though Whiteread knew other creatives of her era, she always felt apart from them because she didn't want to be in the news all the time: "Individuals like Grayson Perry, who I previously shared a workshop with back while he was still having difficulties, fantastic show-offs who want to be in the news constantly – it isn't for me."
Mature Period
Rachel Whiteread's confidence in her own profession (which has changed surprisingly little in the previous 30 years) may have contributed to her rapid rise to prominence and respect. One of her works was chosen for the famous Documenta IX show in 1992.
When she was 27 years of age, Whiteread produced her first highly-renowned work, Ghost (1990), at London's Chisenhale Gallery, and was nominated for the Turner Prize the following year.
She was also featured in exhibits of artwork by Contemporary British Artists such as Sarah Lucas and Damien Hirst, although not being a member of that group in general. The next year, Whiteread created what is likely her most significant – and definitely most contentious – work. Rachel Whiteread's House (1993) was a recreation of a Victorian terraced building in the East End of London that was slated for destruction.
The installation, which was displayed in situ, sparked widespread public outrage and became an icon of "modern art" in the news. Some reviewers praised it, but a petition calling for its abolition gathered a huge number of signatures. "You have to realize, it wasn't as it is nowadays, with the artwork now being rock 'n' roll phenomenon with the press," Whiteread says of the public press's interest in modern art at the time.
In November 1993 She won the Turner Prize, becoming the first female to do so, but the local council ordered that House be demolished on the same day. Whiteread was also given £40,000 just by being the "worst artist of the year" by the K Foundation, a mainstream pop music group with way too much expendable income who threatened to set fire to the money if she didn't take it.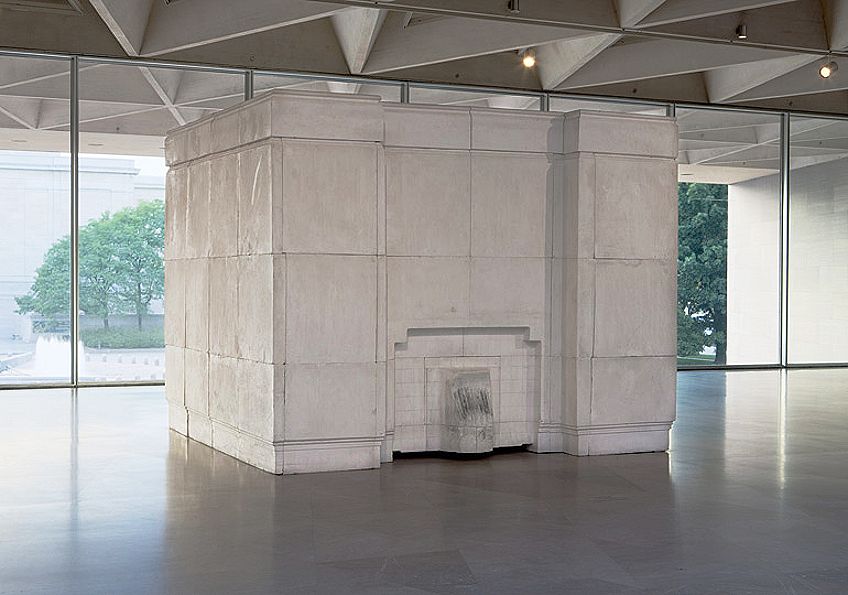 2018 image taken of Ghost (1990) by Rachel Whiteread; National Gallery of Art, CC BY-SA 4.0, via Wikimedia Commons
Whiteread found the entire procedure unpleasant and ended up taking it and then distributing most of it freely. House was demolished in January 1994, with the contractor hired to do the job remarking, "'It's not sculpture, it's a mass of concrete." The art world, on the other hand, was incensed, viewing Rachel Whiteread's House as a watershed moment in modern art. In the same year, she was granted a contract to create a Holocaust monument in Vienna.
As part of the design and manufacturing procedure, the artist traveled to locations of Nazi crimes, graves, and battlegrounds in Germany and Eastern Europe, improving her grasp of the themes. The commission took five years to complete because of its political and sensitive character, but it resulted in a succession of public and academic initiatives for Whiteread from across the world. Rachel Whiteread and her boyfriend, Marcus Taylor, purchased a disused synagogue in Bethnal Green, which had previously been utilized as a textile storage facility in 1999.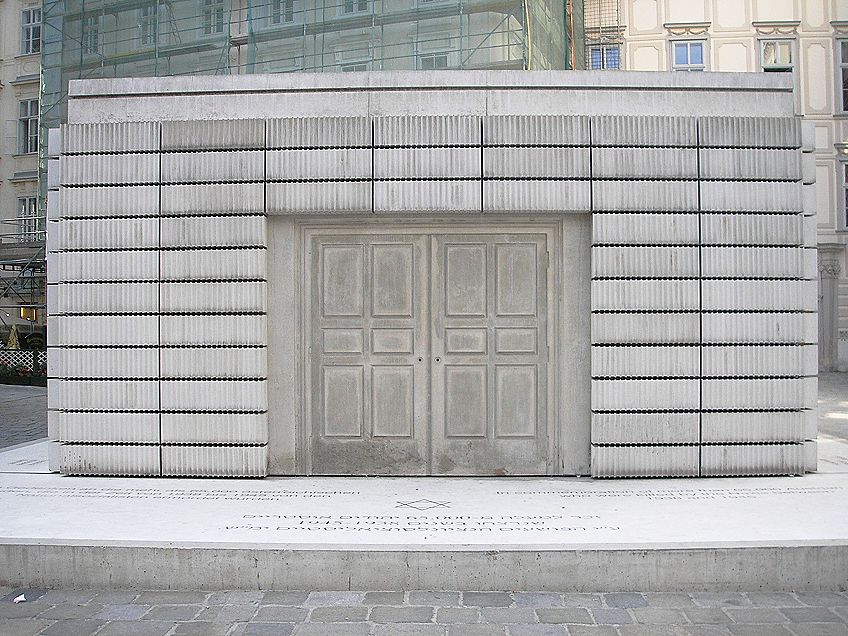 2006 photograph of Judenplatz Holocaust Memorial in Vienna by Rachel Whiteread; Gryffindor, CC BY-SA 3.0, via Wikimedia Commons
Whiteread spent a few months getting to know the structure and its architectural aspects through her casting process. The region grew trendy in the years that followed, thanks in part to the inflow of designers and artists in the early 2000s. Whiteread and her companion eventually left, but when questioned whether she felt terrible about contributing to the area's gentrification, she said: "You're right! For transforming Shoreditch? No. We acquired a strange building that had been unoccupied for years, and it needed somebody like us to figure out how to live in it."
Whiteread has lately reduced the size of her studio and is operating with fewer assistants. As a result, her new work is lower in scale than her earlier enormous installations from the 1990s and 2000s.
Tommy, her second son, was born in 2007. Following this occasion, Whiteread began to incorporate more color into her works, which had previously been dominated by white, gray, and naturalistic tones. Translucent resin castings of windows and doors are among these creations. She has also embarked on a handful of projects to create miniature shed castings for locales like New York, London, and Norway.
The Legacy and Style of Rachel Whiteread's Drawings and Sculptures
Rachel Whiteread is a notable modern artist in the United Kingdom. Whiteread is an influential character for many contemporaneous female creatives because she established a method of operating that is not centered on female rights or an extreme feminist point of view.
Indeed, the massive level and substances of so many of her sculptures take any regard of her career beyond any reductive discussion around gender.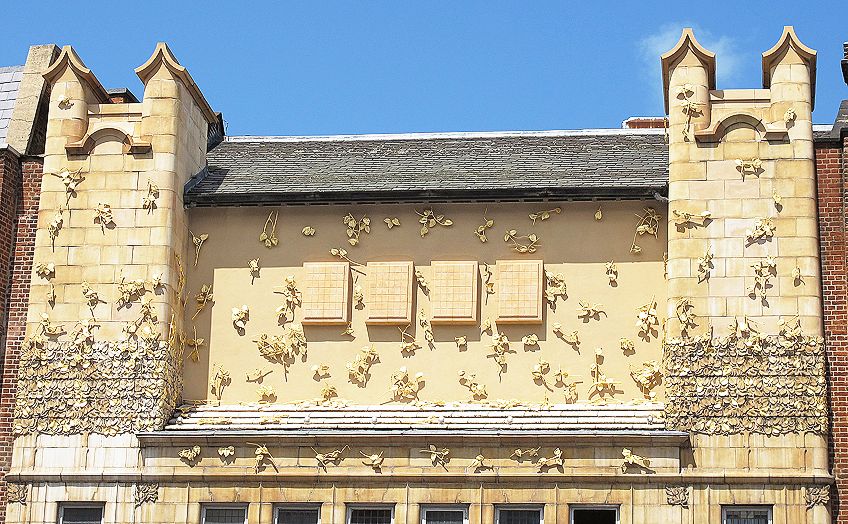 2012 detail of new façade in London Borough of Tower Hamlets by Rachel Whiteread; Rachel Whiteread's new Façade (detail) by Roger Jones, CC BY-SA 2.0, via Wikimedia Commons
Whiteread's surprisingly consistent use of the casting process has altered notions of how an artist might produce variation in their work. Rather than experimenting with various materials, she has utilized the same fundamental technique to drive the medium of plaster and resins to their extremes.
She continues to deal with themes of space, perspective, and recollection in her art, producing works with highly emotive and occasionally political significance through innuendo and suggestion. Although she was not a member of the group, Whiteread's loose relationship with the Young British Artists group meant she was part of a significant legacy that would affect British art for many years.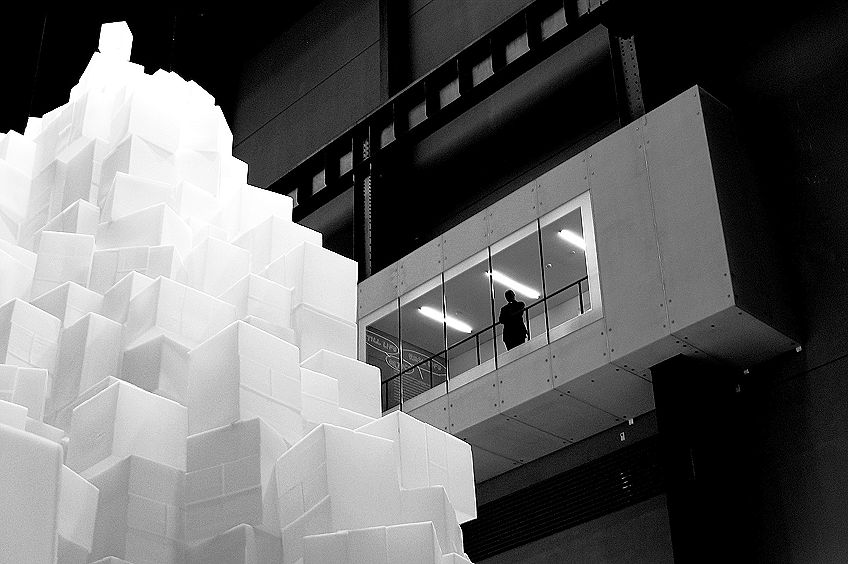 Close up photograph of Embankment (2006) by Rachel Whiteread; http://www.cgpgrey.com, CC BY 2.0, via Wikimedia Commons
Whiteread altered the traditional casting technique by focusing on the air or area instead of the item itself. This was a tremendous accomplishment in that it served to alter the basic definition of a sculpture.
Her technique was novel in that it was founded on the philosophical concept of absence – a viewpoint that may be seen as virtually anti-sculptural.
Rachel Whiteread's sculptures address both psychological and physical space. Their mere existence in certain locations – such as the Holocaust Monument in Vienna's Judenplatz and the disadvantaged neighborhoods of East London – provide an emotive political and social commentary, conjuring themes of absence and remembrance.
Rachel Whiteread's Notable Artworks
Repetition is essential to her art, as Whiteread herself stated, "I've tried the same things again and over." Even in her collection of hot water bottles, beds, and translucent resin blocks, the minor defects and subtle color shifts contribute to variation and a feeling of time passing. Rachel Whiteread's drawings were exhibited in 2010 at the Hammer Museum – the first retrospective of her works on paper. Here are a few of her most notable artworks.
Closet (1988)
| | |
| --- | --- |
| Artist | Rachel Whiteread |
| Year Completed | 1988 |
| Medium | Plaster and Black Felt |
| Current Location | Tate, London |
Closet (1988), the inside of a closet cast in plaster and coated in black felt, is a particularly impressive piece in terms of scale and ambition. This sculpture, together with four additional cast plaster pieces, was shown at Whiteread's first solo show after graduation from the Slade.
Closet was created by Whiteread, who explained the process as follows: "I just selected a wardrobe that was recognizable, strangely anchored in my youth. I stripped the inside down to its basic bones, flipped it on its back, bored some slots in the doors, and plastered it till it overflowed. The wooden wardrobe was removed after the drying process, leaving me with an exact duplicate of the inside."
By focusing on the negative or unseen space stored within the wardrobe – a ubiquitous household object – Whiteread created a precedent for her own work for years to come.
Her sculptures, unlike all the other cast sculptures, were not just reproductions of themselves. In an even more innovative twist, they put us on the inside, gazing out. Closet, an exquisite, towering, black monolith, is related to both Barnett Newman's abstract zip paintings and Donald Judd's serial minimalist sculpture in terms of form. Whiteread's style, as her own definition reveals, is mostly practical and process-driven, yet it is also influenced by a childhood recollection of hiding in a dark closet.
Unlike some of her YBA colleagues (whose first show also occurred in 1988), Whiteread is less concerned in presenting personal experiences and instead enables her objects to speak for themselves, creating a succession of emotive and occasionally nostalgic connections via association. The basic form of the wardrobe chosen, as well as its stifling black felt cover, helps summon up a restricted environment, remembering frightening memories in early hide and seek activities.
Torso (1988)
| | |
| --- | --- |
| Artist | Rachel Whiteread |
| Year Completed | 1991 |
| Medium | Pink Dental Plaster |
| Current Location | Tate |
Whiteread created this experimental comparatively small, flesh-colored piece by plaster casting the interior of a hot water bottle. The piece's title relates to a torso, a body without limbs or a head, which presents the notion of how the body is divided in classical sculpture. Whiteread's sculpture, however, is a long cry from traditional sculpture.
In this context, it's difficult not to interpret Torso as a knowing nod to Whiteread's own place within the artistic traditional society – how, even at this early stage, her theoretical and process-led technique poses a serious threat to conventional sculpture.
The overriding sensation evoked by this frail, pudgy, and tiny sculpture (one of many such pieces) is its relationship to a little living creature – possibly a newborn laying bare on its back. The work creates a visceral and psychological response to an item that is commonplace, incredibly personal, and terribly disconcerting all at the same time.
A hot water bottle can be hugged to the body for warmth. However, in Whiteread's formulation, it lacks warmth and, despite its tactile texture, is far from huggable. This demonstrates Whiteread's ability to generate a feeling of the eerie and fill an everyday object with expressive force, which has been crucial to her career and contribution to modern art.
House (1993)
| | |
| --- | --- |
| Artist | Rachel Whiteread |
| Year Completed | 1993 |
| Medium | Plaster and Steel Frame |
| Current Location | Destroyed |
House, a landmark if transitory public monument, has come to symbolize Whiteread's lifelong artistic aim of merging ordinary vernacular shapes with the individual as well as common human experiences and knowledge. Whiteread's poem was notable for its depth of interpersonal, economic, and societal linkages.
It pushed the spectator into an uneasy relationship with architecture; by flipping the house inside out, the spectator is psychologically put both within and outside the structure, generating feelings of inclusiveness and marginalization at the same time.
Moreover, the artwork questions domestic ideals and the notion of "home." Although Rachel Whiteread's House has domestic elements, its brutalist concrete exterior makes the building feel intimidating and lacking the things we think of when we think of a home. Rachel Whiteread's House became a political and social statement in the East End in the early 1990s by highlighting the controversial redevelopment strategies directed at some of London's most destitute districts by local authorities.
Rachel Whiteread's sculptures are, to say the least, one-of-a-kind. No sculptor had ever considered the spaces around objects the central element of their work before Whiteread. Instead of pouring a liquid, such as plastic, molten metal, or rubber, into a mold to create a reproduction of an existing piece, she created a plaster cast of the empty or invisible space that surrounds an item, such as her House (1993) sculpture.
Frequently Asked Questions
What Was Unique About Rachel Whiteread's Sculptures?
Rachel Whiteread used the imprisoned air within a hot water bottle, the region beneath a bed, and the inside of a three-story house to turn the traditional method of casting sculpture on its head. Whiteread, the first female to win the Turner Prize, the UK's most prestigious art prize, continues to produce works that are renowned for their proclivity to dwell on notions of loss and absence in monumental and delicate ways.
Were Rachel Whiteread's Drawings Popular?
Rachel Whiteread's sculptures were more well-known, while her drawings were less well-known. In 2010, the Hammer Museum in Los Angeles hosted Whiteread's debut museum exhibition of works on paper. The exhibition was shown at the Tate Britain in the UK and the Nasher Sculpture Center in Texas.