Camille Pissarro – Exploring the Life and Art of Painter Camille Pissarro
This post may contain affiliate links. We may earn a small commission from purchases made through them, at no additional cost to you.
At a time when the French cultural world was passionately focused on classical ideas of religion and mythology, Camille Pissarro's focus on the average person was highly contentious and contributed to a rift in the art world. This rift came in the form of French impressionism, a movement driven by the stubbornness of Pissarro and a few fellow French painters that gave us works such as Jalais Hill, Pontoise (1867) and Hoar Frost (1873). In this article we will explore Pissarro's life as well as his take on a style determined to capture reality as accurately as possible.
Who Was Camille Pissarro?
Camille Pissarro was a French painter whose work focused on capturing life outside the elite circles of French society, with a style built around painting subjects and landscapes as accurately as possible, trying as much as possible to capture the interplay between light and colour in natural settings.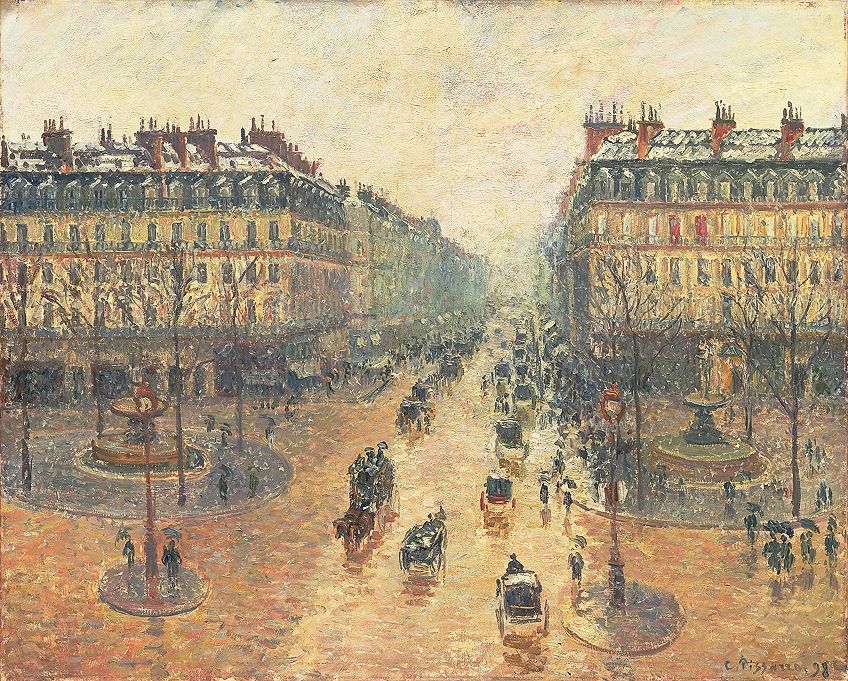 Avenue de L'Opera (Effect of Snow in the Morning) (1898) by Camille Pissarro; Camille Pissarro, Public domain, via Wikimedia Commons
Pissarro's role in the Impressionist movement isn't generally considered as a pioneering one but rather a mentoring one, which saw him play a huge role in the development of the careers of artists such as Cézanne, Degas, and even Vincent van Gogh.
| | |
| --- | --- |
| Date of Birth | 10 July 1830 |
| Date of Death | 13 November 1903 |
| Place of Birth | St Thomas |
| Art Movements | French Impressionism, Neo-impressionism |
| Genre / Style | Impressionism, Realism |
| Mediums Used | Oil on Canvas |
| Dominant Themes | Rural Life, Nature, The Common Man |
Birth and Early Life
Born Jacob Abraham Camille Pissarro to Frederick Abraham Gabriel Pissarro and Rachel Manzano-Pomié in Charlotte Amalie , Pissarro was a Danish-French artist.  At the time, Charlotte Amalie was the capital of the island of St Thomas, which was part of the Danish West Indies. Today, the island falls under the banner of the US Virgin Islands.
Camille Pissarro's father had moved to the island from France in 1826 to sort out the affairs of a deceased uncle whose widow was none other than the Dominican-born Rachel Manzano-Pomié. Frederick Abraham Gabriel Pissarro's marriage to Manzano-Pomié was shrouded in controversy, as Jewish law forbids the union of a man and his aunt.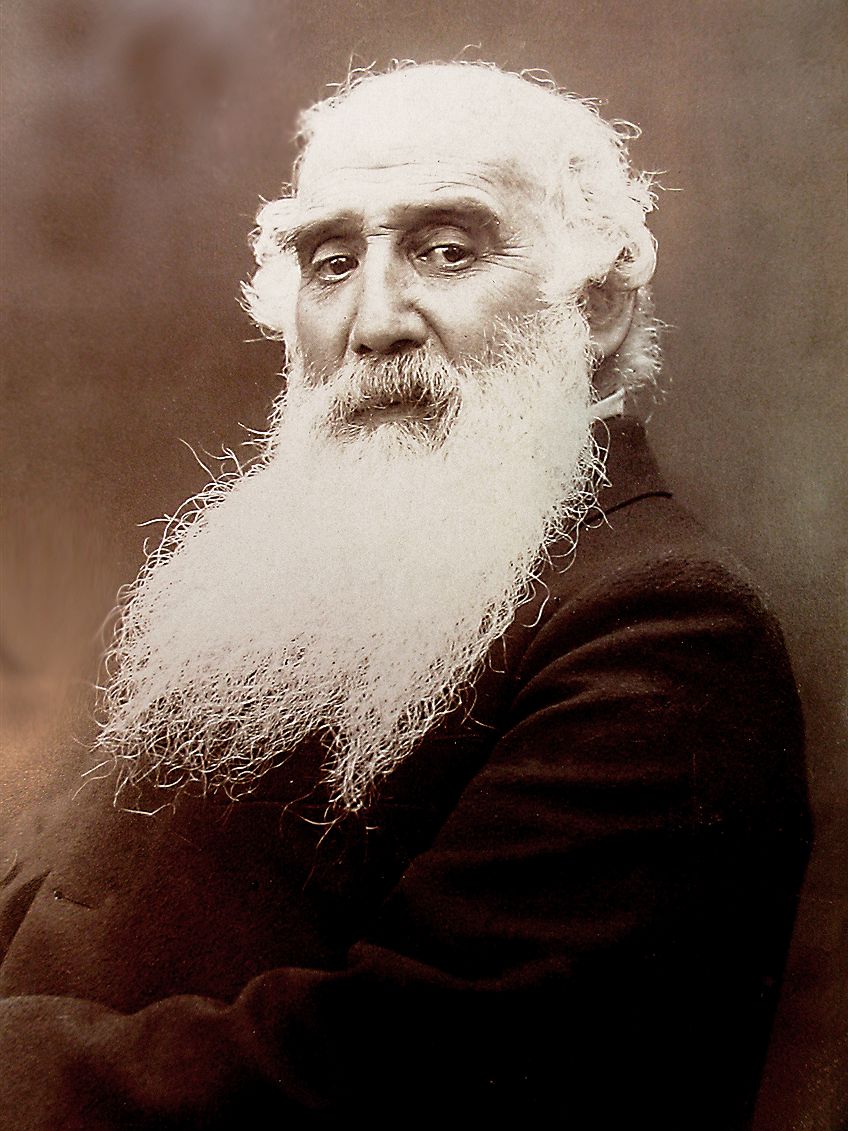 Photograph of Camille Pissarro (c. 1900); Unknown authorUnknown author, Public domain, via Wikimedia Commons
After repeated requests by the couple, the local rabbis agreed to register the marriage based on the fact that the two did not share a blood-relation. The two would go on to run a modest hardware business, and it was Frederick Pissarro's wish that his children would follow in his footsteps.
Camille Pissarro, though, had other ideas. His early education was received at an all-black school before, at the age of 12, he was sent to the Savary Academy in Passy just outside Paris, where he found an appreciation of the French art masters.
His interest in art was further encouraged by the headmaster, Monsieur Savary, who laid his drawing and painting foundations. He encouraged Pissarro to take inspiration and draw from nature when he went back to St Thomas, which he did at the age of 17 years old.
When he got back to St Thomas, his father gave him a job as a cargo clerk at his hardware store but, despite every intention to apply himself, Pissarro was more interested in making art and used any and every opportunity he could to pursue his craft, preferring to spend time at the docks drawing ship scenes.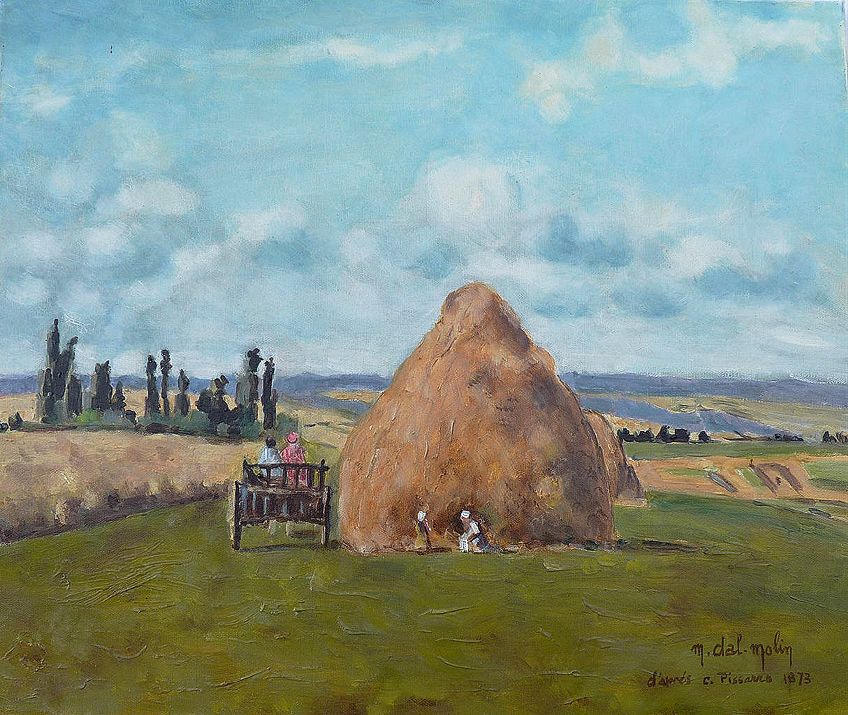 The Grainstack, Pontoise (1873) by Camille Pissarro; Camille Pissarro, Public domain, via Wikimedia Commons
The early 1850s brought about a turning point in Pissarro's journey as he met the Danish painter Fritz Melbye, whose focus was maritime painting. An extensive traveller, Melbye was planning a trip to Venezuela and he invited a then 21 year old Pissarro to join him, an invitation that was happily accepted.
The two of them would go on to spend the following two years in Caracas and La Guaira, where Pissarro sketched all that he could. Within those two years he had drawn enough landscapes, village scenes, and sketches to fill up multiple sketch books.
Life in France
1855 saw Camille Pissarro move back to France where worked as an assistant to Franz's brother, Anton Melbye. While there, he started studying paintings from artists whose works impressed him greatly.
These artists included Gustave Courbet, Charles-François Daubigny, Jean-François Millet, and Jean-Baptiste-Camille Corot, whose work Pissarro greatly admired.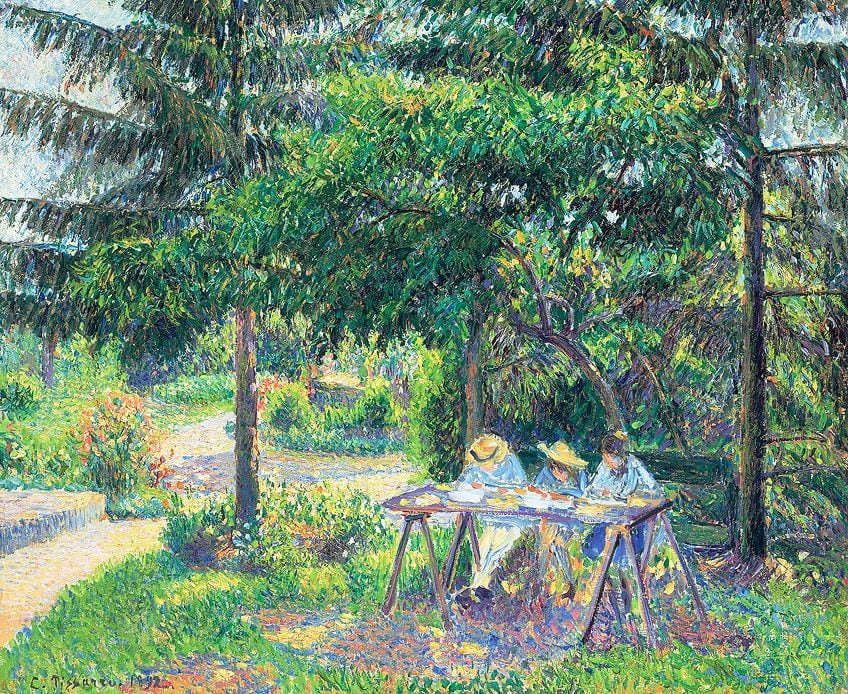 Enfants attablés dans le jardin à Eragny (1892) by Camille Pissarro; Camille Pissarro, Public domain, via Wikimedia Commons
To further his artistic ability, Pissarro enrolled in various master-taught classes at schools like École des Beaux-Arts and Académie Suisse. Although, according to American academic, author, and art historian John Rewald, he came to find their teaching methods "stifling", which led him to getting instruction from Corot.
At this time, there was one central body who was in charge of what was and what wasn't considered culturally appropriate: The Paris Salon. Its annual exhibitions were the only spaces in which young French artists could get any kind of real exposure.
So, like so many other artists, Pissarro worked in accordance with what the committee demanded and in 1859, he had his first painting approved and put on exhibition.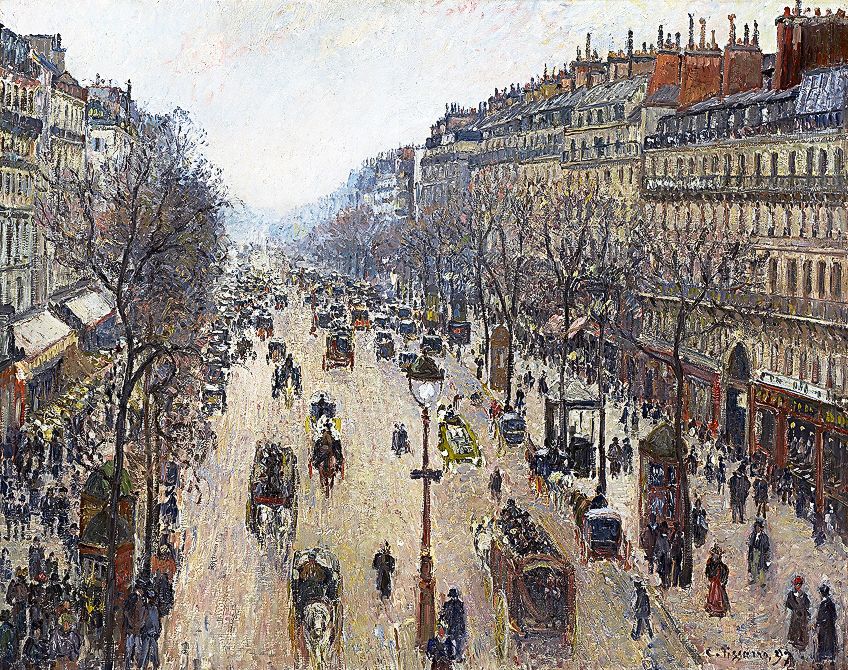 Boulevard Montmartre, Morning, Cloudy Weather (1897) by Camille Pissarro; Camille Pissarro, Public domain, via Wikimedia Commons
It was during this period when Corot's influence over the young artist began to show, particularly the idea of plein air painting or, in layman's terms, painting outdoors. He also began to understand what it meant to capture the unadulterated beauty of nature of the canvas and after a year in Paris, he escaped to the countryside, which was still in the grips of agriculture, to capture the realities of village life.
While he was in the countryside, his approach to painting began to come into its own. Unlike Corot, who preferred taking his unfinished works back to a studio and refining them there, Pissarro was more inclined to start and finish his paintings outdoors, often in one sitting.
This contributed to the more realistic feel of his work, which also drew criticism for being "vulgar."
Monet, Cézanne, and Guillaumin
It was while studying at the Académie Suisse in 1859 where Pissarro became friends with other young, budding artists, who were also interested in capturing the world as it was on the canvas. Among them were Claude Monet, Armand Guillaumin, and Paul Cézanne and, apart from their love of realism, they all shared a growing dissatisfaction with what the Salon dictated as "good" art.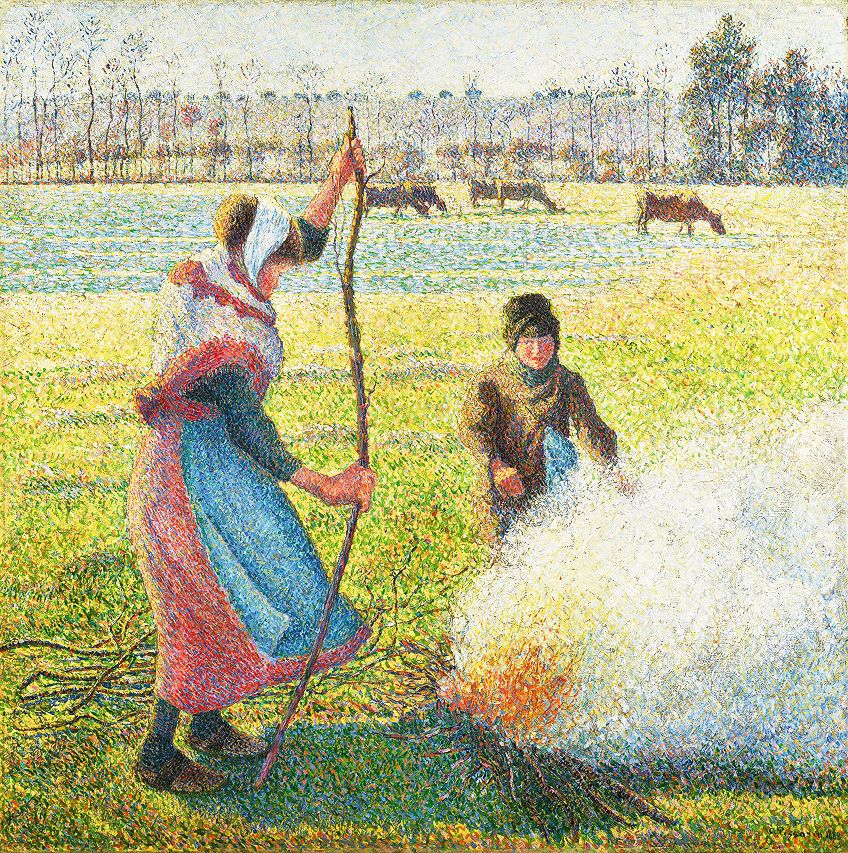 Hoarfrost, Peasant Girl Making a Fire (between 1887 and 1888) by Camille Pissarro; Camille Pissarro, Public domain, via Wikimedia Commons
Going against the demands of the Salon, Pissarro and his artist friends were more interested in showing people natural settings without any artifice or grandeur. This led to almost all of the group's contributions being rejected by the Salon in 1863, something that would fundamentally change the French art-world.
French Emperor Napoleon III, in an effort to show the Salons to be democratic, organized for their works to be displayed in a different hall: the Salon des Refusés.
It was only Pissarro and Cézanne's works that were included, and the existence of a second exhibition space brought forth hostility from not only the Salon but from the general public. Nonetheless, its establishment brought about the birth of the avant-garde.
Married With Children
In 1860, Camille Pissarro's mother hired Julie Vellay, the daughter of a vineyard grower, as her maid. A year later, Pissarro met her and became increasingly more fascinated by her. Ten years later, the two married in Croydon, England. The couple had several children together: Lucien Pissarro, Georges Henri Manzana Pissarro, Félix Pissarro, Ludovic-Rodo Pissarro, Jeanne Bonin-Pissarro, and Paul-Émile Pissarro.
Six of Pissarro's children would go on to follow in their father's footsteps and become artists.
London
The 19th of July 1870 saw the outbreak of the Franco-Prussian war, which began as a result of France seeking to regain its position of dominance in continental Europe, something it lost after Prussia defeated Austria in 1866. The war would last until the 28th of January 1871 but, due to having only Danish nationality and not being able to join the army, Pissarro moved his family up to Norwood on the edge of London.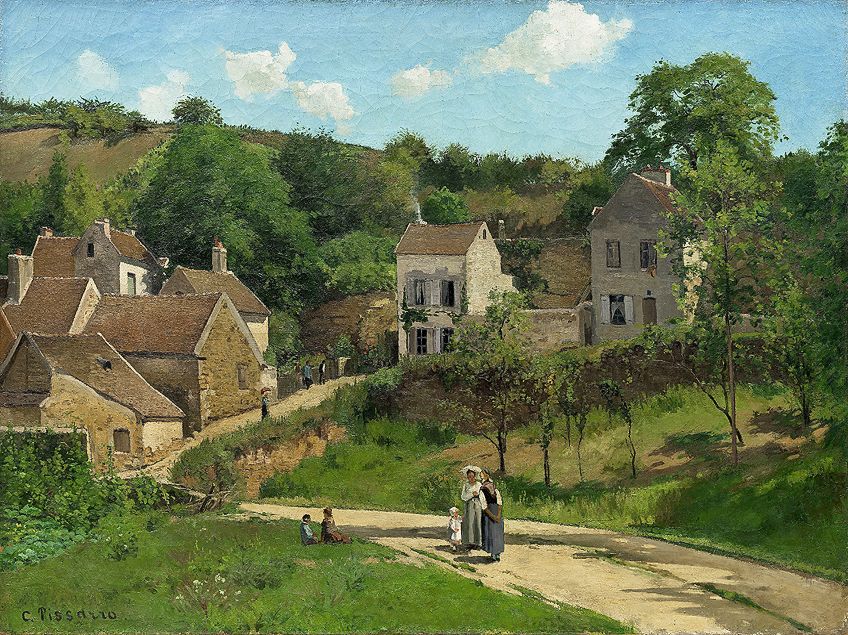 The Hermitage at Pontoise (Les côteaux de l'Hermitage, Pontoise) (1867) by Camille Pissarro; Camille Pissarro, Public domain, via Wikimedia Commons
Things didn't go too smoothly for Pissarro, though, as his style of painting – which was still finding its way to Impressionism as this stage – didn't seem to catch on. Nonetheless his London years weren't a complete waste as he met a Parisian art-dealer named Paul Durand-Ruel, who would go on to establish the market for Impressionism in America and Europe. Durand-Ruel went on to introduce Pissarro to Oscar-Claude Monet, who also happened to be in London at this stage.
Monet and Pissarro were both big advocates of plein air painting, and the paintings of British landscape artists John Constable and J. M. W. Turner affirmed their belief that painting in the open air was the best way to capture a true depiction of light and atmosphere, something they didn't think could be achieved in a studio.
London also saw Camille Pissarro play around with his style, and his paintings started taking on an air of spontaneity with loosely blended brushstrokes and a foray into impasto, a technique defined by thick layers of paint where brush or painting-knife strokes are visible to the viewer which gives paintings added texture and depth. This was something that became evident in the French artist's work during this period.
The British audience's apathy to Pissarro's work did nothing to slow him down, and he quickly set to work painting Sydenham (a district of South-East London) and the Norwoods, when they had just been connected by railroad but before the expansion of suburbia.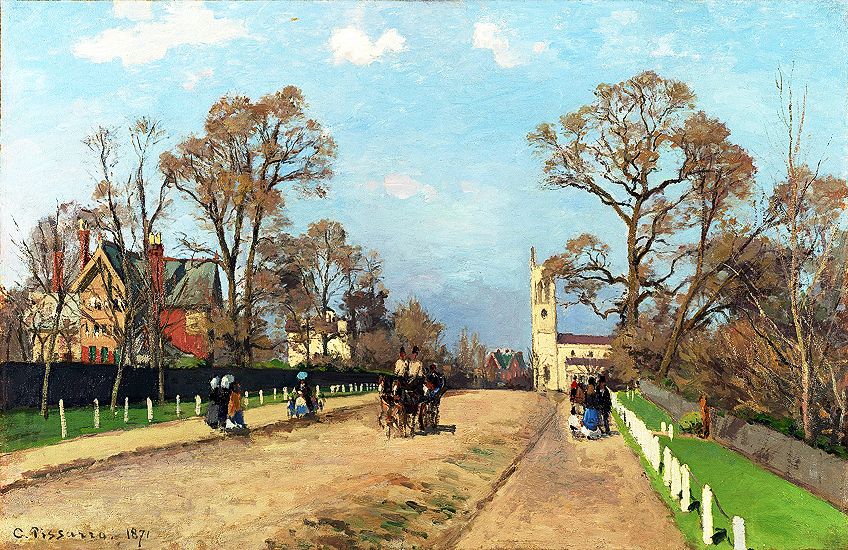 The Avenue, Sydenham (1871) by Camille Pissarro; Camille Pissarro, Public domain, via Wikimedia Commons
The move to London didn't change his approach one bit, and that led to a body of work that recorded daily life in semi-rural England. The biggest of these works, commonly known as The Avenue, Sydenham (1871), provides us with a panorama of St Bartholomew's Church at Lawrie Park Avenue with a smattering of people going about their day. Other paintings like Norwood Under the Snow (1871) and The Crystal Palace, London (1871) give us a glimpse into the development of the English capital.
He would return to England in later years, painting scenes of central London in 1890, and painting in Kew Gardens and Kew Green in 1892. In 1897, Pissarro produced several oil paintings of the Stamford Brook area.
The Birth of Impressionism
Pissarro went back to France in 1872 to find that of the 1,500 paintings he had produced over 20 years (that he had to abandon), only 40 were left. The rest had either been destroyed or broken by soldiers, who frequently utilized them as makeshift door mats to wipe their boots on.
The general assumption about these lost paintings is that the majority of them had been painted in Pissarro's burgeoning Impressionist style, and therefore existed as an official documentation of the birth of Impressionism.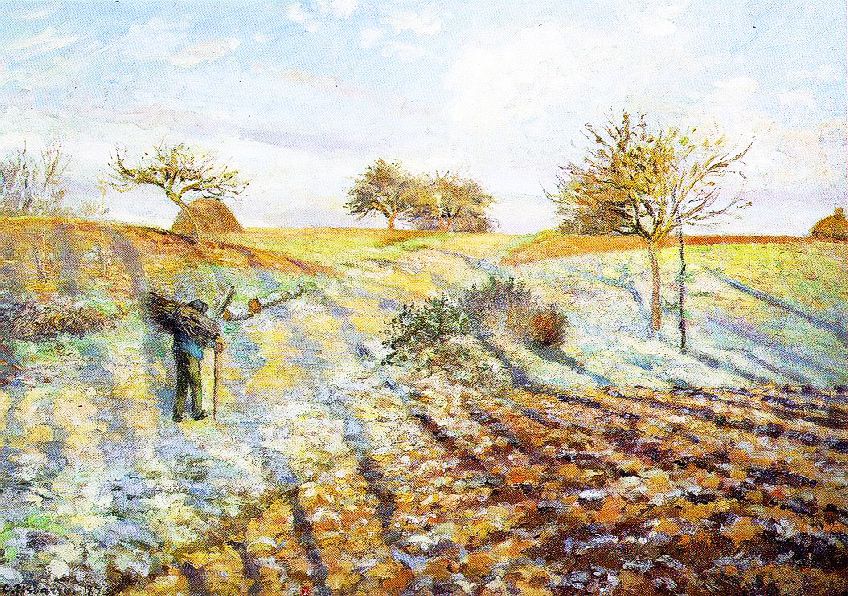 Hoar Frost (1873) by Camille Pissarro; Camille Pissarro, Public domain, via Wikimedia Commons
At this time Pissarro, reconnected with Impressionist peers such as Cézanne and Renoir, and told the group that he wanted to break away from the Salon so that the artists could have a space in which to display their own individual styles free from any prescribed ideas of what was acceptable.
This led to the establishment of a separate collective in 1873, the Société Anonyme des Artistes, Peintres, Sculpteurs et Graveurs, which was made up of 15 artists. Pissarro drew up the group's first charter and played a vital role in establishing the group and keeping it going; his inherent wisdom led the others to see him as somewhat of a guiding figure while his youthful energy and creativity meant he could work alongside them on equal terms.
The following year, the group put on their first Impressionist exhibition, which shocked and horrified more than a few critics because it went against their preference of religious and mythological artworks.
They thought scenes of everyday people going about their everyday lives were vulgar, and that the painting styles looked incomplete, not meeting the standards of traditional painting at the time. The Impressionist method of finishing paintings in one sitting with visible and expressive brushstrokes on the canvas was seen as an insult to the traditional artists, who would spend days, if not weeks, refining and perfecting their pieces.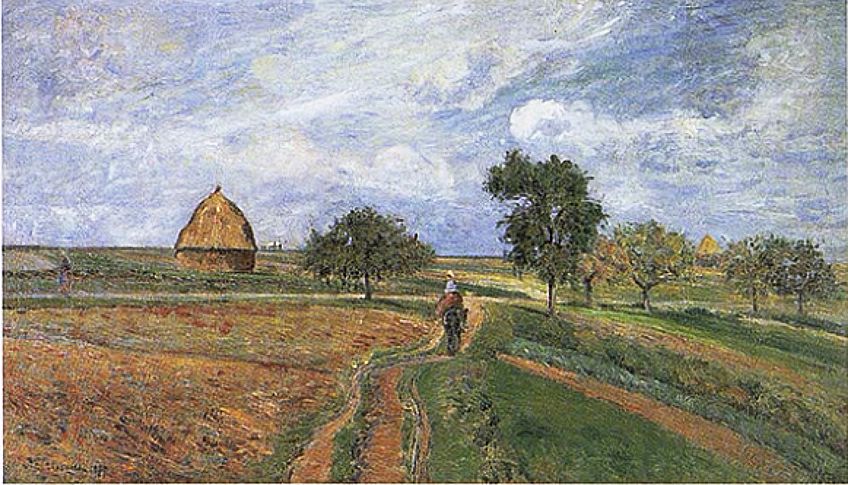 The Old Road to Ennery at Pontoise (1877) by Camille Pissarro; Camille Pissarro, Public domain, via Wikimedia Commons
The Impressionist exhibition of 1876 saw Pissarro, who had contributed five paintings which included Hoar Frost (1873) and The Old Road to Ennery at Pontoise (1877), being panned by critics such as Albert Wolff for his use of colour, while others like Octave Mirbeau thought that his techniques and approach to painting were revolutionary.
In a book he wrote about Pissarro, art historian John Rewald stated "rather than glorifying – consciously or not – the rugged existence of the peasants, he placed them without any 'pose' in their habitual surroundings, thus becoming an objective chronicler of one of the many facets of contemporary life."
Neo-Impressionism
By the time the 1880s came around, Pissarro had found himself in a bit of an artistic rut and to break free of this, he started exploring new themes and techniques. This led him to break away from the landscapes he'd been focusing on for a few years and go back to his roots: painting country people like he had done so long ago in Venezuela.
As Pissarro had played such an important role in establishing Impressionism, this decision marked the end of the movement.
Pissarro began painting people in realistic settings at work or at home without idealising them in any way, in an effort to help educate the public about ordinary society. His message wasn't overtly political and nor was he preaching any kind of message, as he just wanted to give his upper-class clientele insight into the lives of those who didn't have access to luxury.
Seurat and Signac
1885 was a pivotal year in Pissarro's career, as it brought Georges Seurat and Paul Signac into his life. The two post-Impressionists had a more methodical and scientific approach to making art, which was based on using small patches of pure colour that, when viewed from a distance, appeared to blend and create shading, a technique otherwise known as pointillism.
Pissarro spent three years practicing this technique and created works that were distinctly different from his Impressionist period.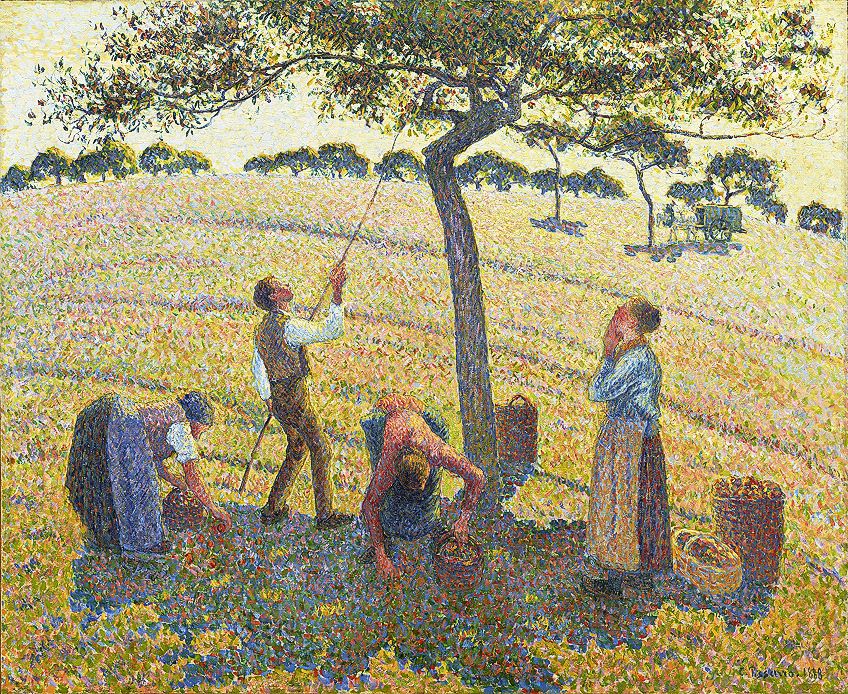 Apple harvest at Eragny (1888) by Camille Pissarro; Camille Pissarro, Public domain, via Wikimedia Commons
These were displayed at the 1886 Impressionist Exhibition, albeit in a separate section. The new approach brought him praise from critics, who were impressed by his capacity to grow and change as an artist.
His exploration of Neo-Impressionism didn't last forever and he soon reverted back to the Impressionist way of doing things, stating that its methodical approach got in the way of capturing the world organically and truthfully.
It hadn't been all for nought, though, as Pissarro came back to the Impressionist world with a stronger and more refined technique.
Later Years
In his subsequent years, Camille Pissarro was affected by a continuous eye infection that, unless it was warm outside, restricted him from working outside. Not one to give up painting. he began painting scenes from the windows of hotel rooms in northern France and London, preferring to take rooms higher up to get broader views.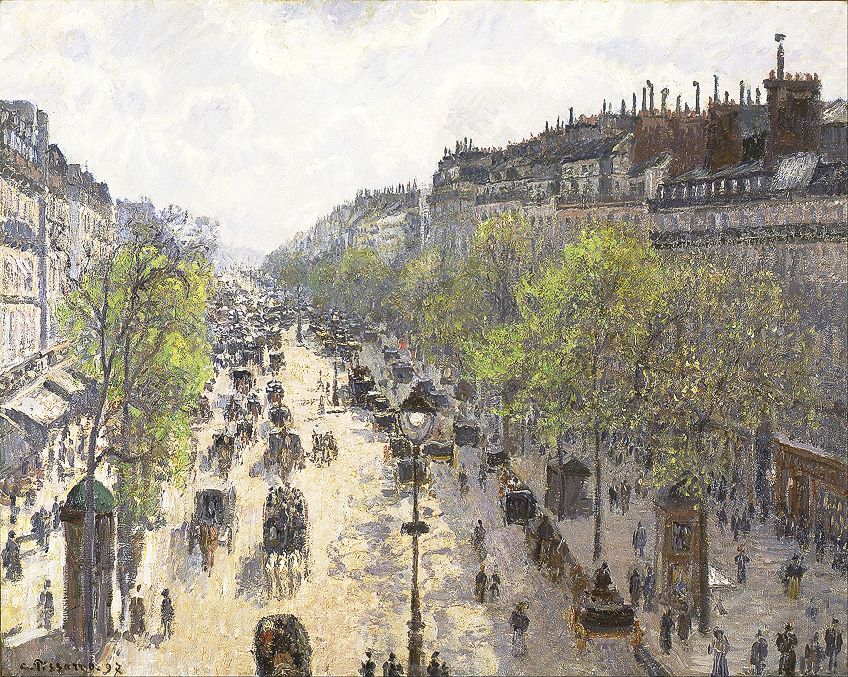 Boulevard Montmartre, Spring (1897) by Camille Pissarro; Camille Pissarro, Public domain, via Wikimedia Commons
On the 13th of November 1903, Pissarro died of sepsis and was survived by his wife and children.
Pissarro's Notable Artistic Contribution
Throughout his life, Pissarro made many important and meaningful contributions to the art world. Working within both the Impressionism and Post-Impressionism genre, Pissarro went on to produce artworks that are still spoken about and analyzed today. Below, we will be taking a look at some of his exhibitions and artworks, as well as the characteristics and value of his art today.
Important Exhibitions
Pissarro's first taste of an exhibit came in 1859 when the Paris Salon accepted and displayed one of his works. He wouldn't have the same luck four years later in 1863, as the Salon turned him and his fellow Impressionists away. Not all was lost, though, as Emperor Napoleon III decided to allocate their works to a different exhibition called the Salon des Refusés.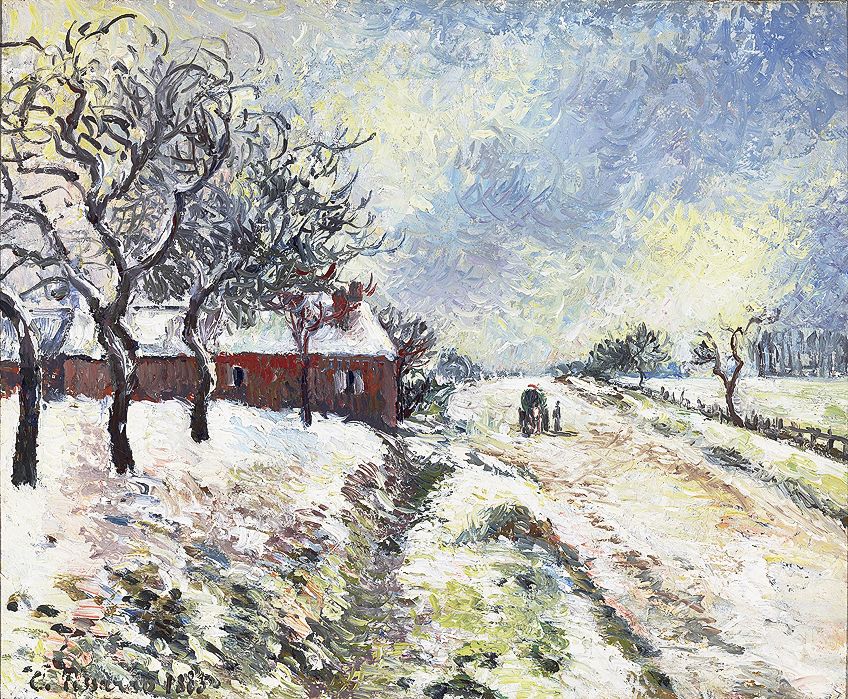 Route Enneigée avec maison, environs d'Éragny (1885) by Camille Pissarro; Camille Pissarro, Public domain, via Wikimedia Commons
Pissarro became increasingly unhappy with the Salon's requirements as the years went by and in 1874, he and his circle of Impressionists held the first and highly controversial Impressionist Exhibition.
Pissarro would be the only one from the group to show his work at all eight editions of the exhibition.
Camille Pissarro Paintings
| | | | |
| --- | --- | --- | --- |
| Title | Date | Dimensions | Medium |
| La Petite Fabrique | 1862-5 | 26.5 x 40.2cm | Oil on Canvas |
| Côte des Jallais, Pontoise | 1867 | 87 x 114.9cm | Oil on Canvas |
| Crystal Palace, Upper Norwood | 1871 | 40 cm x 50.8 cm | Oil on Canvas |
| The Avenue, Sydenham | 1871 | 48 cm x 73 cm | Oil on Canvas |
| Route de Versailles, Louveciennes, Sunlight | 1871 | 45 cm x 55 cm | Oil on Canvas |
| Portrait of Paul Cézanne | 1874 | 73 cm x 59.7 cm | Oil on Canvas |
| The Pork Butcher | 1883 | 65.1 cm x 64.3 cm | Oil on Canvas |
| Two Young Peasant Women | 1891-2 | 89.5 cm x 116.5 cm | Oil on Canvas |
| The Boulevard Montmartre at Night | 1897 | 53.5 cm x 65 cm | Oil on canvas |
| The Boulevard Montmartre on a Winter Morning | 1897 | 64.8 cm x 81.3 cm | Oil on canvas |
Characteristics of Pissarro's Art
Camille Pissarro was unwavering in his quest to portray man and nature as is, and this led to him breaking away from classical ideas of artistic beauty, opting rather for textured brushstrokes and a willingness to paint things as is without artifice.
What he was most focused on when painting, especially within his landscapes, was conveying impressions of light and colour as accurately as possible.
His attention to detail was clear to see from early on with his use of colour in Two Women Chatting by the Sea (1856). What stands out about the painting is how Pissarro subtly captures the tropical light of St. Thomas.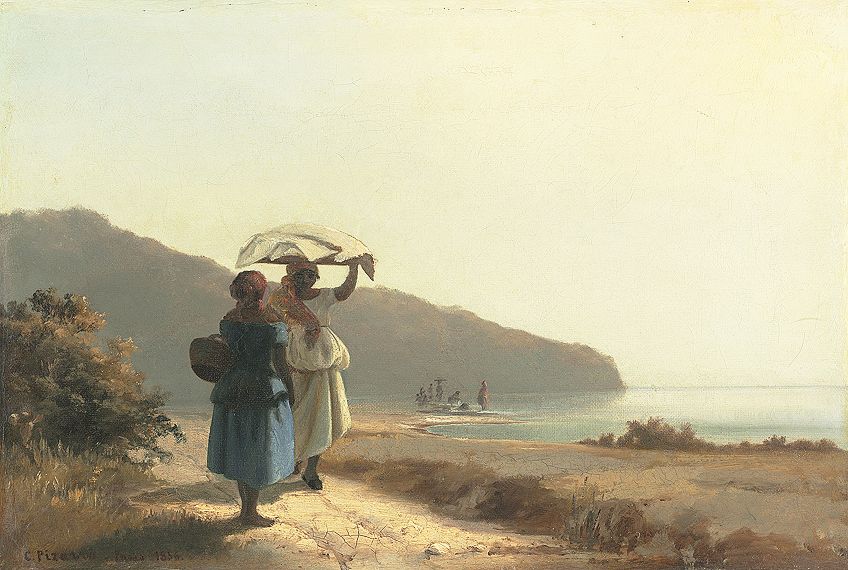 Two Women Chatting by the Sea, St. Thomas (1856) by Camille Pissarro; Camille Pissarro, CC0, via Wikimedia Commons
Road to Versailles at Louveciennes (1869) was an indicator of what was to come from Pissarro. Dashes of colour give the winter scene a crispness which matched that of a brisk winter day, and the smoothness of the sky and snow-covered ground marked the transition from Realist Naturalism to the roughness of Impressionism.
One of Pissarro's most revered pieces, Hoar Frost (1873), was one of the first Impressionist pieces to focus on composition. The combination of regularly spaced trees and the lines created by the footpaths and tilled fields create a well-balanced piece that was topped off with an emphasis on color harmony.
La Récolte des Foins, Éragny (1887) is one of the most recognised examples of Pissarro's experimentation with Neo-Impressionism. The pointillist technique he employed gives the piece a bustling energy and enhances its light and colour, with the systematic application of dots and dabs giving the painting a feeling of unity when viewed from a distance.
Two Young Peasant Women (1892) was a reflection of Pissarro's brief dalliance with the world of printing and, in this case, the compositional practices of Japanese woodblock printmakers. Breaking from his own landscape norm of having the sky take up as much as a third of the canvas, Pissarro hides it away in a thin sliver at the top and the ground becomes almost two-dimensional behind the two young female peasants taking a break from their work.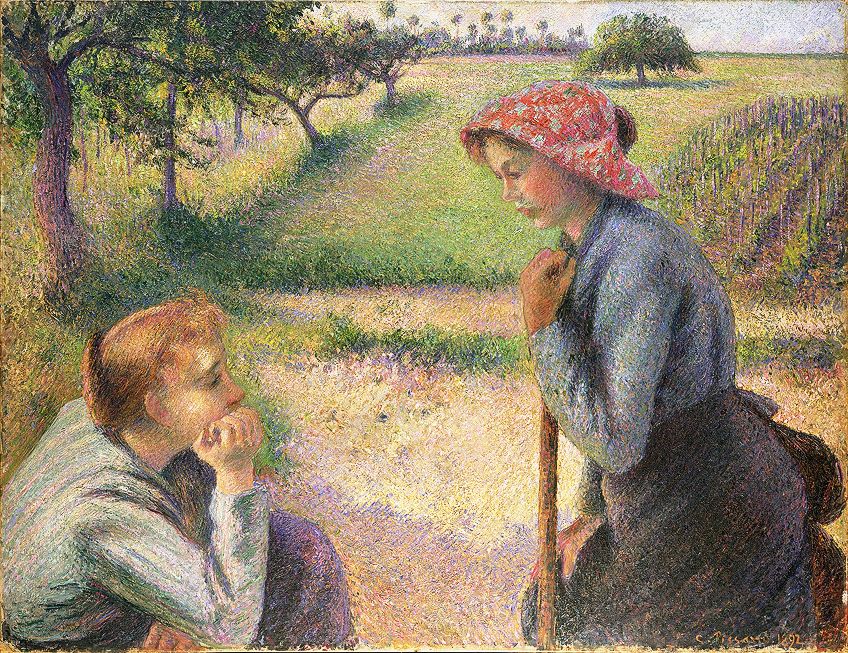 Two Young Peasant Women (between 1891 and 1892) by Camille Pissarro; Camille Pissarro, Public domain, via Wikimedia Commons
All of the techniques Pissarro had learnt and the skills he had acquired through his artistic explorations came together towards the end of his career. This led to the painting of pieces that picked the best bits from multiple styles.
Boulevard Montmartre, Afternoon Sun (1897), for example, draws its composition from Realist conventions and complimentary colours that heighten visual tension from Neo-Impressionism, with Impressionism contributing the overall gloss.
The Value of Pissarro's Art Today
As with so many artists of his day, Camille Pissarro's paintings didn't achieve their full value during his lifetime – he struggled with financial difficulties for most of his life and as with so many artists of his day, his paintings have only become more valuable with time.
On the 6th of November 2007 at Christie's in New York, an auction record was set for Pissarro when a group of four paintings collectively called Les Quatre Saisons (1872) sold for $14,601,000. November 2009 saw Le Pont Boieldieu et la Gare d'Orléans, Rouen, Soleil (1898) sell for $7,026,500 at Sotheby's in New York.
However, his most notable sale came in the February of 2014 with Le Boulevard de Montmartre, Matinée de Printemps, an 1897 painting initially belonging to German industrialist and Holocaust survivor Max Silberberg, which sold at Sotheby's in London for £19.9 million.
Legacy of Camille Pissaro
Camille Pissarro's headstrong determination to break away from the norms of the day saw him become the bridge between 19th and 20th century art. The textured and spontaneous realism of his work dismayed the elite and found him kinship among likeminded artists, such as Claude Monet and Paul Cézanne.
The work that he and his fellow Impressionists did re-imagined the purpose of art and, in turn, laid the foundations for the avant-garde, which has become something of a constant catalyst in all artistic spheres.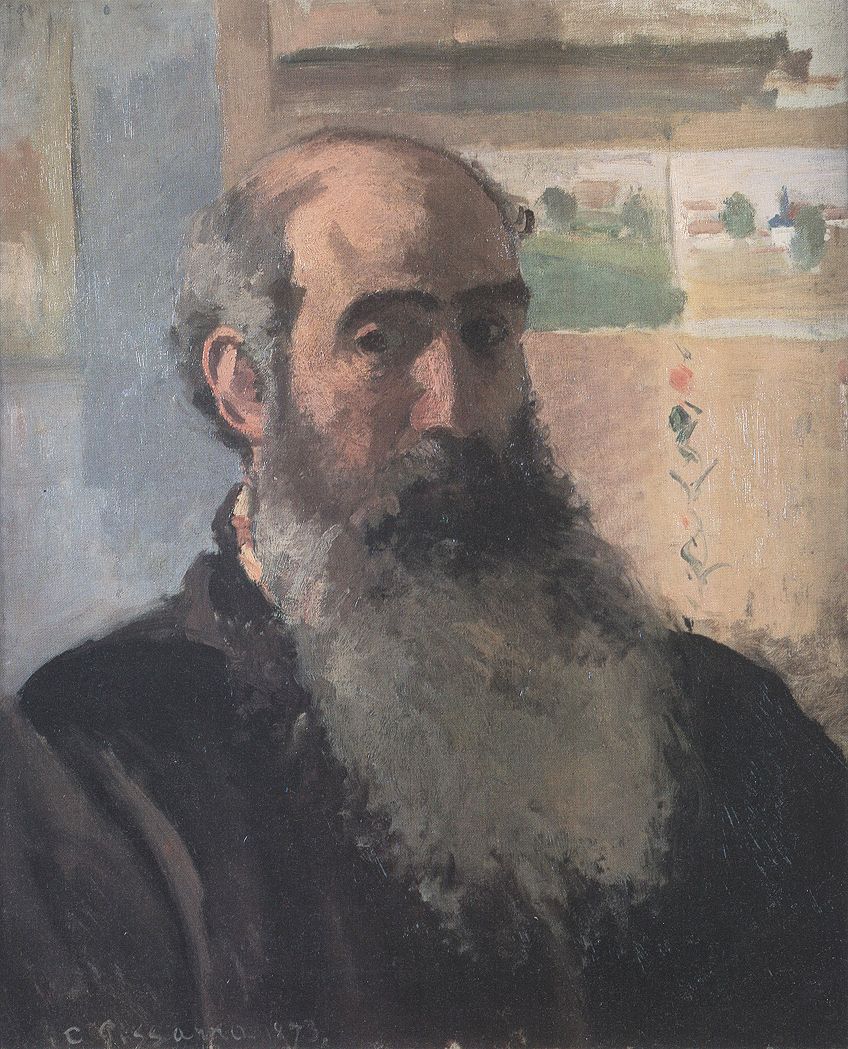 Self-portrait (1873) by Camille Pissarro; Camille Pissarro, Public domain, via Wikimedia Commons
Pissarro's legacy doesn't only lie in his influence on the greater art world. By all accounts, he was a kind and wise man who, in the words of American Impressionist Mary Cassatt, "could have taught the stones to draw correctly."
Art historian Diane Kelder also notes Pissarro's role in keeping the Impressionist movement alive,  stating that "no member of the group did more to mediate the internecine disputes that threatened at times to break it apart."
Today, Camille Pissarro's achievements in the art world are still celebrated, as he is remembered as an incredibly influential artist. His great desire to break away from traditionalism led to him being regarded as a truly ambitious artist, who paved the way for those to follow. If you have enjoyed reading our Camille Pissarro biography, we encourage you to read more!
Frequently Asked Questions
What Is Camille Pissarro Famous For?
Camille Pissarro was a French artist best known for his influence within the Impressionism and Neo-Impressionism movements.
What Technique Did Camille Pissarro Use?
Camille Pissarro used many techniques throughout his career as a painter, such as impasto and pointillism.
What Impact Did Camille Pissarro Have on the Art World?
Camille Pissarro's refusal to conform to the norms of the day led to what would ultimately become known as the Avant-Garde.