Marisol Escobar – A Look at the Life and Art of Marisol Escobar
This post may contain affiliate links. We may earn a small commission from purchases made through them, at no additional cost to you.
Marisol Escobar was a well-known American sculptor recognized for her carved wooden sculptures, which frequently included photos and painted components. Marisol Escobar's art was heavily inspired by pre-Columbian art, including clay and wood components while employing geometric abstraction. Escobar's Pop art was world-renowned in the 1960s, and although her peak was short-lived, Marisol Escobar's art once again returned to the spotlight in the early years of the 21st century.
Marisol Escobar's Biography
Maria Escobar was born in Paris, France, on the 22nd of May, 1930, to Venezuelan parents. Gustavo Hernandez Escobar, her father, and Josefina, her mother, both came from rich backgrounds and lived off money from fuel and property investment ventures. Because of their affluence, they traveled regularly from the United States, Europe, and Venezuela.
Maria Sol adopted the moniker Marisol, which is a typical Spanish nickname, at some point in her life.
| | |
| --- | --- |
| Nationality | Venezuelan-American |
| Date of Birth | 22 May 1930 |
| Date of Death | 30 April 2016 |
| Place of Birth | Paris, France |
| Associated Movement | Pop Art |
Early Life and Education
Marisol was 11 years old when her mother took her own life in 1941. Marisol was greatly impacted by the event, which was followed by her father sending her to a boarding school for a year in Long Island, New York. Marisol opted not to communicate again following her mother's death, apart from answering questions in class or other obligations; she routinely refused speak in public until she was in her early 20s.
Marisol was emotionally damaged, yet this had no effect on her creative abilities.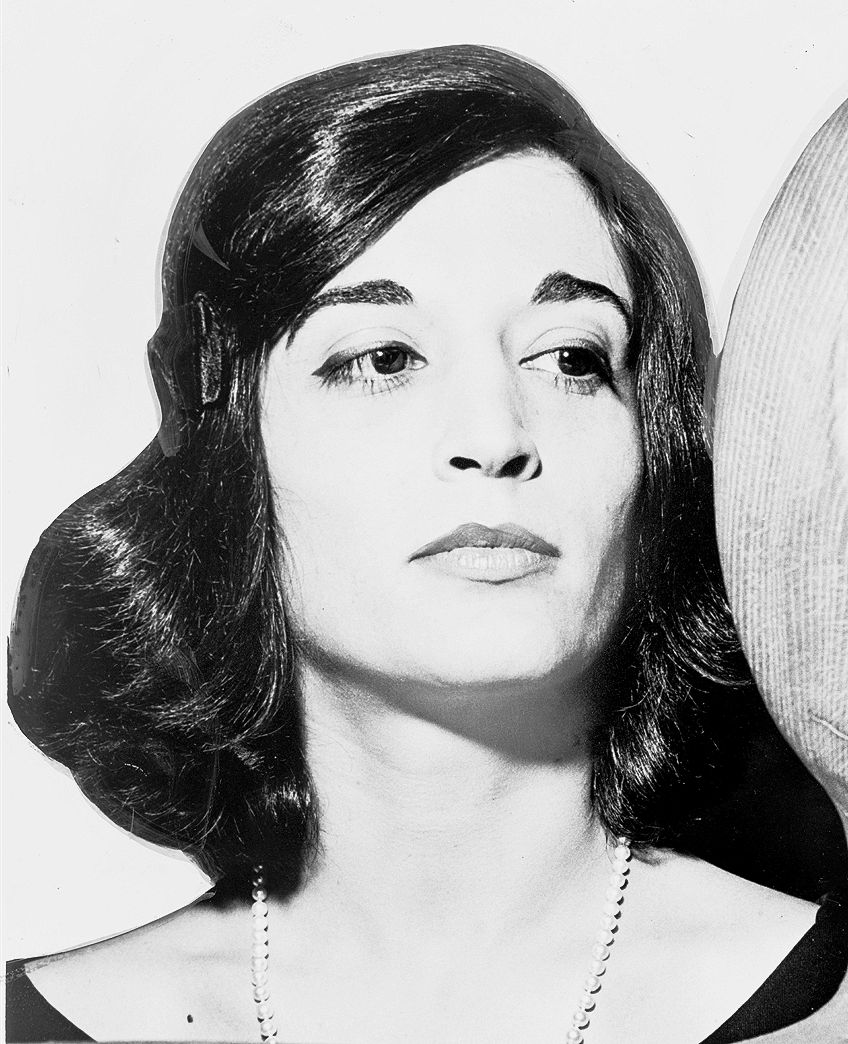 Photograph of Marisol Escobar (1963) by Herman Hiller; New York World-Telegram and the Sun staff photographer: Hiller, Herman, photographer., Public domain, via Wikimedia Commons 
Her parents had encouraged her skill by accompanying her to museums since she was a child. Her sketching abilities garnered her several creative accolades at the different institutions she attended before landing in Los Angeles in 1946. Marisol also showed stitching skill, devoting at least three years to stitching the side of a tablecloth.
Marisol was a devout Christian. During her adolescence, she dealt with her mother's death by crawling on her knees until they started bleeding, remaining mute for extended periods of time, and tying ropes firmly around her waist.
The family moved between Caracas and New York, following her mother's passing and Marisol's departure from the Long Island boarding house. Marisol was 16 years old when her family migrated permanently to Los Angeles, and she enrolled at Marymount High School in Los Angeles. She loathed this school and in 1948 went to Westlake School for Girls.
Marisol Escobar started her academic art education at the Otis Art Institute in 1946, where she trained under Rico Lebrun and Howard Warshaw.  In 1949, she studied art at the École des Beaux-Arts in Paris. She subsequently went to New York to start studying at the Art Students League of New York, and with artist Hans Hofmann.
Early Career and Art Practice
Marisol was recognized as a member of the 1960s pop art scene, which increased her visibility and appeal. She specialized in three-dimensional portraiture, taking cues from "photographs or personal experiences." Marisol was inspired by found materials like a bit of wood that formed her Mona Lisa sculpture and an old sofa which became The Visit.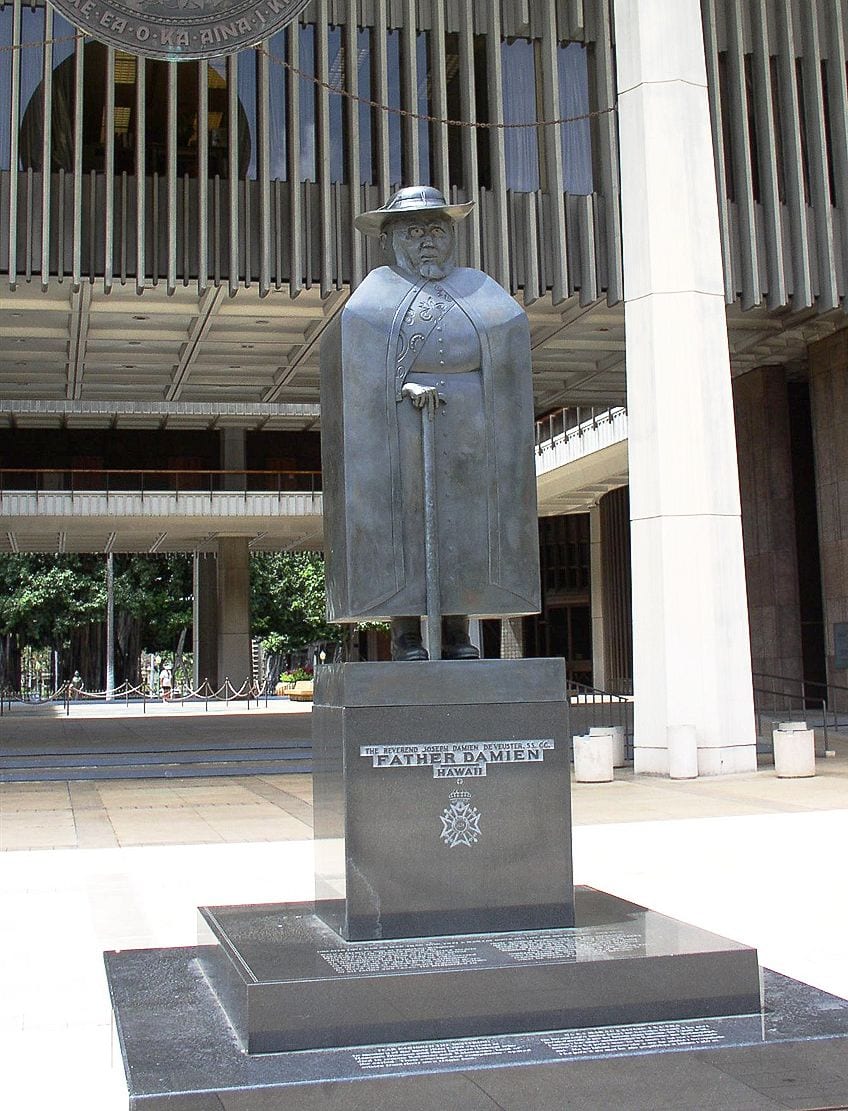 Bronze statue of Father Damien (1969) by Marisol Escobar; blahedo, CC BY-SA 2.5, via Wikimedia Commons
In the early 1960s, she became friends with Andy Warhol; she created a sculptural picture of him, and he asked her to participate in his early films 13 Most Beautiful Girls (1964) and The Kiss (1963). Throughout the postwar period, conventional values were reestablished in the public realm, reinforcing roles in society, enforcing gender and race.
Marisol's sculptural pieces, according to Holly Williams, flirted with the predefined societal roles and restrictions imposed by women during this era through her representation of the nuances of femininity as a recognized truth.
Marisol Escobar's art exemplified a dynamic blend of Dada, Folk art, and Surrealism, eventually displaying a strong psychological insight into modern reality. Marisol was able to remark on the societal construct of "woman" as a fragile entity by exhibiting the basic qualities of femininity inside an ensemble of improvised constructions.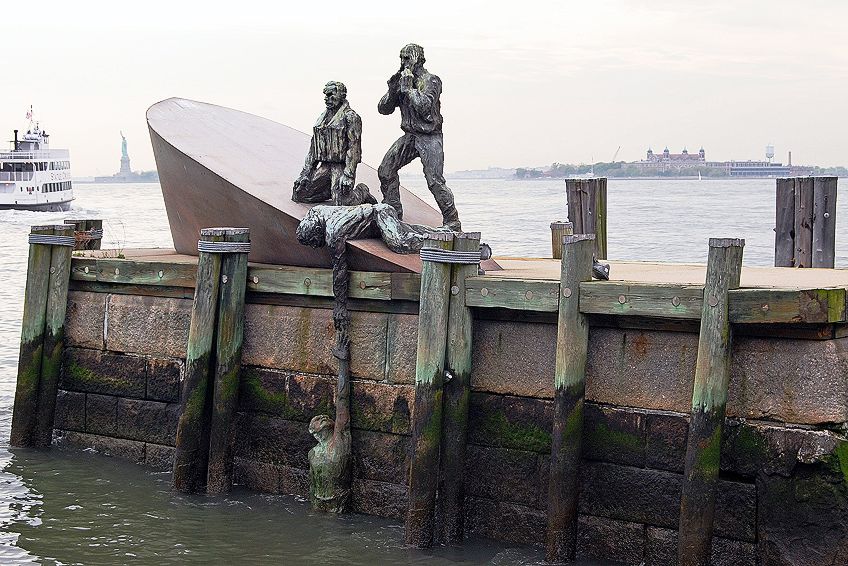 American Merchant Mariners' Memorial statue designed by Marisol Escobar, located in Battery Park, New York; Harvey Barrison from Massapequa, NY, USA, CC BY-SA 2.0, via Wikimedia Commons
Marisol successfully detected their physical discontinuities by assembling wooden blocks, plaster casts, woodcarving, sketches, photographs, paint, and bits of current apparel. Marisol represented the artist's rejection of any constant presence of "fundamental" femininity through a vulgar mix of materials.
"Femininity" is described as a created identity constructed from representational pieces. A woman's identity was most often decided by the male spectator as a mother, femme fatale, or companion. Marisol used a feminist strategy called mimicking to undermine society's patriarchal ideals. She emulated and exaggerated common public conduct. She aimed to spark societal change by parodying women, style, and television.
Marisol Escobar's Art Style
Marisol's sculpture composition Women and Dog, created between 1963 and 1964, mirrored the role of femininity. Among other things, this work constituted a satiric critical response to the guises of created femininity by purposefully taking the function of "femininity" in order to modify its repressive character.
Three ladies, a little child, and a dog are exhibited as commodities on display, confidently enjoying their social standing in front of the public. The ladies are portrayed as calculating and "refined" in their demeanor, always watching themselves and others around them. Two of the women have a variety of cast faces, scanning the environment and following the subject's route in full motion. Their stern demeanor is expressed by the wooden structure.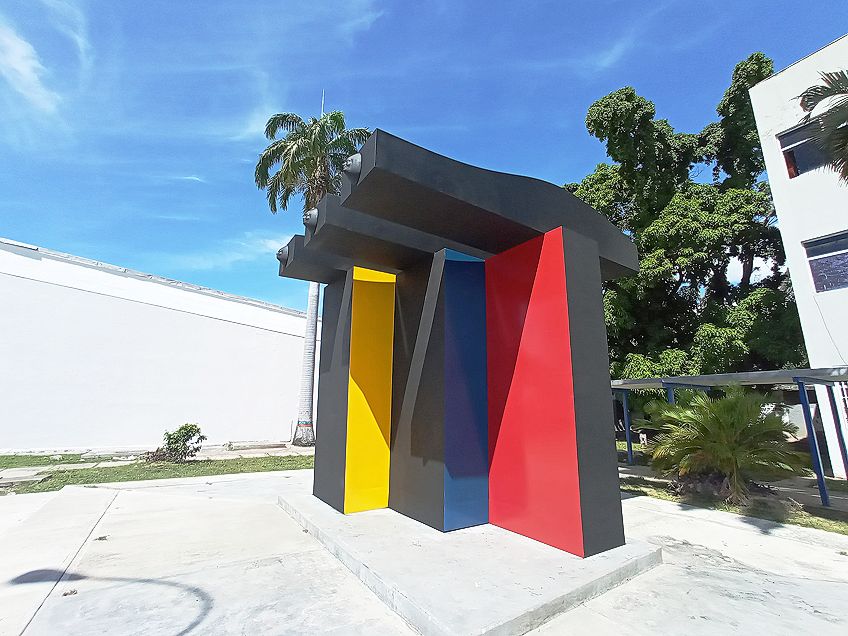 Tres Figuras (Three Figures) sculpture by Marisol Escobar, located in Maracay, Venezuela; Muago, CC0, via Wikimedia Commons
Marisol's sculptural method removed herself from her subject while also reintroducing the creator's existence through a variety of self-portraiture present in each piece. Marisol, unlike the bulk of Pop artists, integrated her own existence in the criticism she created.
She drew, painted, photographed, and cast herself as a model for a variety of works. This method was used as a self-critique, but it also clearly defined herself as a woman who faced biases in her contemporary circumstances.
Along with many other pop artists, Marisol cropped, expanded, reframed, and reproduced her subject matter from everyday life to emphasize its discontinuities. Paying attention to key parts of a picture and/or thoughts outside of their actual meaning allowed for a comprehensive grasp of transparent signals.
The concept of a 'female' was broken down into distinct signifiers by her mimetic method in order to graphically reconstruct the imperfections of the representational pieces. By creating these symbols from disparate sources, she disassociated "female" as an evident entity and instead showed her as a result of a succession of symbolic pieces. Marisol deconstructed the concept of authentic femininity even further in her sculptural assemblage, The Party (1965–1966), which included a huge number of individuals dressed in the current fashion found objects.
Although the gowns, shoes, accessories, and jewelry look to be real at first glance, they are actually cheap knockoffs of ostensibly valuable consumer products. Costumes, paint and commercial photos cover the subjects, implying a false sense of reality. This style disassociated conceptions of femininity as real, instead of seeing the concept as a recurrence of fictitious ideals.
Typical signifiers of 'womanhood' are presented as patriarchal logic produced via recurrence of representation in the media by Marisol's theatrical and sardonic mimicry. Marisol embodied both the imagined construct of what it meant to be a woman and the function of the "artist." She achieved this by fusing the sensibility of Pop art and Action painting. Marisol combined the impulsive passion of Action painting with the calm and collected creative aim of Pop art. Marisol's sculptures called into question the legitimacy of the built self, implying that it was fabricated from representational pieces.
Art was utilized to reveal the self as an imaginary fabrication rather than as a platform for genuine expression. Marisol demonstrated how "femininity" is culturally generated by contrasting several signifiers of femininity.
Marisol's mimetic approach comprised a series of portraits based on discovered imagery of personalities such as John Wayne, Andy Warhol, and Charles de Gaulle. The sculptures were built using existing pictures that the artist interpreted and then turned into a fresh material format.
The subject's emotional history was retained inside the piece by replicating a sourced picture. The use of pre-fabricated information enables the object to retain its meaning as a cultural relic. Furthermore, because the resemblance of a character was simply generated by the resemblance of a photo, this method of production established distance between the artist and the topic while retaining the Pop art term.
Important Examples of Marisol Escobar's Artworks
Now that we have covered Marisol Escobar's biography, it is time to delve into her most notable artworks. Each piece reveals something to us about the creator's desire to reflect her notions on social roles. Let us now learn more about Marisol's fascinating Pop art creations.
The Generals (1962)
| | |
| --- | --- |
| Date Completed | 1962 |
| Medium | Mixed Media |
| Dimensions | 220 cm x 72 cm x 193 cm |
| Current Location | Albright-Knox Art Gallery |
The Generals includes roughly life-size sculpted representations of American president George Washington and Venezuelan political and military figure Simón Bolvar, each of whom are seated on a toy horse.
Some elements, such as the face of the Bolvar figure, are painstakingly detailed, while others are purposefully left incomplete.
Both characters' hands are castings of Marisol's own, lending the sculpture an incredibly lifelike layer. When the sculpture was initially shown at the Albright-Knox in 1962, a recording of a march called "Koronal Kreplach" by American musician David Amram, a colleague of the artist, came from the horse's body.
Amram had created the music for a Broadway show called The Rivalry, but when Marisol encountered it while walking around the sculpture, she found the mixture humorous and chose to include it in her piece.
Women and Dog (1964)
| | |
| --- | --- |
| Date Completed | 1964 |
| Medium | Plaster, Wood, Synthetic Polymer |
| Dimensions | 186 cm x 194 cm x 68 cm |
| Current Location | Whitney Museum of American Art |
Women and Dog, which is equal measures painting, assemblage, sculpture, and collage, was influenced by elements as varied as its component elements. Marisol produced in New York in the early 1960s, at the birth of Pop Art, and was one of the few women connected with the movement.
This sculpture exhibits Pop's preoccupation with daily life, yet its larger-than-life totemic shapes and multi-faced features of the characters conceal inspirations ranging from Native American folk art to Pre-Colombian, as well as Analytic Cubism.
Marisol's interest in societal norms and traditions pertaining to women in society is suggested by a trio of ladies strolling with a toddler and a dog, yet the composition is unclear. The women's apparel are colorfully fanciful, yet they are actually "boxed in" by their outfits, and their features have a deadpan inscrutability.
The ladies, and possibly the child, are self-portraits—in fact, an image of the artist is superimposed straight onto the head of one of the figures, implying fluid assimilation of several feminine identities and roles.
Self-Portrait Looking at The Last Supper (1984)
| | |
| --- | --- |
| Date Completed | 1984 |
| Medium | Plywood, Plaster, Stone, Charcoal, Aluminum, Dye |
| Dimensions | 308 cm x 909 cm x 154 cm |
| Current Location | The Met Museum |
Marisol's modern sculptural assemblage is inspired by Leonardo da Vinci's 1495 – 1498 classic artwork, The Last Supper. Marisol accurately transfers the theatrical viewpoint of the artwork into 3D forms and spaces in her colossal creation, which matches the length of the fresco.
The contradictions of the fresco (between truth and fiction, and surface and depth) are echoed in the sculpture, where our vision swings between two and three dimensions as the sitting individuals are neither entirely rounded nor continuously flat.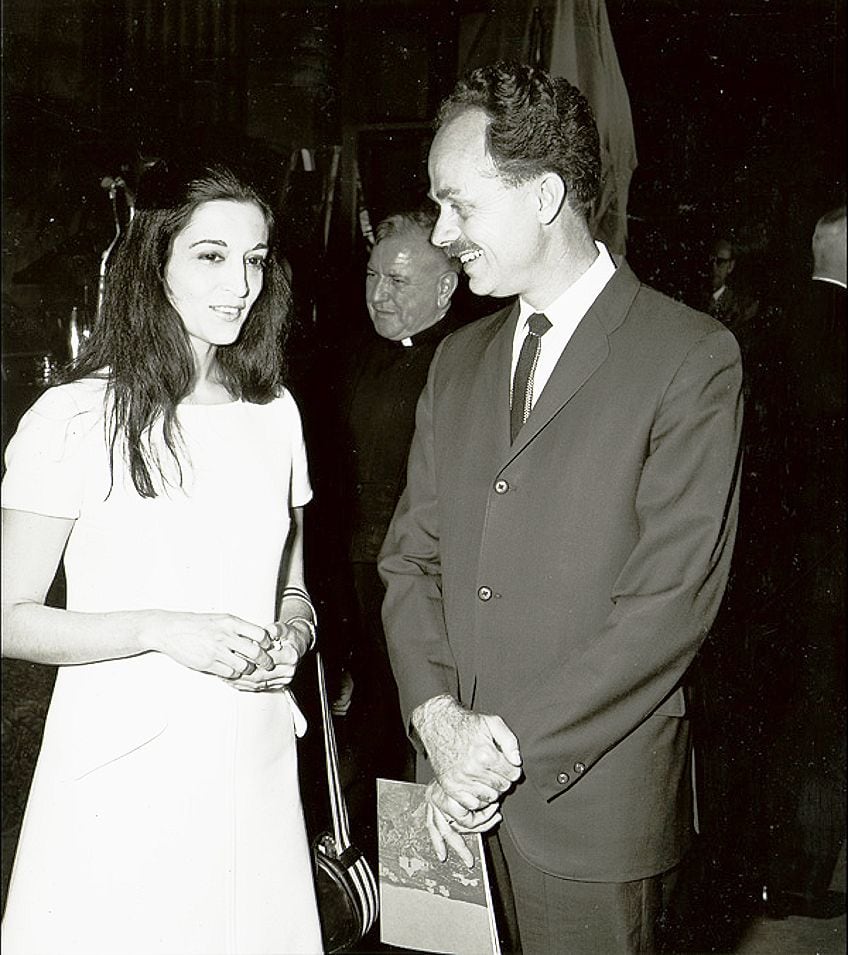 Photograph of Marisol Escobar; USCapitol, Public domain, via Wikimedia Commons
The center figure of Christ is elegantly carved from a block of reclaimed New York City stone, while the remainder of the figures and table objects are created from over a hundred colored and sketched wood pieces.
Christ's bodily firmness offers the emotional and aesthetic grounding for this dramatic scenario, looking peaceful, ashen, and already otherworldly in spirit. A lone wooden person symbolizing the artist herself sits across the chamber from The Last Supper, scrutinizing her work.
Her attentive presence reinforces the notion that creativity is about observing, assessing, and changing what one sees.
Recommended Reading
Did you enjoy learning about the life and art of Marisol Escobar? Maybe you wish to discover more about Marisol Escobar's biography and artworks. In that case, we have created a list of essential reading material on the artist.
Marisol: Sculptures and Works on Paper (2014) by Marina Pacini
Marisol (b. 1930), a Venezuelan artist born in Paris, emerged onto the New York art scene in the 1960s with enormous figural works in a chaotic mixture of mixed media. Marisol's art is often humorous and draws inspiration from sources as disparate as Pre-Columbian artwork, folk artistry, Cubism, and Surrealism.
Marisol, on the other hand, has avoided the spotlight for several decades, and as a consequence, her artwork has gone unnoticed.
This long-awaited and wonderfully illustrated collection, following the first retrospective of Marisol's works in more than ten years, presents a much-needed correction, reestablishing her status as a prominent figure in postwar American art.
A highly-anticipated volume of her artistic evolution
Beautifully illustrated pages that detail her iconic artworks
Essays by leading scholars that explore all facets of her work
View on Amazon
Marisol Escobar was a well-known American artist noted for her carved wooden sculptures that usually featured photographs and painted elements. Marisol Escobar's art was highly influenced by pre-Columbian art, including clay and wood components, as well as geometric abstraction. Marisol Escobar's Pop art was world-renowned in the 1960s, and although her peak was brief, Marisol Escobar's work resurfaced in the early years of the 21st century.
Frequently Asked Questions
What Defines Marisol Escobar's Art?
By 1958, when she held a show at the Leo Castelli Gallery in New York City, Marisol had established a new sculpting technique. She began large-scale wooden creations of humans and animals. She employed a variety of mediums in unusual pairings, such as plywood with plaster, and pencils sketching on wood. Picasso's eclectic use of materials and Rauschenberg's assemblages influenced her.
Why Was Marisol Escobar's Art Important?
It was hard for women to rise to distinction in the world of art during the period, which was dominated by men. This reality affected many young female artists, and as a consequence of this restrictive milieu, Marisol frequently picked a subject matter that corresponded to her feminine experience. She typically relied on stereotyped feminine topics such as the family, infants, and women asserting their independence from men.
What Was Marisol Escobar's Art Style?
Marisol's sculptural style separated herself from her subject while simultaneously reintroducing the creator's presence through a variation of self-portraiture in each piece. Marisol, in contrast to the majority of pop artists, included her personal existence in the critiques she made. She sketched, painted, photographed, and acted as a model in a number of works. This method was used to criticize herself, but it also clearly identified herself as a woman who faced biases in her current circumstances. Marisol, like many other pop artists, cropped, enlarged, reframed, and repeated her ordinary life subject matter to accentuate its discontinuities.