Neoclassical Art – Exploring the Art and Style of the Neoclassical Period
This post may contain affiliate links. We may earn a small commission from purchases made through them, at no additional cost to you.
Neoclassical art evolved in response to the extremely colorful and garish forms of the Baroque and Rococo periods, which were instilling culture with a narcissistic aesthetic focused on individual contrivances and whimsy. Neoclassicism art sparked a widespread renaissance in classical philosophy, mirroring what was occurring in social and political spheres at the time, eventually contributing to the French Revolution. The main notion of the Neoclassical period was that art can embody the ideal values in life and may better the audience by conveying a moralizing statement.
Neoclassical Art
What is Neoclassicism? Neoclassical painters and sculptors believed that Neoclassicism art had the power to tame, restructure, and change society at the same time that society was being converted by novel strategies to administration and the increasing influences of the Industrial Revolution, pushed by scientific advancement and discovery.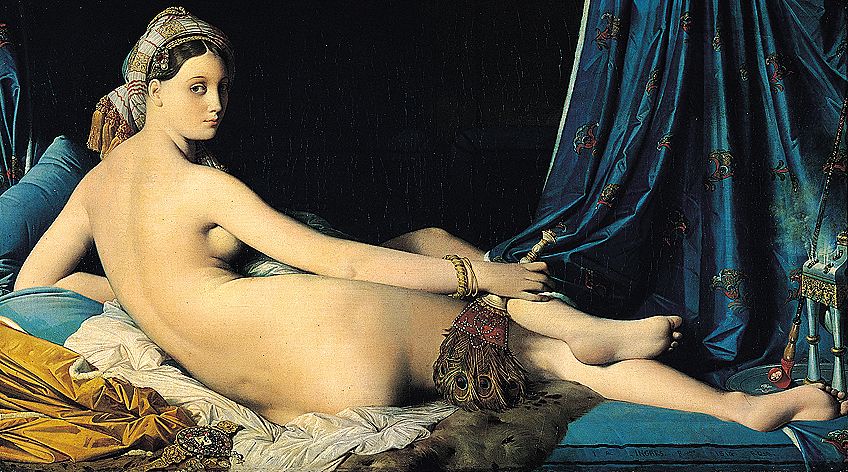 La Grande Odalisque (1814) by Jean Auguste Dominique Ingres; Jean Auguste Dominique Ingres, Public domain, via Wikimedia Commons
The success of the Grand Tour, wherein art scholars and the general nobility were allowed access to freshly uncovered ruins in Italy and were enthralled with the aesthetics and philosophy of ancient art, contributed significantly to the emergence of Neoclassical sculptures and paintings.
The Early Days of Neoclassical Art
The French Royal Academy of the Arts developed a painting hierarchy in 1669, in which Neoclassical painting was accepted. The highest genre was historical painting, which covered topics from the Scripture, classical myths, and historic narratives, followed by portraits, genre painting, vistas, and still lifes.
This system was used to judge works presented to the Salon or for awards like the prestigious Prix de Rome, and it affected the monetary worth of paintings for benefactors and buyers.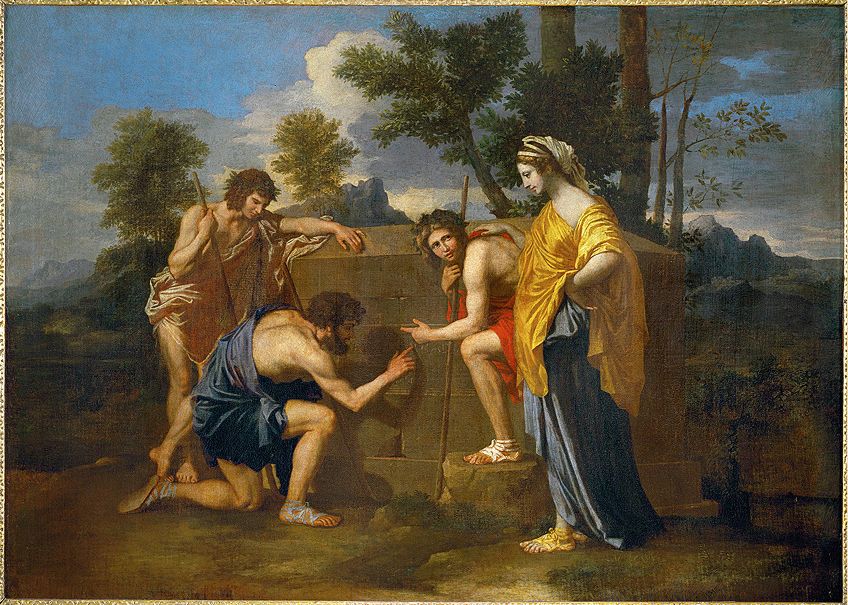 Et in Arcadia ego (1638-40) by Nicolas Poussin; Nicolas Poussin, Public domain, via Wikimedia Commons
Claude Lorrain and Nicolas Poussin's paintings were regarded as perfect examples of historical painting, and both painters were major influences on Neoclassicism art. While both Claude Lorrain and Nicolas Poussin were French Baroque painters who devoted most of their lives to working in Rome, it was their specific attention to a more classical style that drew Neoclassical artists to them.
Claude Lorrain produced landscapes with characters from classical mythology or Scriptural scenes, as can be seen in his Neoclassical painting A landscape with Apollo guarding the herds of Admetus and Mercury Stealing Them (1645). Several of his masterpieces communicated an influence of organized unity, which endeared to Neoclassicism art's conviction that art must convey the ideal positive aspects.
Cupid and Psyche (1817) by Jacques-Louis David; Jacques-Louis David, Public domain, via Wikimedia Commons
While he was also a prominent religious artist, Nicholas Poussin's greatest effect on Neoclassical painting was his mythical and historical paintings. His The Death of Germanicus (1627) earned him a reputation inside his own day and inspired Benjamin West and Jacques-Louis David. Though Titian's paintings impacted his color palette, Poussin's arrangements prioritized purity and rationality, and his realistic treatments valued strong lines.
The Grand Tour
The unearthing of Greco – Roman ancient sites and objects that became recognized across Europe in widespread illustrated reports of different trip excursions influenced Neoclassical art. Rome, with its Roman remains, Renaissance art, and newly found antiquities, became a popular visit. Many of these aristocratic travelers were enthusiastic collectors and commissioned numerous pieces, so famous artists like Antonio Canova and Pompeo Batoni conducted open workshops.
Young European nobles on the Grand Tour, a customary and academic rite of passage, journeyed to Italy "in pursuit of art, cultures, and the origins of Western civilization," according to cultural analyst Matt Gross.
Johann Joachim Winckelmann (1717 – 1768)
Neoclassicism originated in Rome, with Thoughts on the Imitation of Greek Works in Painting and Sculpture (1750) by Johann Joachim Winckelmann. This played a key part in creating Neoclassicism art's aesthetic and ideology. Despite being German, he spent most of his life in Rome, where he was patronized by various prominent Catholic leaders. He said that "the one way for us to become magnificent, possibly unique, is by copying the ancients," arguing that art must aspire for "noble simplicity and serene majesty."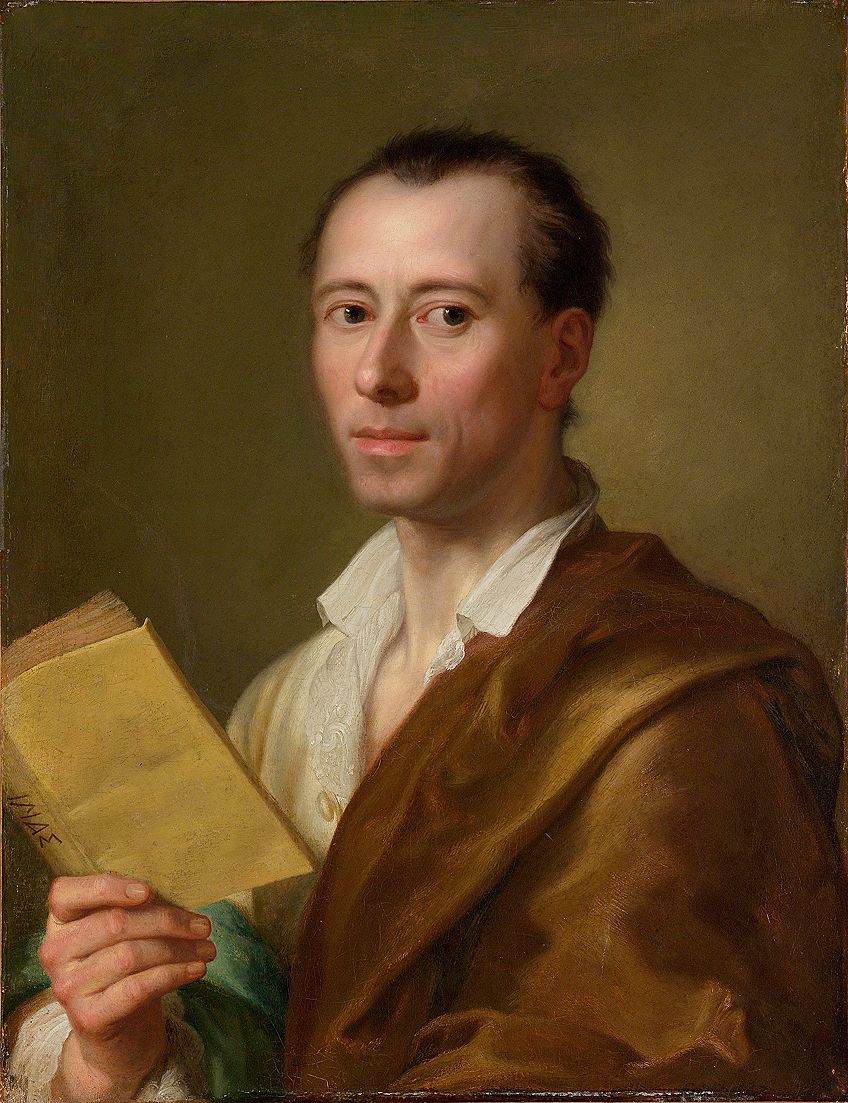 Portrait of Johann Joachim Winckelmann (c. 1777) by Anton Raphael Mengs; Anton Raphael Mengs, Public domain, via Wikimedia Commons
The artist Henry Fuseli's work, which made him renowned, was extensively transcribed, first into French, then into English, in 1765. The ancient city of Herculaneum was found and excavated in 1738, followed in 1748 by Pompeii and Paestum. The settlements were blanketed in volcanic ash after Mount Vesuvius's unexpected eruption in 79 CE, preserving remnants of old daily life, notable sculptures, and many murals.
As art historians have noted, Winckelmann's masterpiece, History of Ancient Art (1764), had become an immediate masterpiece. His "most substantial and lasting accomplishment was to generate a comprehensive, thorough, and cogent chronological record of all antique art – which included that of the Etruscans and Egyptians."
He was the first to develop an ordered picture of art, from its inception through its maturity and decay, viewing a society's art as inextricably linked to the culture itself. The work had an impact on notable thinkers of his day and later generations, including Herder, Lessing, Goethe, Spengler, and Nietzsche.
Anton Raphael Mengs (1728 – 1779)
Anton Raphael Mengs is regarded as an innovator of Neoclassical painting. The artists that congregated around Winckelmann and Mangs established Rome as the epicenter of the new movement.
Mengs' famous paintings depicting legendary topics earned him the title "best artist of the day."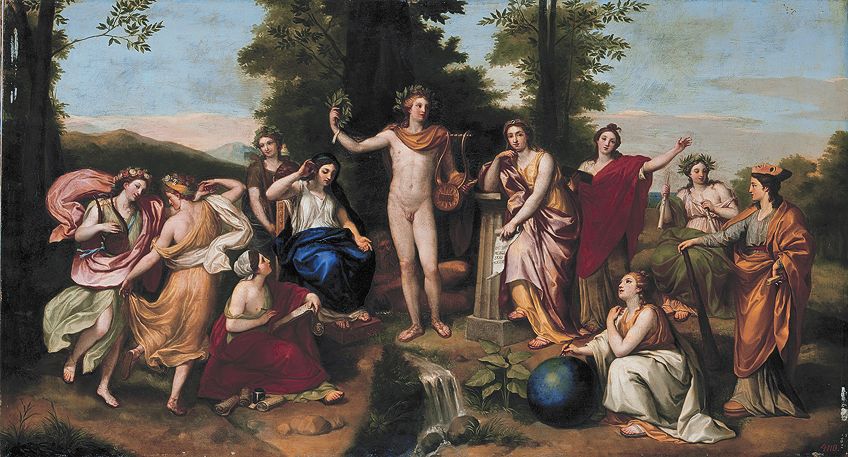 Parnassus (c. 1750s – 1760s) by Anton Raphael Mengs; Anton Raphael Mengs, Public domain, via Wikimedia Commons
He influenced a number of notable painters, including Angelica Kauffman, Benjamin West, John Flaxman, and Gavin Hamilton, who would go on to lead the future development of Neoclassicism art in Britain. As the two painters met during David's Prix de Rome visit from 1775 to 1780, he inspired Jacques-Louis David, who headed the following phase of Neoclassicism focused in France.
The Enlightenment
The Enlightenment, a political and intellectual movement that emphasized sciences, rationality, and discovery, ushered in the Neoclassical period. The Enlightenment, also known as "The Age of Reason," was influenced by René Descartes' skepticism and John Locke's political philosophy as the immutable truths of the royal family and religious doctrine were profoundly questioned and the ideologies of personal rights, faith, and governments were developed.
The French Encyclopédie, the most important volume of the century and a collection of Enlightenment thinking, had an international impact. Denis Diderot, the work's editor and a creator of the subject of art history, stated that the work's goal was "to transform the way people seem to think." It "effectively argued for the ability of reasoning and unified understanding to strengthen human choice and to change societal challenges," historian Clorinda Donato stated.
Adopting this viewpoint, Neoclassical painters believed that art should civilize, educate, and improve society at the same time.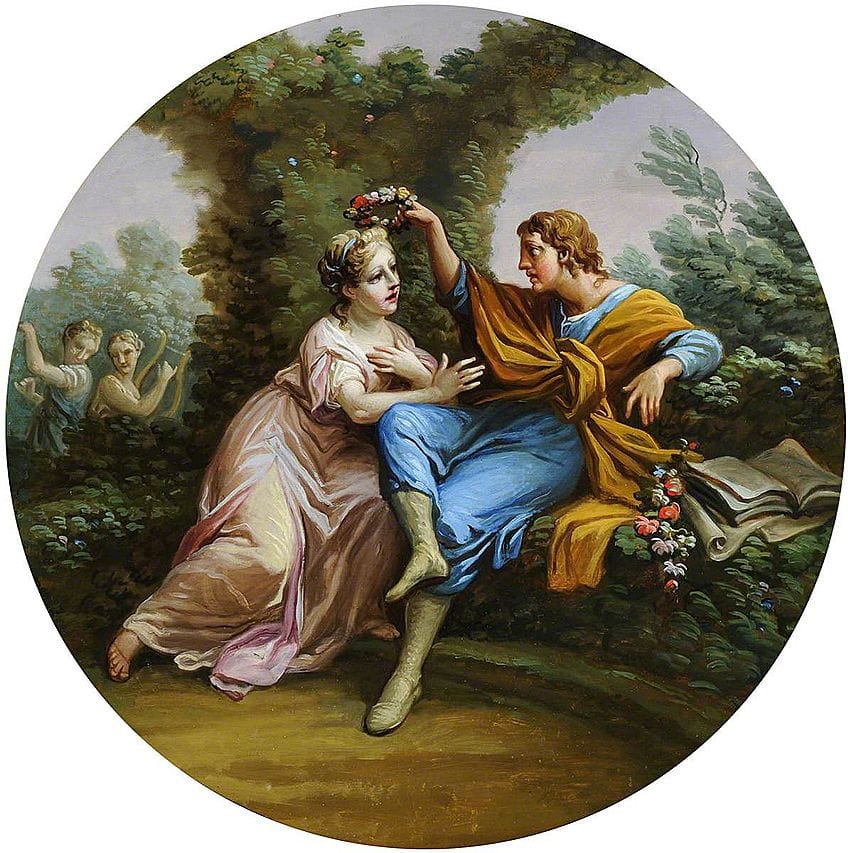 Daphnis Bestowing a Garland of Flowers on Chloe (1776) by Antonio Zucchi; Antonio Zucchi, Public domain, via Wikimedia Commons
This was because society itself was being revolutionized by the growing powers of the Industrial Revolution, fueled by scientific discovery and innovation. In the United Kingdom, among other artists, Benjamin West's Neoclassicism took on a more modern theme, stressing morality and Enlightenment rationalism.
Other painters, such as Derby's Joseph Wright, made works influenced by scientific ingenuity, such as Philosopher Lecturing on the Orrery (1768). Rather than mythical topics, British painters turned to ancient historical records or actual events, such as West's The Death of General Wolfe (1770), in which he defied academic conventions by refusing to represent troops in Roman togas as not founded on reason or observation.
Neoclassical Period Apex
The latter Neoclassical style, which was based in France, stressed strong lines, stark classical surroundings lighted with artificial light, and reduced materials to portray moral force. Oath of the Horatii (1784) by Jacque-Louis David, seen at the 1785 Paris Salon, typified the new trend in Neoclassical painting and established him as the movement's head.
The picture was done while the Neoclassical painter was in Rome, where he met Mengs and afterward saw the Herculaneum ruins, an experience he likened to getting cataracts removed surgically. Even though the neoclassical painting suited King Louis XVI, whose government had commissioned it with its focus on devotion, it later became associated with France's revolutionary cause.
The French Revolution was a time of profound social and political turmoil that resulted in the overthrow of the monarchy, the establishment of a republic, and the establishment of a regime under Napoleon influenced by radical new liberalism principles.
Neoclassicism Art Styles and Concepts
Neoclassical architecture originated in the mid-1700s and expanded throughout Europe, influenced by the designs of Venetian Renaissance architect Andrea Palladio and inspired by the archeological finds at Herculaneum and Winckelmann's ideas. The resulting style, which can be seen in the design of public buildings, famous mansions, and urban planning, used a grid pattern inspired by classical Roman precedents. The ancient Romans, and even older civilizations before them, employed a unified design for city layout for defense and societal comfort.
The proposal, in its most basic form, stressed a square grid of roads with a central plaza for municipal functions. Regional differences emerged in the early 1800s when the British adopted the Greek Revival form and the French adopted the Empire style created during Napoleon Bonaparte's rule.
Both styles were linked to a feeling of national identity, which was fostered by the political climate of the period. The finds at Pompeii and Herculaneum impacted interior design and furniture in the Empire style.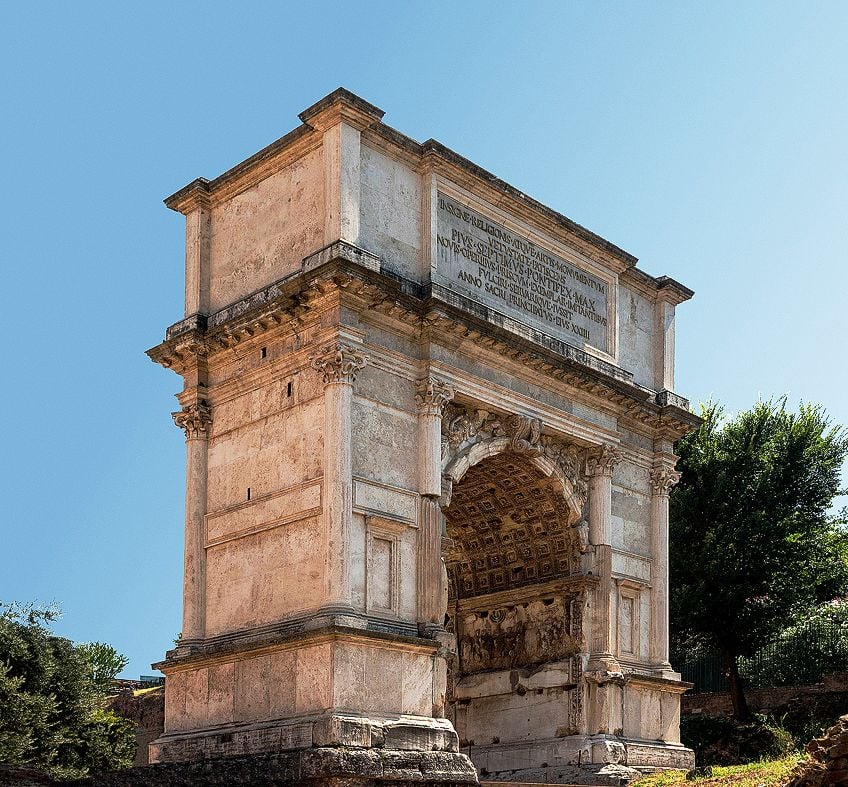 Arch of Titus, Forum Romanum, located in Rome, Italy; Jebulon, CC0, via Wikimedia Commons
Empire interiors, designed to impress, included gold adornment, frequently with a military pattern or motifs echoing ancient Egypt and other cultures captured by the Romans, and later by Napoleon in the early 1800s. The Empire style became universal in design and architecture since it related to the Federal design in the United States, the Regency form in England, and the Biedermeier form in Germany.
Jean-Baptiste Pigalle, a Frenchman, was a pioneer of Neoclassical sculpture.
Voltaire praised his Mercury (1744) as akin to the greatest Greek sculpture and it was frequently imitated. Pigalle was also a well-known instructor, since his pupil Jean-Antoine Houdon, who was well-known for his portrait busts, later headed the trend in France. Because the movement was really global, the Italian sculptor Antonio Canova was regarded as the main exponent of Neoclassicism, with works that were comparable in elegance and ease to those of the early Greek sculptor Praxiteles.
Important Neoclassical Paintings
In sculpture and painting, Neoclassicism art began to decline with the emergence of Romanticism. However, in the early 1800s, the two forms were in competition, as Ingres adhered to Neoclassicism, which was then deemed "traditional," and Delacroix stressed individual sensitivity and feeling.
By the 1850s, Neoclassical art as a style had died out, while academic painters continued to use classical forms and topics throughout the rest of the nineteenth century, despite being attacked and challenged by new art groups such as Naturalism, Realism, and Impressionism. Here are a few notable examples of Neoclassical paintings.
Death of General Wolfe (1770) by Benjamin West
| | |
| --- | --- |
| Artist | Benjamin West |
| Date Created | 1770 |
| Medium | Oil on Canvas |
| Current Location | National Gallery of Canada, Ottawa |
This Neoclassical painting depicts Major-General James Wolfe's death on the Plains of Abraham during the Seven Years' War, often known as the French and Indian War in the United States. In the short combat, Wolfe was slain by musket fire as he led the British troops to triumph, kicking off the capture of Canada from the Frenchmen.
We observe him laying on the ground, encircled and soothed by a number of officers.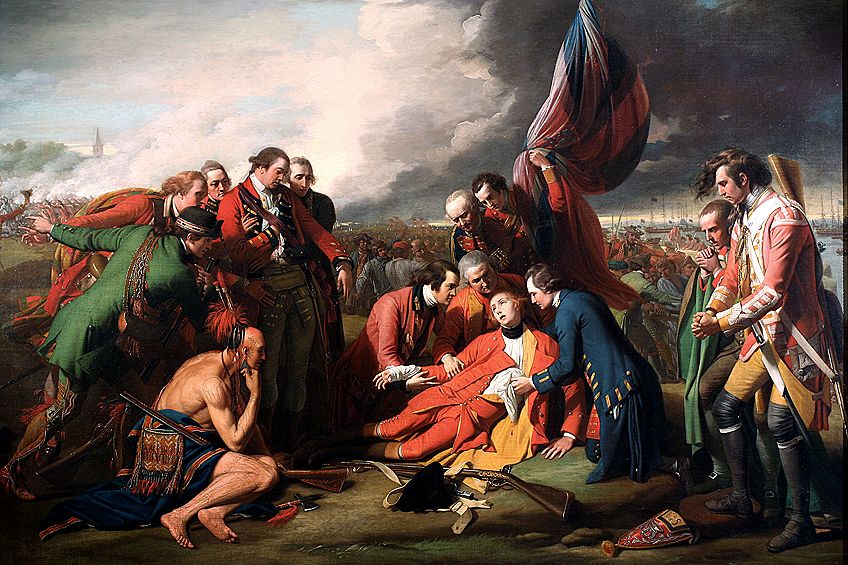 Death of General Wolfe (1770) by Benjamin West; Benjamin West, Public domain, via Wikimedia Commons
His body, which forms the base of a pyramidal arrangement that rises to the half-furled flag overhead, and his pale complexion are illuminated in a Christ-like manner, giving him the work's visual and emotional core. A group of armed men stands to the left, portraying grief evocative of portrayals of Christ in mourning.
A lone Indigenous man sits in the left foreground, his chin in his palm, as if deep in meditation. Two additional officers frame the picture on the right, as opposing soldiers mill in the background, and dark smoke from the battleground and storm clouds gather around the connecting diagonal line of the flag.
As the struggle concludes with a lone heroic sacrifice, a feeling of drama is communicated.
Captain Harvey Smythe is holding Wolfe's arm, Dr. Thomas Hinde is attempting to stop the commander's hemorrhaging, and Lieutenant Colonel Simon Fraser is depicted in his company's plaid. While these recognizable portraits added a feeling of authenticity and historical significance, practically all of them were not present at the time, and their inclusion demonstrates the artist's goal to create an iconic picture of a British hero.
The argument that the Indigenous warrior embodies the noble savage, a term originated by the theorist Jean-Jacques Rousseau, who praised the basic and therefore nobler character of "primitive" persons, has provoked major scholarly controversy. At the same time, because the artist has carefully picked all of the major parts, his presence places the image firmly in the New World.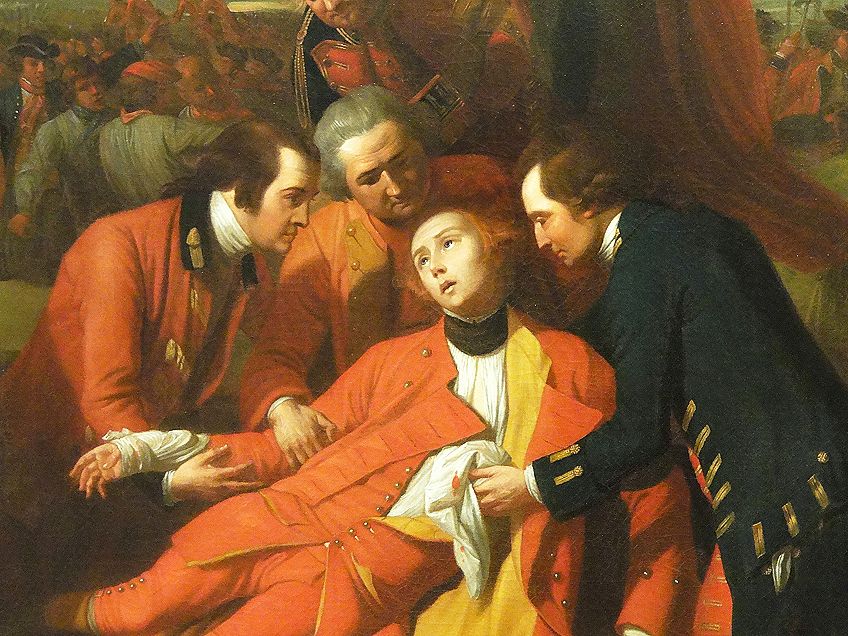 Detail of Death of General Wolfe (1770) by Benjamin West; Benjamin West, Public domain, via Wikimedia Commons
In the backdrop, for example, a Serviceman is sprinting toward the group while carrying the seized French flag. According to historian Robert A. Bromley, the total impact is "so natural and they get so close to the reality of history, that they are nearly genuine, and yet none of them are accurate in fact." West reworked the historical picture in a new way by presenting a modern scenario and dressing his subjects in contemporary attire.
Sir Joshua Reynolds and other renowned painters and benefactors wanted West to represent the characters in traditional Roman clothes to give the event more respect, but West said, "The same truth that directs the pen of the historians should rule the pencil of the painter."
King George III, enraged by Wolfe's use of current clothes, refused to purchase the painting, and the artist later donated it to the Royal Academy, where it became extremely famous. The prints of the painting by William Woollett acquired a worldwide market, and West was requested to paint four further reproductions of the artwork.
Oath of the Horatii (1784) by Jacques-Louis David
| | |
| --- | --- |
| Artist | Jacques-Louis David |
| Date Created | 1784 |
| Medium | Oil on Canvas |
| Current Location | Musée du Louvre, Paris |
This artwork represents the Horatii, a Roman family, with three sons ready for combat, extending their right arms in a sign of devotion toward their father, who wields three swords. They are going to go to fight with brothers from an opposite city's family. On the right, two ladies with relatives on both sides droop in despair toward one another, arms limp at their sides, fearful for those who would be slaughtered.
Another lady, clothed as though in sorrow, comforts the youngsters in the shadows. The minimalist setting, with its triple rising arches that extend into a virtually black shadow, conveys a sense of solemn resolve. The picture emphasizes nationalism and manly self-sacrifice for one's nation.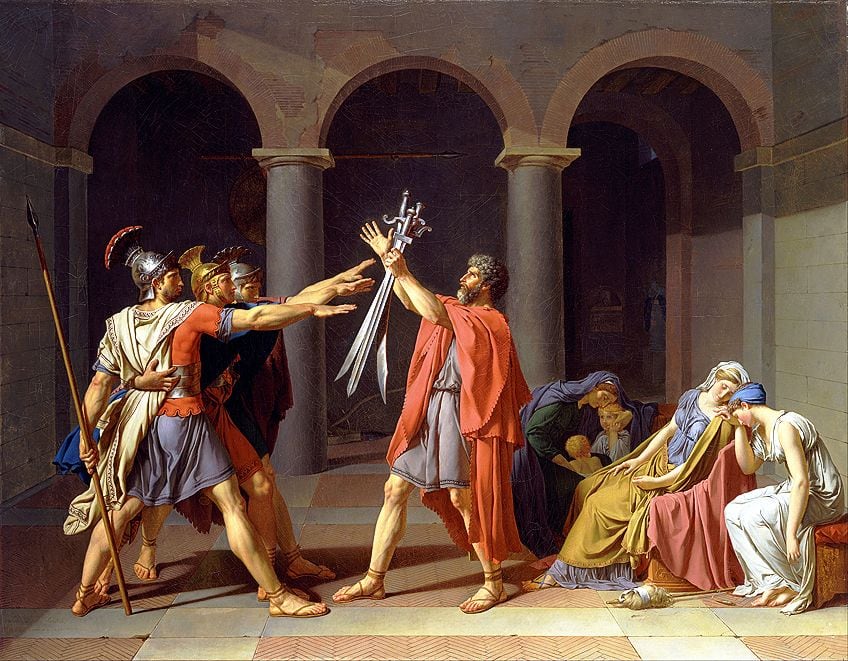 Oath of the Horatii (1784) by Jacques-Louis David; Anne-Louis Girodet de Roussy-Trioson, Public domain, via Wikimedia Commons
It has become an analogy for the French Revolution, in which compatriots were enlisted to kill each other for the greater good. When the picture was shown at the Salon in 1785, David was hailed as the best French artist since Poussin. According to art historian Roberta Smith, the painting became, "a real pillar of Neoclassicism art."
It heralded the victorious return of the great tradition of Poussinian paintings, as well as answering the prayers of reviewers who had been ranting for years against the degeneracy of court artwork, with Boucher as the main scapegoat, and gave graphical genre to the concepts of the French Revolution before the reality.
David's work had a wide influence, inspiring the work of the following generation, including Gros and Ingres, as well as the Romantic painters Théodore Géricault and Eugène Delacroix, even as their movement revolted against Neoclassicism painters.
Cornelia, Mother of the Gracchi, Pointing to her Children as Her Treasures (1785) by Angelica Kauffman
| | |
| --- | --- |
| Artist | Angelica Kauffman |
| Date Created | 1785 |
| Medium | Oil on Canvas |
| Current Location | Virginia Museum of Fine Arts, Richmond |
Cornelia, dressed in white and brown, was the mother of future political leaders Gaius Gracchus and Tiberius, while a Roman matron, dressed in red, sits to the right in this artwork. The guest has come to see Cornelia's lavish possessions, but when she is requested to show the guest her own riches in return, rather than giving her own box of diamonds, she humbly presents her children as her finest pearls.
Even though the woman's face flushes with humiliation, Cornelia's argument is clear: a woman's most valued assets are not material objects, but her children, who will shape the future.
The Roman architectural background is modest but colossal, enclosing the far mountains and sky as well as the two ladies, so that Cornelia's glance and the other woman's shocked look both occupy the rectangular area, underlining the painting's theme of exemplum virtutis, or example of virtues. Kauffman developed her own distinct style of historical painting, focusing on feminine figures from ancient history and mythology.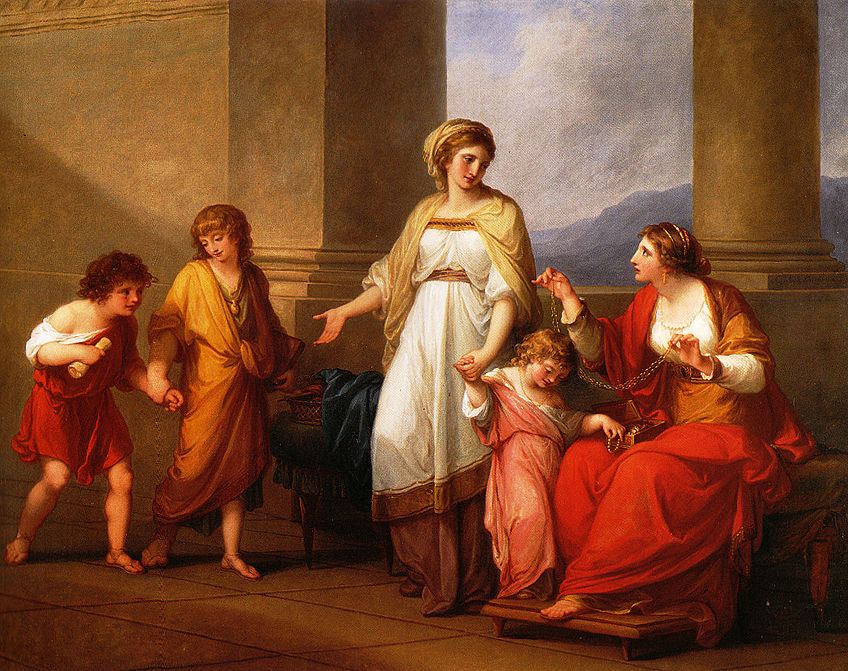 Cornelia, Mother of Gracchi (1785) by Angelica Kauffman; Angelica Kauffmann, Public domain, via Wikimedia Commons
Kauffman produced an understanding of classical bravery and ideals that embraced women by stressing a mother's integrity as the wellspring of her children's virtues and, by implication, of political and social fairness.
At the same time, she desired "to subvert the predominant norms of the history genre itself, and to focus on providing her viewers with various means of having experienced history and its portrayals," and as a result, she played a "great importance in restructuring 18th-century European society's social attitudes toward inventiveness, personhood, and gender identification," according to art historian Meredith Martin.
When Kauffman arrived in London in 1766, a London engraver exclaimed, "The entire world is Angelica-mad," and she was a founding student of the Royal Academy in 1768. Arriving from Rome, where she was a personal friend of Winckelmann and his group, she was a crucial pioneer in the field of an archeological-informed traditional perspective in Britain," art critic Jonathan Jones noted. Kauffman's work impacted a number of painters in England, notably Joshua Reynolds.
She was one of the Royal Academy's only two female founders. Her influence was so great that the Romantic painter John Constable commented that no advance in painting could be accomplished until her legacy was lost.
Achilles Receiving the Ambassadors of Agamemnon (1801) by Jean-Auguste-Dominique Ingres
| | |
| --- | --- |
| Artist | Jean-Auguste-Dominique Ingres |
| Date Created | 1801 |
| Medium | Oil on Canvas |
| Current Location | École nationale supérieure des Beaux-Arts |
A scene from Homer's Iliad is shown in this Neoclassical painting. The legendary poem recounts the Trojan War, wherein King Agamemnon dispatched Odysseus and other Greek troops to urge the legendary warrior Achilles, pictured on the left, to continue the battle against the Greeks.
A dramatic contrast is produced between the rough muscularity of the troops returning from the fight and the leisurely sensual nature of Achilles and his comrade Patroclus, sinuously poised to his right, accentuating the classical nude.
Achilles had retired from the fight after being offended by Agamemnon's capture of the young lady Briseis, and his body language as he surges forward in this painting provides a psychological drama. Odysseus stands with his arm extended as if pleading to reason, his scarlet robe signifying passion and conflict.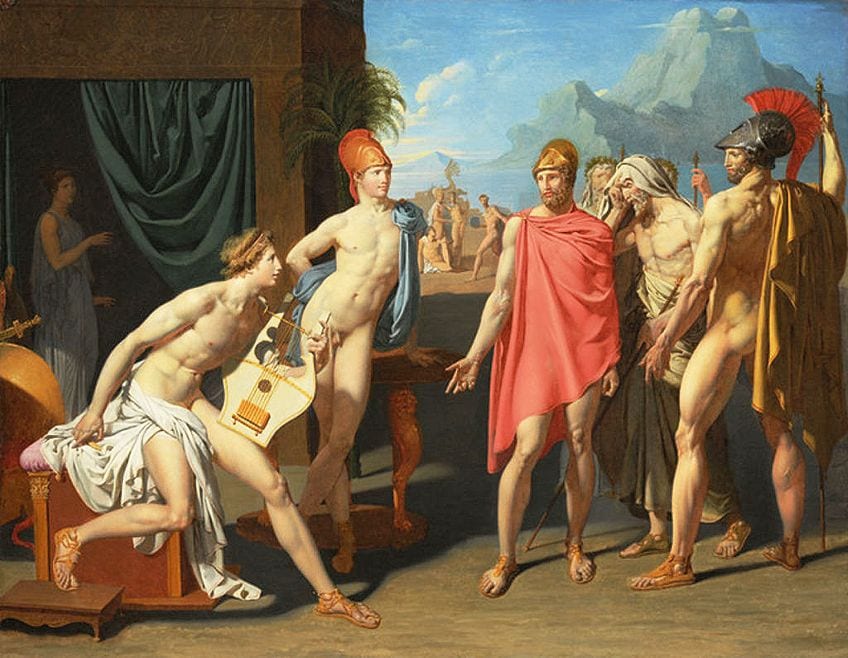 Achilles Receiving the Ambassadors of Agamemnon (1801) by Jean-Auguste-Dominique Ingres; Jean Auguste Dominique Ingres, Public domain, via Wikimedia Commons
The vista widens between the two groups to a landscape with a group of soldiers practicing, and in the left backdrop, a young woman emerges from the shadows, her presence suggesting the initial reason for the fight. Each detail is significant since the lyre signified the immortality offered by songs of adoration, and Patroclus wears Achilles' helmet, foreshadowing events to come.
The theme of the competition was to show soldiers prepared for combat. Ingres demonstrated his understanding and command of Neoclassical topics by showing Homer's exact description and took inspiration for its historically correct robe from a sculpture by Pseudo-Phidias.
Ingres, who was educated in the Neoclassical style by Jacques-Louis David, received the Prix de Rome in 1801 with this work.
By stressing the psychological moment and gently enhancing the men's athletic bodies for sensuous and emotional effect, Ingres contributed his own distinctive touch. "Ingres managed to draw on a broad variety of visual and literary depictions. He converted these models, first by amalgamating their historical and mythological vocabularies and then by placing his own figures within a complicated bipartite structure, which circumvents, at least to some extent, the very sexual binarism he aims to imbed," according to art historian Carol Ockman.
Important Neoclassical Sculptures
Neoclassical sculpture emerged in the late 1700s as a reactionary style that sought to eliminate some of the more frivolous design features of the preceding Rococo era. The art of the ancient Greeks and Romans was significantly impacted by Neoclassicism sculptures. Archeological advancements discovered amazing artworks from classical antiquity that current architects wished to copy. Here are a few examples of Neoclassical sculpture.
Psyche Revived by Cupid's Kiss (1787) by Antonio Canova
| | |
| --- | --- |
| Artist | Antonio Canova |
| Date Created | 1777 |
| Medium | Marble |
| Current Location | Musée du Louvre, Paris |
The Neoclassical sculpture is inspired by the mythology of Cupid and Psyche. Venus, the deity of love, was envious of Psyche's beauty and ordered her son, Cupid, to use his arrows to force the girl to marry the most unattractive of men.
However, Cupid fell madly in love with her, and when Venus learned of their relationship, she dispatched Psyche to the underworld to retrieve a jar holding a "divine beauty."
Psyche opened the jar despite being told not to, only to slip into the slumber of the dead, as the container housed the "sleep of profound darkness." Cupid kisses Psyche to bring her back to life in this artwork.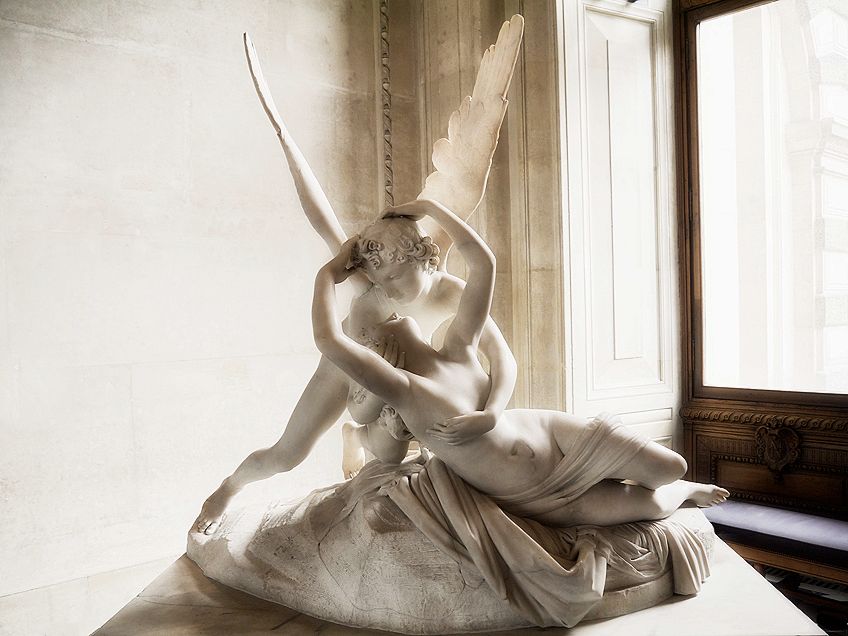 Psyche Revived by Cupid's Kiss (1787) by Antonio Canova; Kurtab123, CC BY-SA 4.0, via Wikimedia Commons
The fabric that partially conceals Psyche and Cupid's dissolving embrace mimic the flowing contours of her lying body. Canova used a unique sculptural method to create the appearance of living flesh, feathery wings, realistically folded draperies, and rough rock at the base.
His study of the human form was thorough, as he used exact dimensions and life castings in anticipation for sculpting on the marble, exhibiting a Neoclassical rational approach. The statue includes a handle towards the base since it was intended to spin on its base, like many of Canova's works, accentuating the artwork's movement and mood.
Canova, known as the "sculptor of beauty and youth" at the time, conjures up a picture of heroic and pure love triumphing over death.
Voltaire (1778) by Jean-Antoine Houdon
| | |
| --- | --- |
| Artist | Jean-Antoine Houdon |
| Date Created | 1778 |
| Medium | Marble |
| Current Location | The Metropolitan Museum of Art, New York |
This bust shows François Voltaire, a prominent French theorist, and philosopher whose humor and intellectual brilliance characterized the Neoclassical period. The piece is incredibly lifelike, with the modeling catching the philosopher's receding hair, grin lines around his lips, and furrowed face as he nears the end of his life.
The picture is depicted tête nue, or without the wig that was common among French aristocracy, and it has the authenticity and purity of ancient Roman busts, enabling the subject's character to come through.
Voltaire's sharp intelligence is captured by Houdon, whose gaze appears amused by his own inner thoughts. Houdon's achievements were his scientific accuracy, as he used calipers to measure the features and life casts of his subjects, and he developed a method for sculpting eyes that enabled them to catch the light.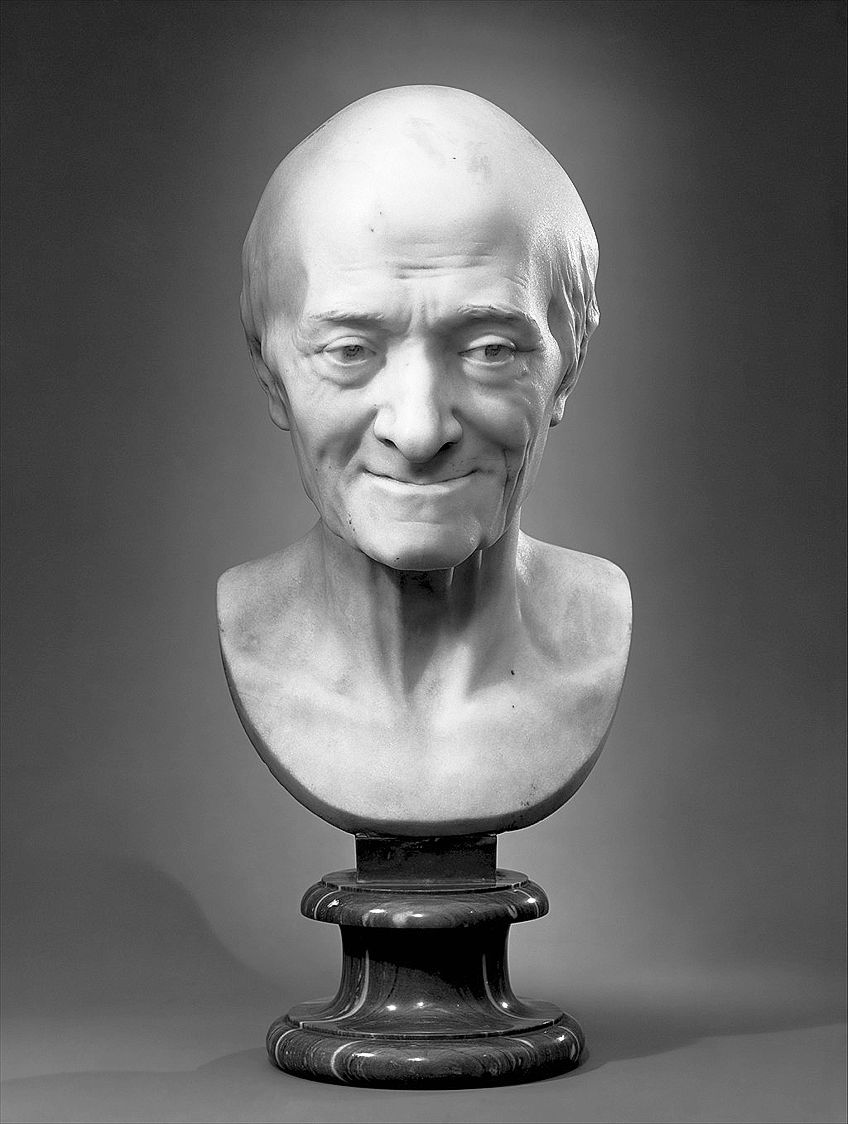 Voltaire (1778) by Jean-Antoine Houdon; Jean-Antoine Houdon, CC0, via Wikimedia Commons
According to art historian John Goldsmith Phillips, "He removed the entire iris first, then drilled a larger hole for the pupil, leaving a little sliver of marble to overhang the iris. The result is a level of vivacity and expressive mobility unmatched in the lengthy history of portraiture sculpture and painting."
Houdon is often regarded as the best portraitist of the Neoclassical era, having painted such figures as Benjamin Franklin, George Washington, Thomas Jefferson, and Napoleon Bonaparte. He caught their soul as well as their accurate likeness.
"The Enlightenment values of honesty to nature, simplicity, and elegance all found magnificent expression via his ability to communicate both a subject's personality and the lively spirit of living flesh, their internal reality as well as exterior vitality," art historian Johanna Hecht stated.
These depictions have been copied in many textbooks, plaster reproductions, and national stamps and coins, and have become part of the popular awareness of these personalities. The United States nickel features Houdon's depiction of Thomas Jefferson.
That wraps up our look at Neoclassical art. Neoclassical art arose in opposition to the Baroque and Rococo periods' flamboyant and gaudy forms, which instilled in culture a narcissistic aesthetic centered on individual contrivances and whimsy. Neoclassicism art created a global resurgence in classical thought, echoing what was going on in the social and political realms of the time, and ultimately contributed to the French Revolution. The Neoclassical period's core philosophy was that art may represent ideal qualities in life and can improve the audience by transmitting a moralizing message.
Frequently Asked Questions
What Is Neoclassicism Art?
Neoclassical painters believed that Neoclassicism art had the power to civilize, reorganize, and transform society at a time when society was being transformed by novel administrative strategies and the growing influences of the Industrial Revolution, pushed by scientific progress and discovery. The popularity of the Grand Tour, in which art specialists and the general nobility were given access to newly discovered ruins in Italy and were entranced by the aesthetics and philosophy of ancient art, aided the birth of Neoclassical sculptures and paintings greatly.
What Did the Neoclassical Period Represent?
It took the form of a concentration on stark linear design in the portrayal of Classical ideas and subject matter, with archeologically precise surroundings and attire in painting. In the arts, Neoclassicism is an aesthetic approach based on antiquity's art from Greece and Rome, which evokes symmetry, simplicity, moderation, unity, and idealism. Classicism art refers to art created in antiquity or later art influenced by history in the framework of the traditions.