Famous Ceramic Artists – Looking at the Most Celebrated Pottery Makers
This post may contain affiliate links. We may earn a small commission from purchases made through them, at no additional cost to you.
Vessels, or as we know them by, ceramics, have always been a staple for human existence, acting as functional objects to enhance living. Over the course of many a kiln firing, the functional aspects of ceramics have taken on other functions, so to say, those of art, beauty, and decoration; there has always been a close dance between art and function. In this article, we will explore ten outstanding ceramic artists from all over the world and how they are shaping their artistic oeuvre.
What is Ceramic Art?
Let us start with a brief explanation of what ceramic art is, or really, what ceramics are. The word "ceramics" has its origins in the Greek word keramikos, which means "of or belonging to pottery". The process of making ceramics consists of mixing substances, such as clay, with various other compounds, like silica. These are then heated, or fired, at high temperatures.
Ceramics have advanced over time and in the modern age, other chemical compounds are utilized to aid in the formation of ceramics.
Ceramics includes a wide variety of objects like vessels, figurines, sculptures, ornaments, homeware items like dishes, building items like tiles, and much more. There are also common types of ceramics that form when the clay has been fired at varying temperatures and mixed with different substances. These are generally earthenware, stoneware, porcelain, and the finer material called bone china.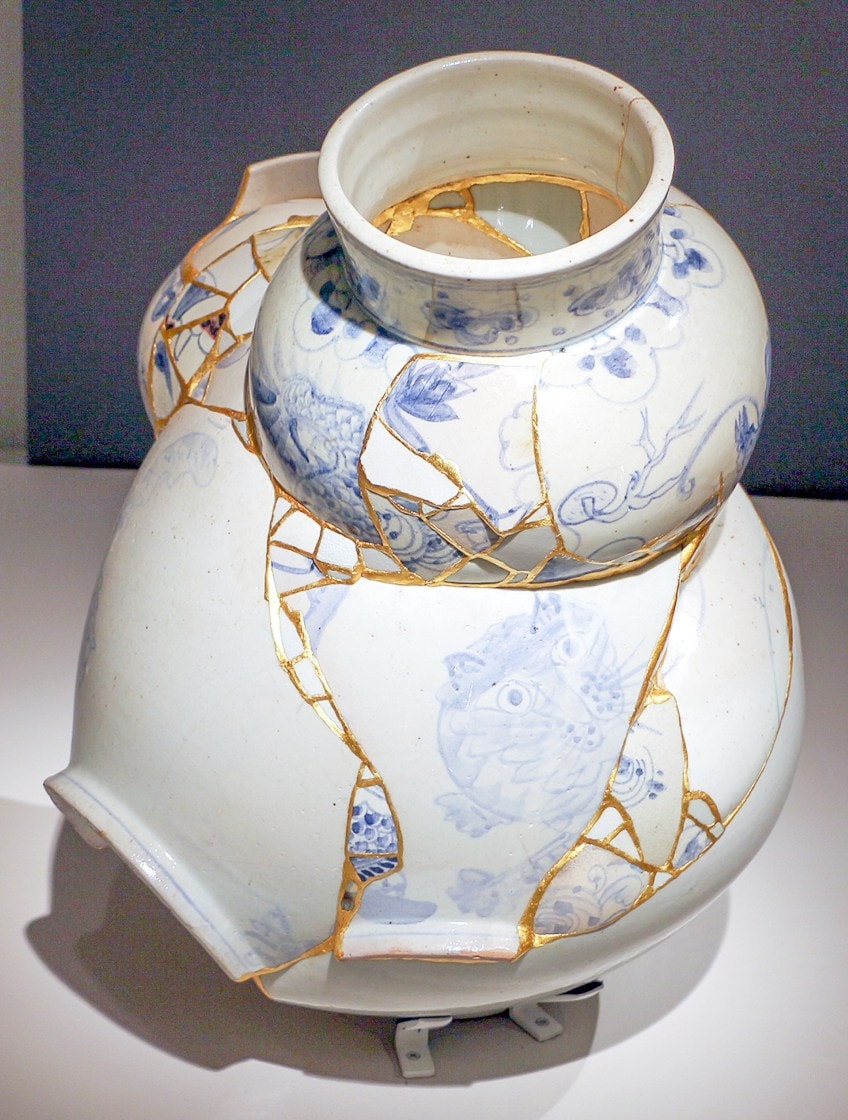 One of the Translated vases created by current ceramic artist Yeesookyung; Sailko, CC BY 3.0, via Wikimedia Commons
Looking at the above types of ceramics in more detail, earthenware, which is described as porous, means that it can absorb liquids. This type of pottery is often glazed to prevent the absorption of liquid from the vessel.
Earthenware is considered among one of the first types of pottery to exist, and dates as far back as 9 000 years ago.
Stoneware pottery is different from earthenware as it is described as "non-porous", meaning that it does not absorb liquids. This type also does not need a glaze; however, glazing can serve as decoration. Stoneware has been dated to around 1 400 BCE and is believed to have been produced in China. It was also a common type of pottery in Japan too. Stoneware became widely used in Europe around the Middle Ages, with countries like England and Germany becoming large producers and importers of it in later years.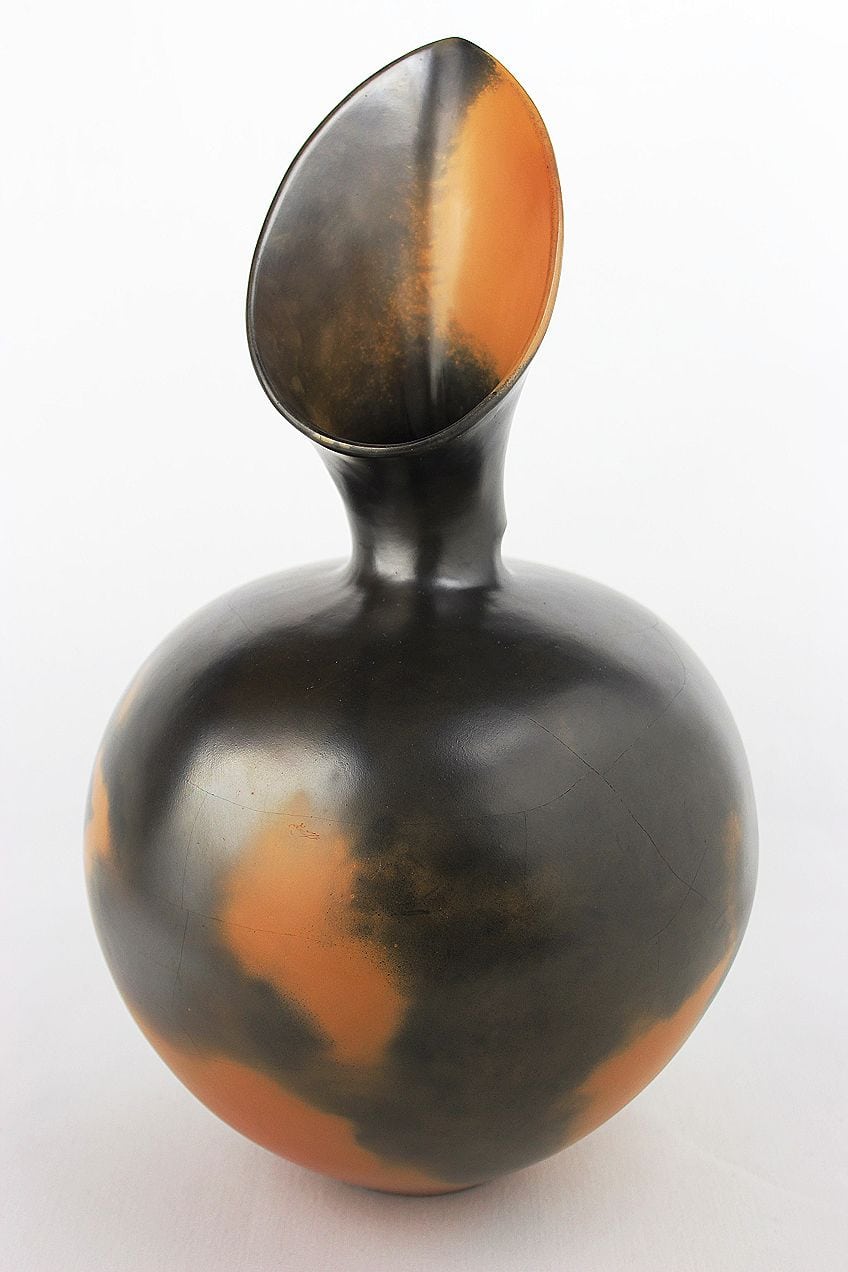 Thrown, Burnished, Reduction Fired pot, created by current ceramic artist Magdalene Odundo, located in the York Art Gallery in the United Kingdom; Magdalene Odundo, CC BY-SA 3.0, via Wikimedia Commons
With its origins in China, porcelain is another type of pottery or ceramics that is described as appearing more "translucent" compared to the "opaque" qualities of the above-mentioned ceramic types. However, the term "translucent" has been used interchangeably.
There are three subsets or types of porcelain, namely, soft-paste or "artificial", hard-paste or "true", and bone china. Hard-paste porcelain is formed by the higher firing temperatures compared to soft-paste porcelain, which is not. The difference between these two lies in the compounds utilized to create it. "True" porcelain contains kaolin, which is Chinese clay, while "artificial" porcelain does not contain it at all.
A fun fact of history is that the Europeans wanted to reproduce and replicate the hard-paste porcelain, but could not find the correct materials for it. This became prominent around the 1700s (18th century). Qualities that are associated with soft-paste porcelain include the characteristic translucency we see from hard-paste porcelain; however, it does not have the durability or "strength" and can break easily, especially if exposed to boiling water.
Magic Gardens, created by current ceramic artist Isaiah Zagar; KimonBerlin, CC BY-SA 2.0, via Wikimedia Commons
If we look at bone china, it is also porcelain, but it is made from bone ash, which is derived from cattle bones. It was reportedly first invented by the Anglo-Irish Thomas Frye in England, and then later by the English Josiah Spode I and his son, Josiah Spode II, who refined the concept further. Around the 1790s, their porcelain was introduced and called "Stoke China", later renamed "Bone China".
There have been pottery makers firing and decorating vessels for over 25 000 years from all cultures across the globe, such as the European, African, Asian, South American, and Greek cultures, to name a few. We will find an extensive collection of painted pottery from these cultures, which have provided invaluable information about the people, their lives, beliefs, and rituals.
The above is a brief overview of the main types of ceramics, their characteristics, and some of the history surrounding them. However, the world of pottery is significantly large with its roots latched into almost every country in the world. We encourage you to undertake further research in this area and uncover the wide world of ceramic art for yourself too!
Top Ten Famous Ceramic Artists
Below we explore ten famous ceramic artists from all walks of life. From some of the early pottery makers who became influencers of their time to more contemporary pottery artists who are pushing the boundaries of artistic ceramics by introducing new scopes and discourses, not only within the visual arts but within crafts and business, we discuss them all!
George Edgar Ohr (1857 – 1918)
| | |
| --- | --- |
| Lifespan | 12 July 1857 to 7 April 1918 |
| Nationality | American |
| Associated Art Movements | American Abstract Expressionism |
| Associated Ceramic Style | Artistic ceramics |
| Artistically Named As | "The Mad Potter of Biloxi" |
George Edgar Ohr, born in the city called Biloxi in Mississippi, was remembered for his eccentric and innovative personality, easily distinguished by his cartoon character mustache, but some sources coin him as one of the forefathers of artistic ceramics and others a forerunner of Abstract Expressionism in America.
He stood out in the more conservative ceramic-making crowd back then and became known for creating expressive and "exotic" pottery.
He started his pottery journey in 1879 and became an apprentice potter in New Orleans with the help of Joseph Fortuné Meyer. He is often quoted as saying, when he found the potter's wheel, "I felt it all over like a wild duck in water". Upon returning to Biloxi, Ohr opened his own studio, built his own wheel, and reportedly dug the clay from the Tchoutacabouffa Riverbank.
He opened his own ceramics shop and was believed to have fired thousands of vessels all different shapes and sizes, named by him as his "mud babies". His style ranged from utilitarian vessels and eventually developed into more eccentric forms that were noted for their bright colors and paper-thin qualities, in fact, this is what distinguished Ohr's artistic ceramics.
Ohr also attracted many tourists and patrons to his shop and apparently refused to sell many of his vessels, which he eventually stored away in his son's garage; there were reportedly around 6 000 pieces packed away.
Regardless of Ohr's eccentricity and somewhat dubious art career, he achieved success and posthumous recognition from the art world in the late 1960s when his pieces were discovered by James W. Carpenter.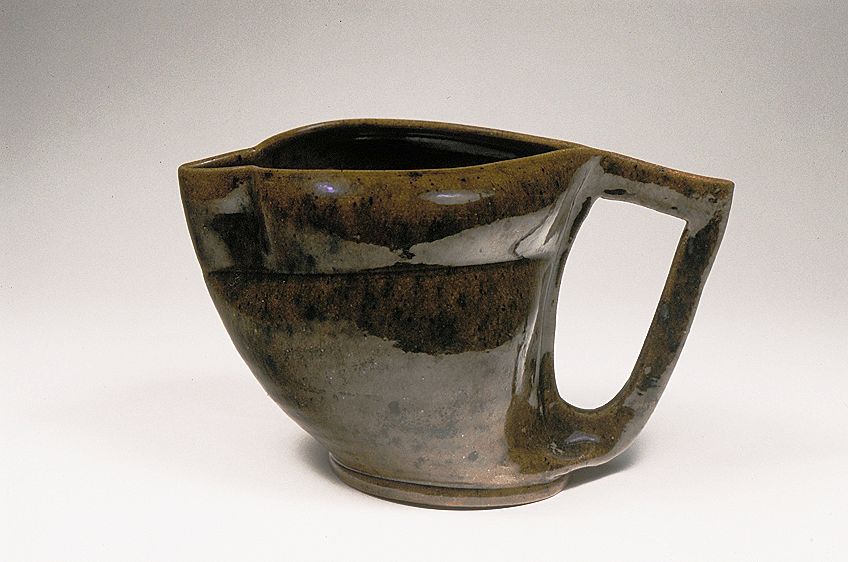 Pitcher (1890 – c. 1905), created by George Edgar Ohr, located in the Metropolitan Museum of Art in New York City; George E. Ohr, CC0, via Wikimedia Commons
Ohr has been described by some as "boldly fixed at the extreme of chance, spontaneity, natural asymmetry, calculated imperfection, rustic vigor, wit, and mischief". His artwork can be viewed at the Ohr-O'Keefe Museum of Art, which is located in Biloxi.
Examples of George Edgar Ohr's ceramic artworks:
Pitcher (1890 to c. 1905)
Tall dark green incised vase (1895 to c. 1900)
Very tall, mottled two-handled vase (1895 to c.1900)
Vase (1897 to 1900)
Teapot (1897 to1900)
Bernard Howell Leach (1887 – 1979)
| | |
| --- | --- |
| Lifespan | 5 January 1887 to 6 May 1979 |
| Nationality | British |
| Associated Art Movements | N/A |
| Associated Ceramic Style | Studio pottery |
| Artistically Named As | "Father of British studio pottery" |
Bernard Leach has been one of the most famous clay artists and worth mentioning here. He was born in Japan in Hong Kong and moved to England where he studied at numerous institutions, of which included The Slade School of Art in London. He eventually moved back to Japan where he taught etching and immersed himself in art, joined by his wife Muriel.
Leach was introduced to ceramics when he attended a Raku party in Japan and was taught by Urano Shigekichi; he also set up his own kiln while he lived in Japan. In 1920 he relocated to England where he started his famous Leach Pottery studio in St. Ives, Cornwall alongside Shōji Hamada, also a potter, whom he met in Japan.
Leach's publication A Potter's Book (1940) also became an important addition to his ceramic artwork career, and it provided an overview of his style, techniques, and ideas.  His work bridged the gap between the East and the West, his work influenced by Japanese, Chinese, and Korean as well as European techniques.
Leach was a seminal figure in studio pottery and its establishment, giving other artists a platform. He also wrote numerous publications and presented lectures and taught about pottery. Through his studio, he inspired and influenced numerous pottery artists and craftsmen.
He was famous for producing "standard ware" pottery that was utilitarian in nature and described as "ethical pottery".
Examples of Bernard Howell Leach's ceramic artworks:
Cup and Saucer (c. 1920 to 1924)
Large Bowl (c. 1945 to 1950)
Fruit Bowl (c. 1950)
Black Jar (1973 to 1974)
Lion Tile (c. 1974)
Warren MacKenzie (1924 – 2018)
| | |
| --- | --- |
| Lifespan | 16 February 1924 to 31 December 2018 |
| Nationality | American |
| Associated Art Movements | N/A |
| Associated Ceramic Style | Craft pottery, Functional pottery |
| Artistically Named As | N/A |
Warren MacKenzie was born in Kansas, Missouri, and grew up in Illinois in Wilmette. He was remembered as a hospitable and humble artist who always opened his home for others to view his ceramics. He was a seminal figure in bringing the ceramics ideologies developed by Bernard Leach to America.
His main goal was to make as many pots as possible and sell them at affordable prices.
His art career first started when he pursued painting at the University of Chicago, but after he returned from being in the military for several years reportedly all the painting classes were already filled and he decided on taking a ceramics class, which turned into a lifelong pursuit and art career.
It was here that MacKenzie found Bernard Leach's seminal book, A Potter's Book (1940), and tried to emulate what Leach prescribed for potters. Mackenzie expanded on Leach's philosophies in an interview, indicating that Leach said every potter should be able to "make 50 pots easily in a day's time".
From 1949 to 1952, MacKenzie and his then-wife, Alixandra Kolesky MacKenzie, apprenticed at Leach's pottery studio in England. They established a close relationship with him, but also refined their skills as potters, and were known as the first Americans to do this. As a teacher and potter, MacKenzie was one of the most important pottery artists because of his approach and attitude, not only towards making ceramics but towards others.
When they returned to America, MacKenzie developed what has been described as "everyday" pots, which are testaments to how art and functionalism intersect.
Examples of Warren MacKenzie's ceramic artworks:
Teapot (c. 1980)
Six-sided lidded pot (c.1980)
Yunomi (c.1980)
Jar (c. 2000)
Plate (c. 2014)
Beate Kuhn (1927 – 2015)
| | |
| --- | --- |
| Lifespan | 1 July 1927 to 10 December 2015 |
| Nationality | German |
| Associated Art Movements | N/A |
| Associated Ceramic Style | Functional pottery, Clay sculpture, artistic ceramics |
| Artistically Named As | N/A |
Beate Kuhn was a German ceramicist who has been described as a seminal German ceramicist after 1945. Her style ranged from functional ceramics to clay sculpture. Kuhn was born in Düsseldorf, Germany, with art already prominent in her family, namely, through her mother as a pianist and her father as a sculptor. Kuhn also studied Art History in Freiburg.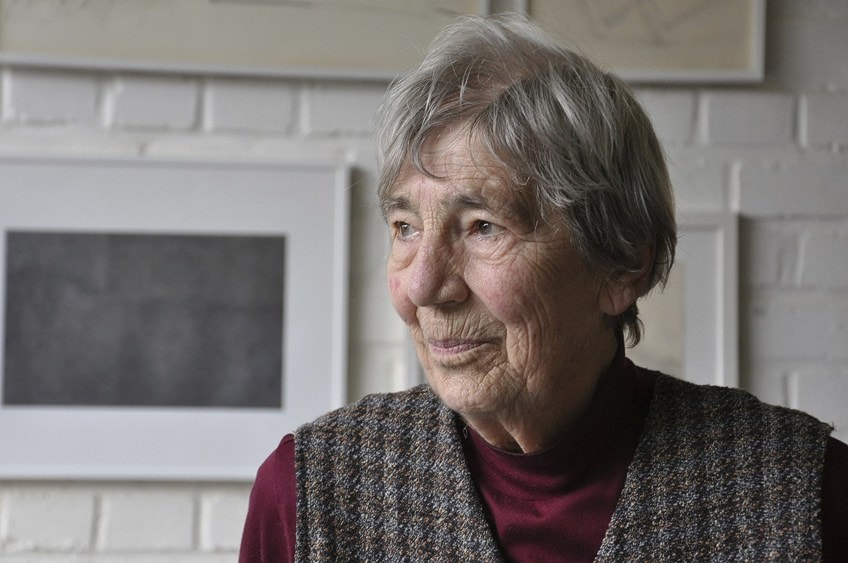 Photograph of ceramic artist Beate Kuhn (2014); Sebastian Scheid, CC BY-SA 3.0, via Wikimedia Commons
She studied at the Werkkunstschule institution located in Wiesbaden and then at the Werkkunstschule Darmstadt, Germany; she studied under Hans Karl Starke Erika Opitz. Her art career also included designing for the German porcelain product manufacturing company called Rosenthal.
Kuhn's artistic ceramics were influenced by various types of art and cultures, like Colombia. Some art sources have described her style as including "biomorphic" forms and segmented shapes and objects.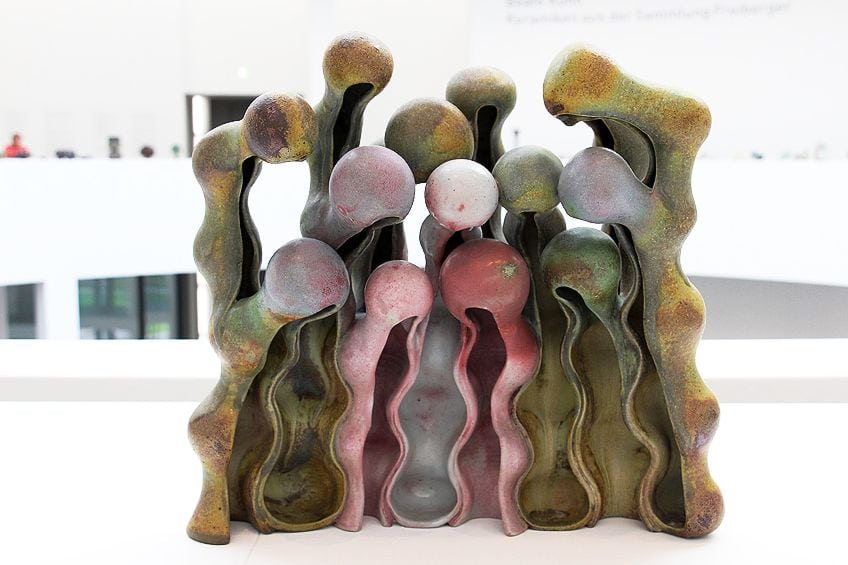 Small family in a semicircle (1988) by Beate Kuhn; Fred Romero from Paris, France, CC BY 2.0, via Wikimedia Commons
Additionally, "she tucked convex forms inside concavities to play with positive and negative space". She also reportedly utilized different types of material for different functions, namely red clay, stoneware, and sometimes porcelain.
The German ceramicist has received numerous awards and positive acclaim.
She was also a member of the Geneva-based Académie Internationale de la Céramique as well as one of the founders of Gruppe 83 (Group 83), which was a German ceramicist group. Kuhn participated in a wide variety of exhibitions, locally and internationally.
Examples of Beate Kuhn's ceramic artworks:
Small family in a semicircle (1988)
Birnbaumstamm (2013)
Untitled (2015)
Victor Spinski (1940 – 2013)
| | |
| --- | --- |
| Lifespan | 10 October 1940 to 21 January 2013 |
| Nationality | Polish American |
| Associated Art Movements | Trompe l'oeil movement ("Fool the eye") |
| Associated Ceramic Style | Ceramic sculpture |
| Artistically Named As | N/A |
Victor Spinski achieved fame for his skillful use of clay sculpture, of which were mirror images of everyday objects like cups, tools, a peeled banana hanging out of a garbage bin, and many more. This is exactly what Spinski had in mind when he sculpted, becoming a prominent ceramic artist in what has been known as the Trompe l'oeil movement, meaning "fool the eye".
Indeed, when we look at Spinski's ceramic artwork we might be fooled.
Victor Spinski was born in Poland and lived as a refugee for a large part of his life, alongside his parents, and eventually, they immigrated to America, reportedly after World War II. In America Spinski studied at the Emporia State University in Kansas, graduating in 1963, completing a bachelor's degree in Foreign Languages, specifically Russian literature, and during 1967 completed his Master of Fine Arts in Ceramics, which he received after he returned from his military service in Vietnam.
Spinski's artworks have been widely exhibited in America, and he has received positive acclaim and acknowledgment in various art publications. His art has been described as "mischievous" by some, and has been the cause of several pranks.
However, all jokes aside, reportedly Spinski also worked hard at his craft, described as knowing his materials, processes, decals, and china paint incredibly well. Spinski was apparently not afraid to experiment with a vast selection of shapes and sizes.
Examples of Victor Spinski's ceramic artworks:
Metal Trash Can With Banana Peel and Apples (1987)
Ode to the Vanishing American Working Class (2008)
Spilled Cup (2010)
Magdalene Odundo (1950 to Present)
| | |
| --- | --- |
| Lifespan | 5 May 1950 to Present |
| Nationality | Kenyan |
| Associated Art Movements | N/A |
| Associated Ceramic Style | Studio pottery |
| Artistically Named As | N/A |
Magdalene Odundo was born in Kenya, Africa, in the capital city, Nairobi. She pursued technical art in Kenya and India, and during 1971 she progressed her artistic studies in Graphic Design in England. She studied in Farnham in Surrey as well as at the Cambridge School of Art, which is where she pursued ceramics. She completed her Master's in London at the Royal College of Art. She has also been a teacher, at London's Commonwealth Institute and at Surrey Institute of Art and Design.
Odundo has traveled extensively to develop herself as a ceramicist; she went to Nigeria and Kenya to further her studies in pottery making, as well as New Mexico in the United States of America. Here she learned various cultural aspects of pottery making and new techniques, namely what is known as "Blackware vessels" or "Black-burnished ware".
We will find this in Odundo's artistic style, she creates burnished vessels with forms that follow the human figure, more so female forms. Additionally, Odundo's designs have also been described as inspired by the ancient Greek and Roman cultures and their techniques, including Aztec, Chinese, and African cultures.
Odundo has received wide acclaim as a contemporary ceramic artist. She has also received numerous awards. Her "inclusive" attitude towards ceramics and her interest in sharing her art and ideas has also made her well-known. She has been described as creating a "trans-global, trans-temporal visual system of her own; modern, yet simultaneously old, African yet resolutely European".
Examples of Magdalene Odundo's ceramic artworks:
Untitled (1989) (Burnished and carbonized terracotta)
Asymmetrical Betu II (2010)
Asymmetrical Series, Terracotta Vessel (2017)
Ann Van Hoey (1956 to Present)
| | |
| --- | --- |
| Lifespan | 1956 to Present |
| Nationality | Belgian |
| Associated Art Movements | N/A |
| Associated Ceramic Style | Clay sculpture |
| Artistically Named As | N/A |
Ann Van Hoey was born in Mechelen, Belgium and she has a unique story. She only became a world-renowned ceramicist at 50 years old, before she started as a ceramicist, she was a commercial engineer. She has been quoted as saying, "For my 50th birthday, in 2006, I decided to try to become a professional ceramicist. My plan was to apply for the big international biennales and see what would happen".
Van Hoey finds inspiration from various sources, including her love of mathematics and geometry, as well as her enjoyment of origami and Japanese styles.
Van Hoey has also exhibited in various museums and art galleries locally and internationally, from Europe, Japan, and America. She has also competed in several competitions like the International Biannual of Ceramics, Taiwan Ceramics Biennale, and Cheongju Craft Biennale, among others.
She studied Ceramics at the Institute for Arts and Crafts in Mechelen. She has also worked for one of the leading design companies in Belgium, Serax. Van Hoey produces ceramic vessels of different shapes, but one of her primary techniques reportedly involves her utilizing a rolling pin to create thin strips of clay, she creates her vessels, or bowls, from these. Furthermore, her designs appear paper-like, as if she folded the sheet of clay like a sheet of paper, reminiscent of origami.
Her ceramic artwork is also colorful, ranging from greens, yellows, and blues, with her website stating, "Ann is not afraid to color outside the lines".
Examples of Ann Van Hoey's ceramic artworks:
Red Vessel 2 (2014)
Yellow Origami Vessel (2015)
Orange-Yellow Object N° 21-20 (2020)
Nawal Motawi (1964 to Present)
| | |
| --- | --- |
| Lifespan | 1964 to Present |
| Nationality | Arab-American |
| Associated Art Movements | N/A |
| Associated Ceramic Style | Ceramic tile |
| Artistically Named As | N/A |
Nawal Motawi is one of the famous ceramic tile artists in America, tiling her way through Ann Arbor, Michigan, where she lives. She started making her tiles from her garage and sold them at her local farmer's market. She has expanded her tile business since then and owns a successful company, Motawi Tileworks, reportedly with over 30 employees and selling to over 300 stores. Her training includes studying at the Penny W. Stamps School of Art & Design at the University of Michigan and her studies at Pewabic Pottery studio and education center in Detroit.
As one of the leading ceramic tile artists, Motawi designs and produces various types of ceramic tiles with different designs from fauna and flora to architecture, drawing inspiration from the Art and Craft Movement and Art Nouveau.
Motawi has also created works inspired by the designs of Modern artist Charley Harper and renowned architect Frank Lloyd Wright. The tiles include colorful designs produced in a relief technique.
Motawi's ceramic tile company aims to be unique and allied to beauty, with these aims having been quoted from Motawi's "Design Integrity" from the "Mojo Manifesto", "We choose designs that are true to our spirit and present them in our distinctive way. We do not focus on what is trendy, popular, or cliché. When we do render ordinary motifs, it is because we have found a way to do it that is unique and beautiful".
Examples of Nawal Motawi 's ceramic artworks:
Pine Landscape (Date Unknown)
Hummingbird (Date Unknown)
California Oak (Date Unknown)
Andile Dyalvane (1978 to Present)
| | |
| --- | --- |
| Lifespan | 1978 to Present |
| Nationality | South African |
| Associated Art Movements | N/A |
| Associated Ceramic Style | Functional and artistic ceramics, ceramic sculpture |
| Artistically Named As | N/A |
Andile Dyalvane is an isiXhosa South African ceramic artist; he was born in and grew up in the village called Ngobozana in the Eastern Cape. He grew up learning about farming and tending to cattle, which ultimately connected him to his roots and the land he lived on. This has become an inherent foundation for his ceramic artwork.
He earned his diploma in Art and Design at the Sivuyile Technical College and a diploma in Ceramic Design at the Port Elizabeth Technikon. He also started the Imiso Ceramics studio with Zizipho Poswa, another ceramic artist. The studio produces hand-crafted ceramic artwork that is also made as collectibles.
Dyalvane produces different ceramic sculptures in the form of vessels, furnishings, and other objects, decorating each one with abstract and figurative designs.
Dyalvane has been quoted as saying, "clay is one of the mediums that help me connect with nature itself like I'm touching a vast network of spirituality". Indeed, his ceramic sculptures are fused to the deep roots that connect him to his past, present, and future.
Examples of Andile Dyalvane's ceramic artworks:
Umnga (Acacia Tree) (2020)
Umama (Mother) (2020)
Ithongo (Ancestral Dreamscape) (2020)
Yun Hee Lee (1986 – Present)
| | |
| --- | --- |
| Lifespan | 1986 to Present |
| Nationality | South Korean |
| Associated Art Movements | N/A |
| Associated Ceramic Style | Porcelain, hand-made ceramic sculpture |
| Artistically Named As | Considered as one of the "Hot Rookies" artists |
Yun Hee Lee is a young ceramic artist who was born in South Korea. She has had numerous exhibitions and positive acclaim, some describing her utilization of ceramics as "sublime mastery", and have been considered an artist part of the "Hot Rookies" in the 2013 Gyeonggi International Ceramic Biennale.
Lee has been considered as part of the top 20 important ceramicists who are "shaping the future of ceramics".
Lee studied at the Hongik University in Seoul, Korea, and completed her Bachelor of Fine Arts and Master of Fine Arts in Ceramics. She is known for traversing Eastern and Western cultures in her porcelain sculptures, melding the two together, and telling stories from a wide range of literary sources from the West and aspects from the East.
Lee explores several themes originating from stories based on folklore as well as the Divine Comedy (1472) by Dante Alighieri, which she upends, making the main protagonist a female trying to get through different worlds like heaven and hell.
Lee's artistic ceramics have been described as utilizing "glazed patterns" and "gold accents" which, coupled with intricate porcelain details, undoubtedly showcases her skill with this finer ceramic art.
Examples of Yun Hee Lee's ceramic artworks:
Amor (2014)
Moirai (2016)
La Divina Commedia (2017)
The Wheel Keeps on Spinning
From all walks of life, we have seen how each of the above-mentioned clay artists found their way to ceramics, either by choice or chance. For some, it seems that ceramics found them, showing us not only the inherent attractive power of this age-old art form but its ability to change a life and the lives of many. It is a medium that is as pliable as the clay itself, able to be molded and shaped to the artist's wishes and desires.
In this article, we have barely scratched the glazed surface of famous ceramic artists; there are thousands of skilled and talented clay artists bedazzling the world with their unique and beautiful designs, however, one thing that will never change is that the pottery wheel will always keep on spinning and the fires will always keep on burning.
Frequently Asked Questions
What Are the Different Ceramic Types?
There are three primary types of ceramics, namely, stoneware, earthenware, and porcelain. Some sources state that there is a fourth type, known as bone china, which is finer. The difference between each type of ceramic is determined by the clay utilized, as well as the compounds added to it to give it its consistency or level of hardness.
What is Ceramic Art?
Ceramic art is also considered "plastic art", which consists of the utilization of material that is "molded" in the case of sculpture. Ceramic art is vast and there are numerous types of objects that can be made through this medium, namely, vessels of all shapes and sizes, kitchenware, homeware, sculptures, other items like tiles, figurative items, figurines, and more.
What Are Ceramics Used For?
Ceramics are used for two main purposes, and there has always been an intersection of the two within the art world. The two purposes are functional (or utilitarian) and decorative. Many ceramic vessels have been made since the ancient ages of human history as functional items, but these were also decorated and provided information about the cultures who utilized them. Over time, ceramics have become an art form as well, and have been solely produced for decorative purposes.
What Are Common Ceramics Decoration Methods?
During the ceramics or pottery process, artists decorate their items before they are fired. However, this can also be done after firing. There are numerous types of methods and some include the primary form of glazing. Ceramics can also be decorated with a clear liquid covering the item. Other methods include terra sigillata, burnishing, engobing, painting, sgraffito, finger swiping, and incising, among others.
What Does Slipware Mean?
Slipware is a common term when working in the ceramic arts, and it refers to a form of decorated pottery where "semiliquid clay" is applied to it as decoration. Termed "slip", it is usually applied to a "leather-hard clay".