Famous Abstract Artists – Examining the World's Best Abstract Painters
This post may contain affiliate links. We may earn a small commission from purchases made through them, at no additional cost to you.
Starting in the early years of the 20th century, famous Abstract artists were able to incorporate many forms of abstraction into the dominant painting style of the period. Abstract painters, viewed as members of the avant-garde style, went on to become immensely important in the construction and development of art that was nonrepresentational and ultimately deemed "pure art." Despite first frightening audiences, Abstract modern artists grew in popularity, with simple shapes and colors serving as the primary themes in the artworks that they produced. 
A Short Introduction to Abstract Art
Because of its full detachment from reality, Abstract art was a hugely influential trend. The presented images were wholly non-objective and non-figurative, with no actual connection to anything remotely real or representational in the works produced.
Earlier trends in art history, such as Impressionism, Romanticism, and Expressionism, started to lean toward abstraction. This period's works placed a greater emphasis on visual feeling rather than the depiction of objects.
Untitled (1913) by Wassily Kandinsky; Wassily Kandinsky, Public domain, via Wikimedia Commons
Abstraction as a visual style contributed to the realization of the notion of "art for art's sake," which held that artworks and sculptures should be devoid of any external connotations. As a result, Abstract painters made art with the idea that their creations should exist just to be appreciated for what it is they are. During this age, emphasis was focused on the content of art itself, with artworks emphasizing the aspects of materials, textures, line, tonality, colors, and composition above precise portrayals.
Abstract art, which was a watershed point in modernism, was propelled ahead by numerous revolutionary painters who thought that the emotion contained in a work was the most important part.
Famous Abstract artists were eager to oppose the constraints that regulated conventional painting as artworks integrated the principles of both abstractions and surrealism, acting as a spark for the birth of Contemporary Art. This cleared the path for painters to abandon realistic portrayals in lieu of figurative creations.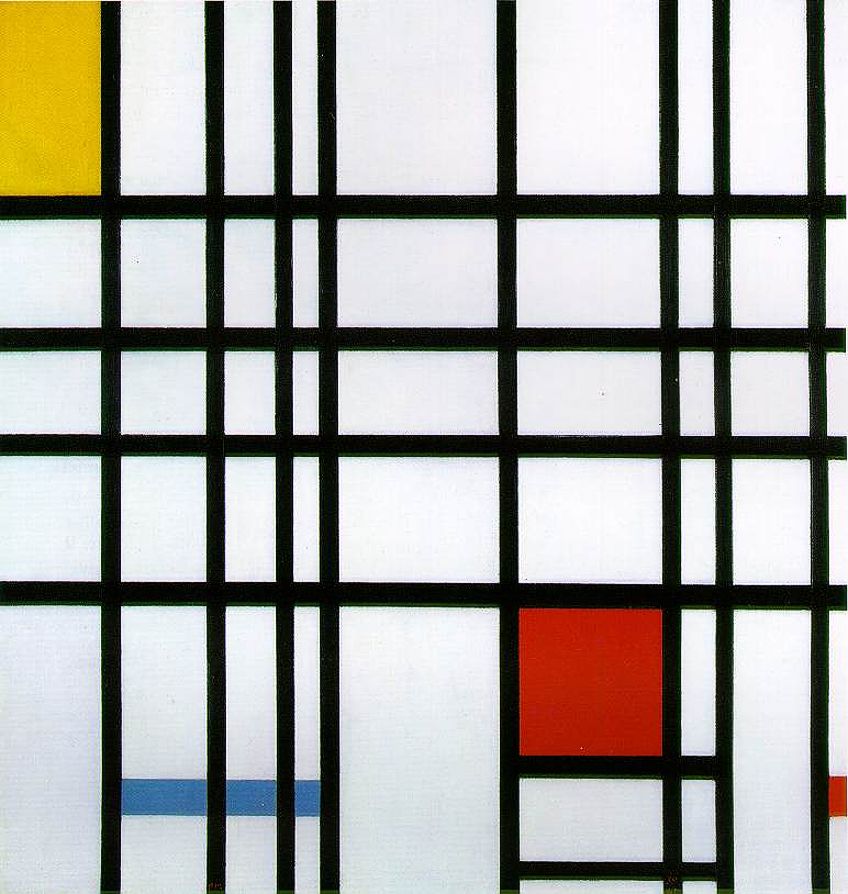 Composition with Yellow, Blue and Red (1942) by Piet Mondrian; Piet Mondrian, Public domain, via Wikimedia Commons
The beginning of the 20th century brought about a change in the world of art, as creators became free of the visible world through the use of abstraction in their creations. Despite the fact that Abstract Art has been there for more than a century, it has remained a vital part of the ever-changing world of abstract modern artists and Contemporary Art. The influence of abstraction was enormous since it caused a profound shift in the world of art that can still be observed today.
Our Top Ten List of Abstract Artists
Famous abstract painters were able to blend numerous elements of abstraction into the prevailing painting style of the time beginning in the early years of the 20th century. Abstract artists, considered avant-gardists, went on to play a huge role in the creation and development of nonrepresentational art, which was eventually dubbed "pure art."
Despite initially terrifying audiences, Abstract contemporary painters increased in prominence, with basic forms and colors acting as the predominant motifs in their artworks.
Blue and Green Music (1921) by Georgia O'Keeffe; Georgia O'Keeffe, Public domain, via Wikimedia Commons
A considerable number of famous Abstract artists are still remembered today as key individuals in Abstract art as well as many other art genres. Their various works have remained famous pieces of art, causing certain Abstract painters to stand out significantly. Whereas many painters might have been included in the list, we will now look at our top ten list of Abstract painters whose paintings and legacies have endured.
Wassily Kandinsky (1866 – 1944)
| | |
| --- | --- |
| Nationality | Russian |
| Date of Birth | 16 December 1866 |
| Date of Death | 13 December 1944 |
| Place of Birth | Moscow, Russian Empire |
Wassily Kandinsky, one of the greatest and most famous Abstract artists of all time, was regarded as the major innovator of the Abstract art genre. Kandinsky first studied economics as well as law before abandoning academia at the age of 30 to pursue painting studies that included life drawings, sketching, and anatomical portrayals. Kandinsky rose to prominence in the 1910s and is known as a pivotal player in the creation of Modern Art, with his pieces serving as the first Abstract paintings to be developed.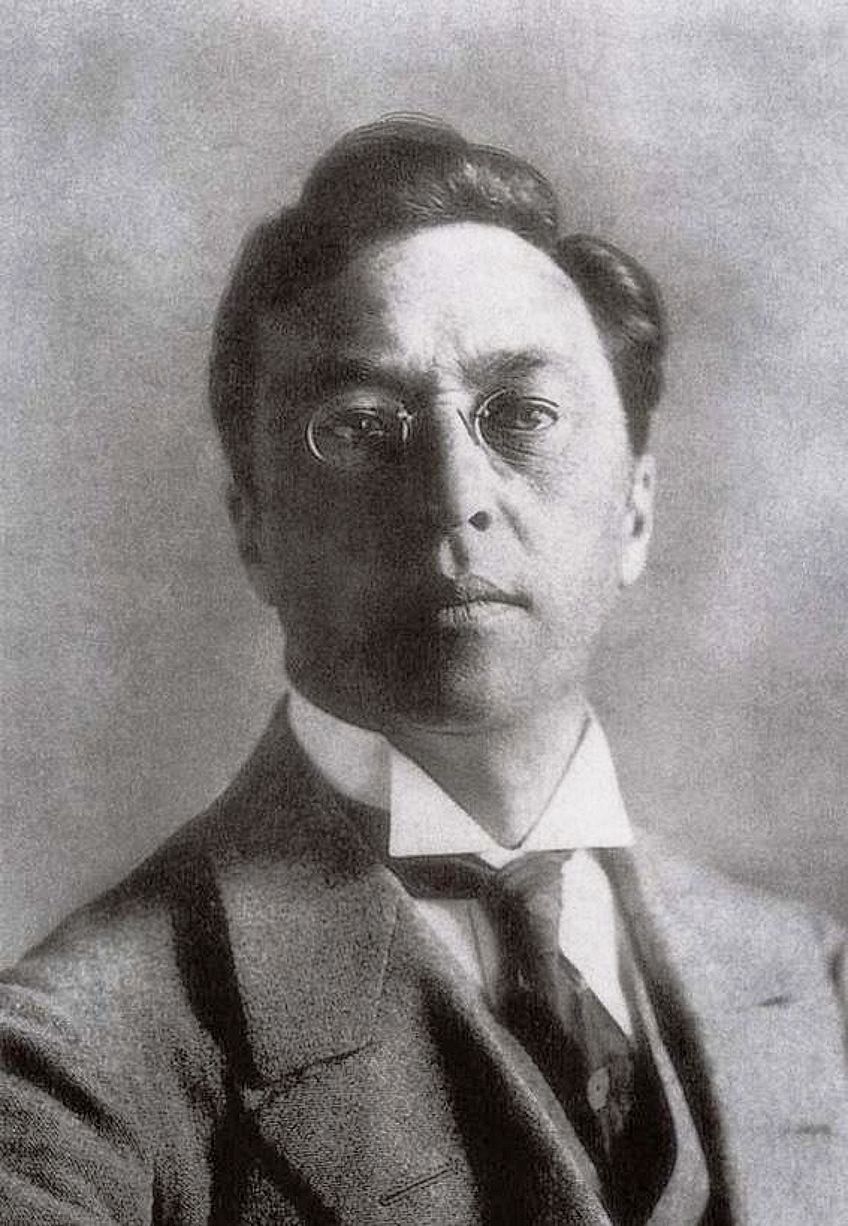 Photograph of Wassily Kandinsky; 未知上傳者, Public domain, via Wikimedia Commons
Despite exploring figurative painting prior to 1913, Kandinsky is regarded as the very first Abstract Modern artist to completely and openly embrace pure abstraction in his creations. Kandinsky is attributed to creating the very first contemporary art piece to ever exist.
During his career, he made numerous famous pieces, with a few paintings being absolutely exceptional. On White II (1923), Composition VII (1913), Untitled (First Abstract Watercolor) (1910), and Farbstudie Quadrate (1913) are among these remarkable works.
Kandinsky said that when painting, he was forced by an "inner imperative" that obliged him to maintain indifference to known and unidentified shapes and to portray just what he actually felt at the time. Kandinsky's non-representational forms assume the shape of arbitrary geometric formations contrasted with other forms, floating lines, and vibrant hues in the majority of his Abstract works.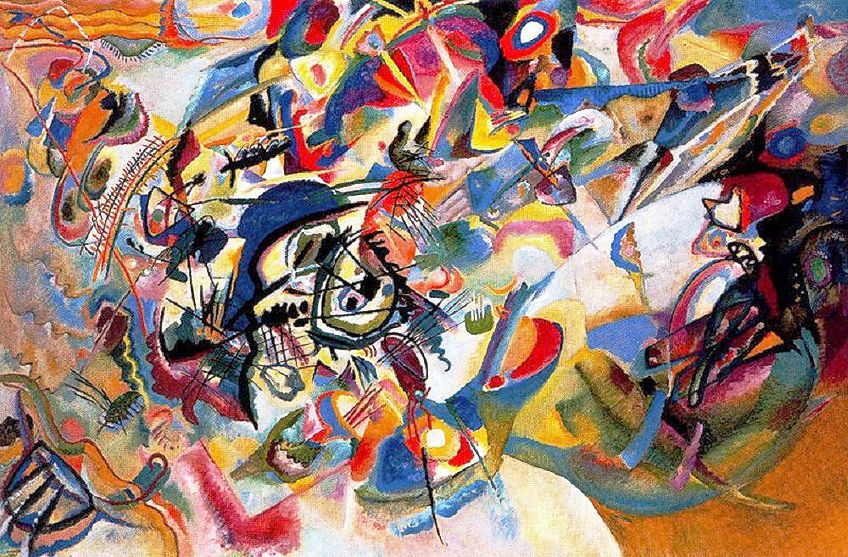 Composition VII (1913) by Wassily Kandinsky; Wassily Kandinsky, Public domain, via Wikimedia Commons
He worked using color in such a manner that it became a single topic inside his paintings, feeling that color might be autonomous of any other connections. Kandinsky's paintings were very mystical, as he attempted to convey a distinctiveness of human emotions via abstractions and brilliant colors. He thought that these characteristics might transcend many social and historical barriers, making his creations approachable to all.
Music was also an important aspect of Kandinsky's works since he considered it the most unequaled kind of non-objective creation. Kandinsky thought that song could represent universal feelings and ideas in a manner that the other graphic systems could not, and he saw it as his responsibility to transmit these concepts to the entire world. As a result, he dubbed some of his most impetuous and detailed pieces "compositions."
Kandinsky was a major element of the Der Blaue Reiter movement throughout the German Expressionism period, which was considered to be intrinsically related to abstract art in addition to being an abstract modern artist.
Der Blaue Reiter (The Blue Rider) (1903) by Wassily Kandinsky; Wassily Kandinsky, Public domain, via Wikimedia Commons
Kandinsky also worked as a lecturer at the Bauhaus school, which was driven to closure by the Germans in the run-up to World War II. Kandinsky's use of brilliant colors and patterns inspired the evolution of Abstract Art throughout his entire career, earning him the title of "Father of Abstract Art."
Piet Mondrian (1872 – 1944)
| | |
| --- | --- |
| Nationality | Dutch |
| Date of Birth | 7 March 1872 |
| Date of Death | 1 February 1944 |
| Place of Birth | Amersfoort, Netherlands |
Piet Mondrian, a Dutch artist, was one of the most recognized Abstract painters during the movement's zenith, and he was regarded as a key developer of Abstract Art. Mondrian began by dabbling with realistic approaches in his earliest works, but swiftly shifted into an exceedingly abstracted style when he began to incorporate solid geometric patterns in his creations.
Mondrian grew up learning to sketch from his father, who was a painter. However, he did not begin painting seriously until he was an adult, and he adopted Abstract Art after World War One ended.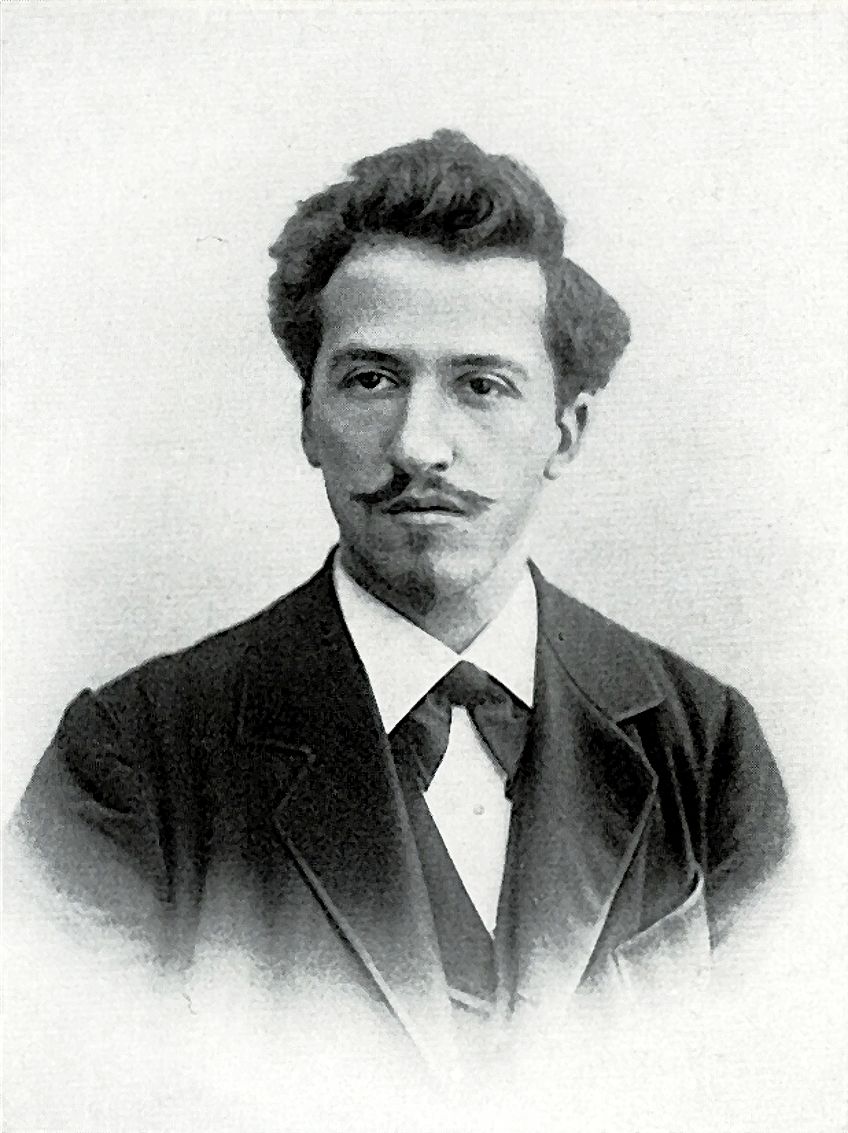 Photograph of Piet Mondrian; AnonymousUnknown author, Public domain, via Wikimedia Commons
Mondrian's artwork became known for the distinctive grid painting technique that he devised, while never representing any religious icons. Mondrian became the most significant creator of the De Stijl style due to his utilization of grids, planes, and vivid colors, as his paintings advocated the use of complete abstraction by minimizing fundamental characteristics pertaining to color and form.
As a result, the bulk of Mondrian's paintings is composed of highly structured and non-representational elements that have been accentuated in primary hues.
Mondrian's fondness for the basic hues of yellow, red, and blue, as well as the incorporation of blacks, grays, and white throughout his paintings, may be deduced from the titles given to his works. Mondrian invented the word "neoplasticism" to characterize his Abstract paintings, which only used straight lines, three main hues, and three neutral colors, by employing this technique of geometrical abstraction.
Broadway Boogie Woogie (1942 – 1943) by Piet Mondrian; Piet Mondrian, Public domain, via Wikimedia Commons
Mondrian became well-known as the De Stijl movement increased in popularity due to his emphasis on the simplicity of tone and form in his paintings.This resulted in Mondrian being a key pioneer in the evolution of Abstract Art since his signature style influenced the creation of the Minimalist and Bauhaus movements. Both of these movements were inspired by Mondrian's works, with Bauhaus employing simplistic colors and lines and Minimalism emphasizing geometric shapes and a restricted color scheme.
Mondrian's meticulous use of horizontal and vertical parts permitted his works to progress logically, with his Neoplasticism becoming a significant element in Abstract Art. It would end up taking Mondrian a few years of experimenting until he discovered his signature approach in the early part of the 1920s, which came to be recognized as a new technique of depicting the contemporary world.
Composition with Red, Yellow, and Blue (1937–1942), Broadway Boogie Woogie (1942–1943), and Composition II in Red, Blue, and Yellow (1930) are among his most noteworthy compositions.
Kazimir Malevich (1878 – 1935)
| | |
| --- | --- |
| Nationality | Russian |
| Date of Birth | 23 February 1878 |
| Date of Death | 15 May 1935 |
| Place of Birth | Kiev Governorate of Russian Empire |
Kazimir Malevich is a major addition to the list of Abstract artists to come from Russia who came to characterize the genre. Malevich is best recognized as the painter who pioneered Suprematism, which centered on simple geometric patterns like rectangles, squares, circles, and lines created in a restricted palette of colors.
Self-portrait (1910 – 1911) by Kazimir Malevich; Kazimir Malevich, Public domain, via Wikimedia Commons
Malevich continued to refine his use of extreme abstraction as he explored this trend, which resulted in his paintings becoming essential components within Abstract Art. After Kandinsky's success, Malevich continued in his tracks and repudiated realistic art as a whole in 1915.
As a result, Malevich developed a form known as Suprematism, which emphasized the value of pure sensation and the elimination of visual situations. The birth of this style was viewed as the new art form of realism, allowing Malevich to employ a reduced approach in his works.
Malevich, although working in a range of painting forms, spent the greater part of his career studying the avant-garde style of Suprematism. He incorporated his own knowledge and thoughts of the notion of painting into his works because he thought that genuine forms and color might reign "supreme" over the pictures and narrative being generated. Suprematist Composition (1916), Black Square (1915), and White on White (1918) are among Malevich's most significant works in the Suprematist style.
Suprematist Composition (1915) by Kazimir Malevich; Kazimir Malevich, Public domain, via Wikimedia Commons
A pioneer of geometric abstract art, Malevich explored mostly triangles, squares, and circles in his countless artworks. While he claimed that his works were just assemblages of flattened, abstracted portions of color, they were capable of providing intense and rich meanings and sentiments pertaining to spatial and temporal notions. Malevich's commitment to Suprematism was considered to be more extreme than that of Futurists and Cubists, as his works were exceedingly systematic and deliberate.
Malevich was believed to be a talented author as well as a painter. His studies on art philosophy covered a wide range of theoretical issues concerning Abstract Art as well as its power to lead our sentiments and spirituality inside the sorts of works made.
Notwithstanding his celebrity, Malevich was compelled to renounce Suprematism and revert to realistic painting when Joseph Stalin got into power in 1924. Since Abstract Art was characterized as a kind of depravity that should be suppressed, Malevich was forced to change his creative approach.
Georgia O'Keeffe (1887 – 1986)
| | |
| --- | --- |
| Nationality | American |
| Date of Birth | 15 November 1887 |
| Date of Death | 6 March 1986 |
| Place of Birth | Sun Prairie, Wisconsin |
Georgia O'Keeffe was a prominent female Abstract painter who served an important part in the formation of American modernism and its link to European avant-garde creative movements. Throughout her 70 year career, O'Keeffe created a significant quantity of art that aimed to express the emotion and strength of things via abstractions of the natural environment.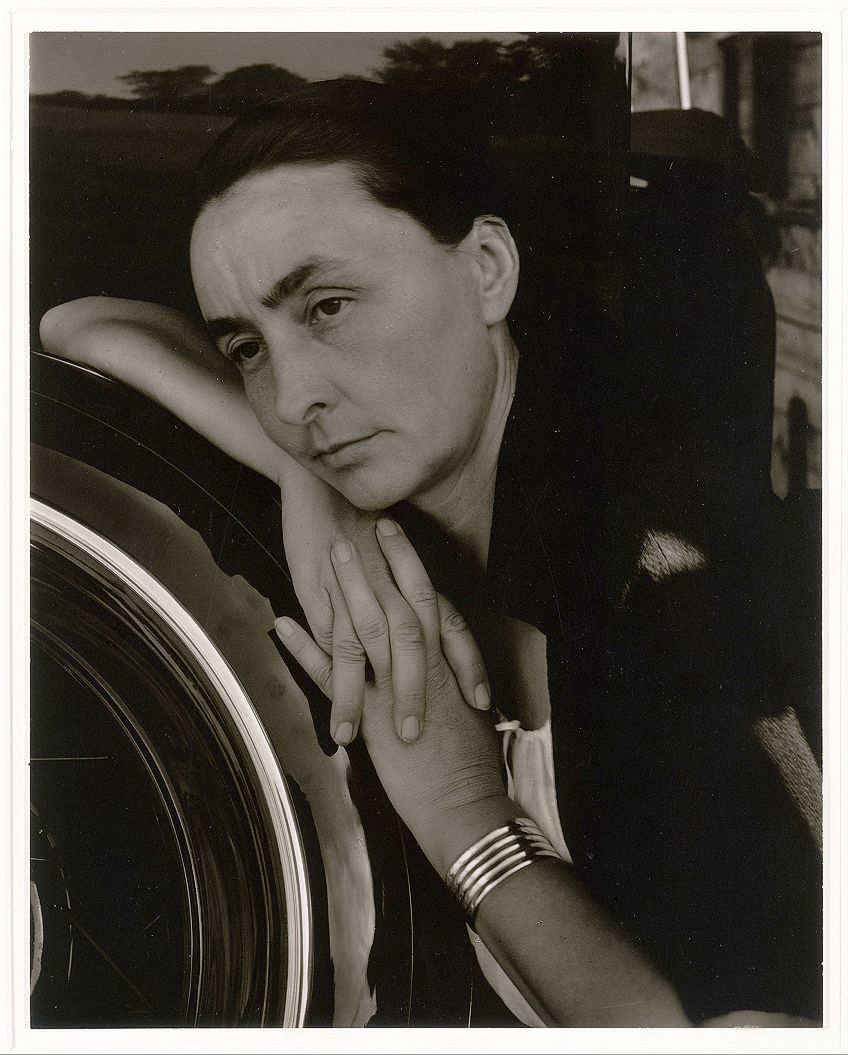 Photograph of Georgia O'Keeffe by Alfred Stieglitz (1933); Alfred Stieglitz, CC0, via Wikimedia Commons
Among the very first female American Contemporary painters, O'Keeffe's abstract works concentrated on presenting wildflowers, barren landscapes, and close-up still life, which later became staple imagery in most American artistic landscapes. These flower depictions, which may be seen in Red Canna (1924), Blue and Green Music (1921), and Black Iris III (1926), are therefore among O'Keeffe's most recognizable paintings.
O'Keeffe succeeded as a figurative and abstract painter, pushing the limits of creative expression in her works. In her paintings, she mixed elements of abstraction and realism, demonstrating her deliberate departure from established creative techniques in favor of more new ways of expression. While being among the most prominent Abstract artists of the genre, O'Keeffe is arguably best recognized for her sensual depictions of blossoms.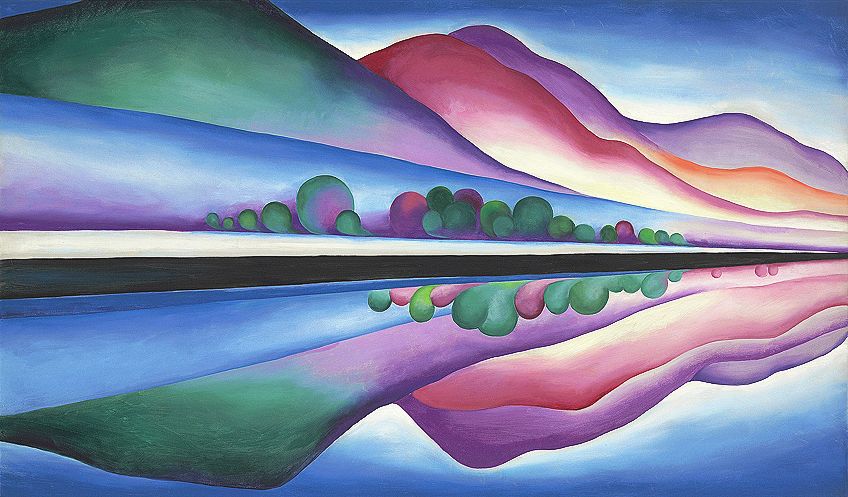 Lake George Reflection (1921 – 1922) by Georgia O'Keeffe; Georgia O'Keeffe, Public domain, via Wikimedia Commons
Her tremendously enormous close-ups of flowers gave her paintings a highly sensual atmosphere since they were considered to depict the female body. O'Keeffe, on the other hand, argued that the sensuous aspect of her paintings was what effectively transformed them into abstracted pieces, as her pictures had the power to resemble whatever spectators understood them to be.
While the famous abstract modern artist did not adhere to any certain aesthetic trends when making art, her most meaningful works were her experiments with abstracted elements within nature.
She experimented with making amazingly detailed paintings as well as works that took away any unnecessary elements in order to concentrate on color and shape. O'Keeffe's works remained anchored in representation throughout her multiple artistic excursions, which persisted as a constant feature in all of her works.
Mark Rothko (1903 – 1966)
| | |
| --- | --- |
| Nationality | American |
| Date of Birth | 25 September 1903 |
| Date of Death | 25 February 1970 |
| Place of Birth | Daugavpils, Russian Empire |
Mark Rothko, a Russian-American painter, is contending with fellow painters Willem de Kooning and Jackson Pollock for the position of the most recognized Abstract Expressionist of any and all time. Rothko was born in Latvia and immigrated to the U.S as a youngster. He attended Yale for a few years before leaving because he found the college to be both arrogant and racist. He began painting only after contacting a friend in New York, which led to his relocation to the city.
Rothko is regarded as a key component of the Color Field Painters school, and when making art, he labored over his whole canvas with paint rather than exposing specific parts to expressive strokes.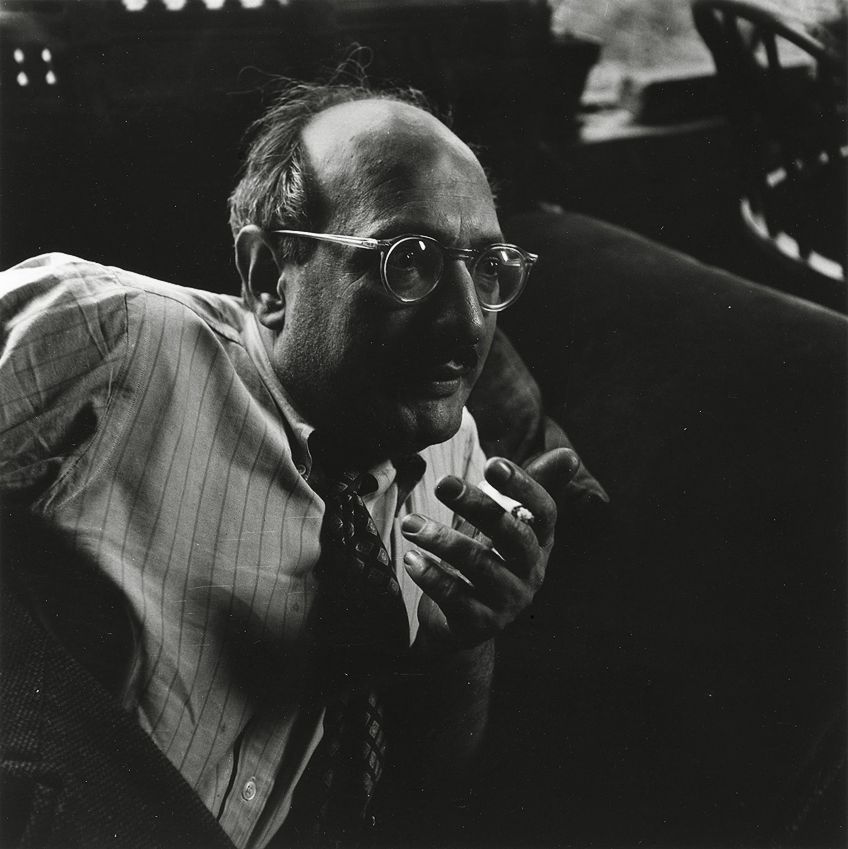 Photograph of Mark Rothko (c. 1949); Consuelo Kanaga, No restrictions, via Wikimedia Commons
During his creative career, Rothko experimented with a variety of genres, notably Surrealism, before developing his own unique aesthetic. This resulted in the birth of Color Field Painting, of which Rothko was a forerunner.
He concentrated on generating a stunning form of geometric abstraction in his works by contrasting bands of pure color adjacent to each other. In a traditional Rothko work, he would represent big splashes of pigment surrounding each other to generate a color contrast. This approach can be found in the bulk of his Abstract works from that time period, including  No. 21 (Red, Brown, Black, and Orange) (1951), No. 10 (1950),  and Untitled (Black on Gray) (1970).
By using this juxtaposition, Rothko was able to generate visual vibration via his color selection, giving the impression that his blocks were floating just above the surface when examining the painting. As a result, each piece elicited a powerful emotive response, as Rothko transferred different sorts of feelings into his works, eliciting diverse responses in different audiences.
Rothko had tremendous recognition as a painter, with his paintings being displayed at the Museum of Modern Art and being featured in Fortune magazine. This resulted in a lot of envy in his individual connections, making Rothko a solitary individual.
Despite his well-known global success, Rothko died by suicide in 1970. His paintings in the years preceding his demise served as a presage, as his color palette became darker and his emotions became more intense.
Clyfford Still (1904 – 1980)
| | |
| --- | --- |
| Nationality | American |
| Date of Birth | 30 November 1904 |
| Date of Death | 23 June 1980 |
| Place of Birth | Grandin, North Dakota |
Clyfford Still is yet another famous American painter on our list of Abstract artists that served to boost Abstract Expressionism into the popular art movement that it has become. Even though he was not as well-known as his New York School contemporaries, he was the first painter to break through to a contemporary and severely abstract approach in his paintings that were bereft of any and all evident subject material.
Still created representational paintings before dabbling with non-representation as well as pure abstraction in the mid-1940s, which influenced his peers in Abstract Expressionism to follow suit. Still used broad fields of vivid colors in his paintings to represent epic confrontations that he felt existed between nature and man. This technique is visible in his works, PH-971 (1957), PH-973 (1959), and PH-960 (1960).
The major topic of Still's paintings was the fundamental conflict of the human soul against uncontrolled elements of nature.
This theme was still communicated through the jagged and angular structures which seemed to aggressively face spectators in many of his large-scale works, as well as the remarkable color contrasts he produced. Despite the fact that the response to his paintings was centered on the outcomes of his color schemes, Stills stated that he never intended color to be regarded as just color inside his work.
This notion was also extended to the textures and forms of his canvases, as he desired for each component in his paintings to merge together and produce living energy that can be experienced when observing the paintings.
Despite his fame, Still was a notoriously difficult person to deal with, regularly rejecting the New York art community. He challenged the bulk of the criticism leveled at his works, leading him to go to considerable measures to oversee how his artworks were displayed, acquired, and even purchased.
Willem de Kooning (1904 – 1997)
| | |
| --- | --- |
| Nationality | Dutch-American |
| Date of Birth | 24 April 1904 |
| Date of Death | 19 March 1997 |
| Place of Birth | Rotterdam, Netherlands |
Willem de Kooning, the well-renowned Dutch-American artist, was among the most famous Abstract artists in the world, and his works established a uniquely American painting style. De Kooning first came to New York City when he was 22 years of age after journeying as a castaway on a ship. In 1934, he entered the Artists Union and started producing murals, but he was forced to abandon the project since he was not a legal citizen.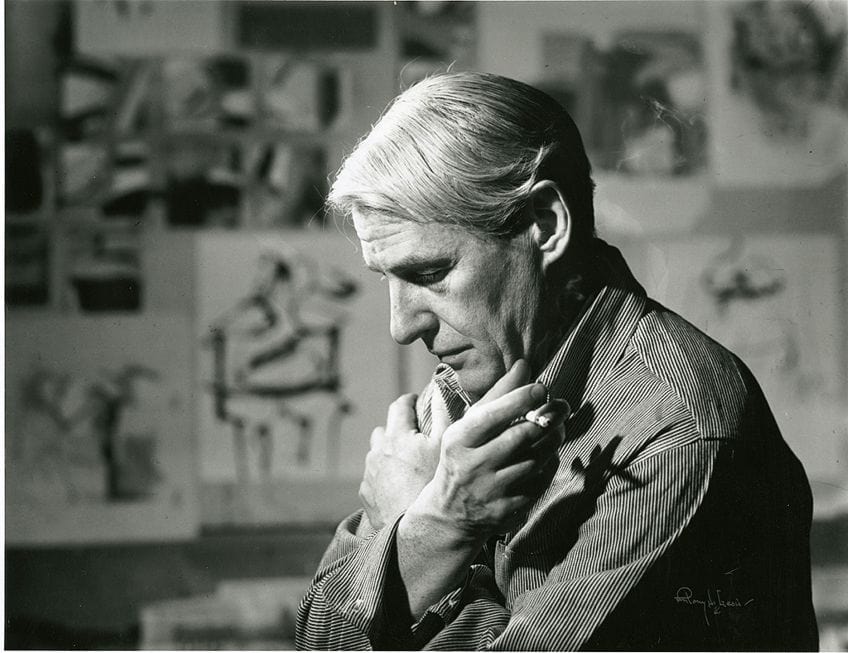 Photograph of Willem de Kooning in his studio (1961); Unknown authorUnknown author, Public domain, via Wikimedia Commons
De Kooning was only able to open his independent workshop after gaining citizenship, where he remained until his death. De Kooning dabbled with the abstract style by warping figure paintings to the point that the shapes seemed abstract.
Because of his obsession with this approach, he never totally abandoned depicting the human form in his Abstract paintings. This figure depiction may be found in several of his most important works, including Woman III (1953), Woman I (1952), and Interchange (1955).
His abstract works varied from those of most of his contemporaries in that he maintained the ability to evoke the human form via his abstractions. De Kooning preferred to show the female form, and these works highlight his distinct blend of gestural abstractions and imagery. De Kooning was also heavily influenced by Pablo Picasso's Cubist paintings, which inspired him to explore ambiguously mixing forms and background inside his own works, as well as dismembering, reconstructing, and twisting his forms in the procedure.
The majority of de Kooning's earliest paintings include feminine figures shown with geometrical and abstract motifs. Only later on in his career did he begin to use more abstracted motifs in his paintings. Despite his acceptance of the public image of the manly, inebriated artist, de Kooning treated painting with delicate and deliberate consideration and was regarded as one of the most brilliant painters involved with the New York School.
Because of de Kooning's celebrity, his works are routinely auctioned for historical sums. In 2006 Woman III (1953) fetched $137.5 million, while in 2015 Interchange (1955) fetched $300 million, the highest amount ever spent on a famous painting at that time.
Franz Kline (1910 – 1962)
| | |
| --- | --- |
| Nationality | American |
| Date of Birth | 23 May 1910 |
| Date of Death | 13 May 1962 |
| Place of Birth | Wilkes-Barre, Pennsylvania |
Franz Kline, the famous American artist, was most widely known for his personal involvement in the Abstract Expressionist movement and was universally regarded as one of the absolute finest Action Painters of his era. Despite the fact that he thoroughly explored similar topics in his paintings as other Abstract painters, Kline's work has remained immensely separate and distinct and well-respected since the 1950s.
Kline was most widely known for his big monochrome artworks, which boldly used abstract themes as well as flowing and heavy brushstrokes that frequently cross, overlap, and interact with each other. This technique may be observed in paintings such as Untitled (1957), Mahoning (1956), and Blueberry Eyes (1960).
Kline used his signature expressive brushstrokes in these individual pieces, which added a lot of emotion to his famous paintings.
Beginning his artistic career as a realist, Kline developed a fluid technique that he polished during his educational schooling and love of conventional art's Old Masters. Yet, after relocating to New York City and encountering Willem de Kooning, his work began to develop into the trademark abstract type of approach for which he is widely recognized.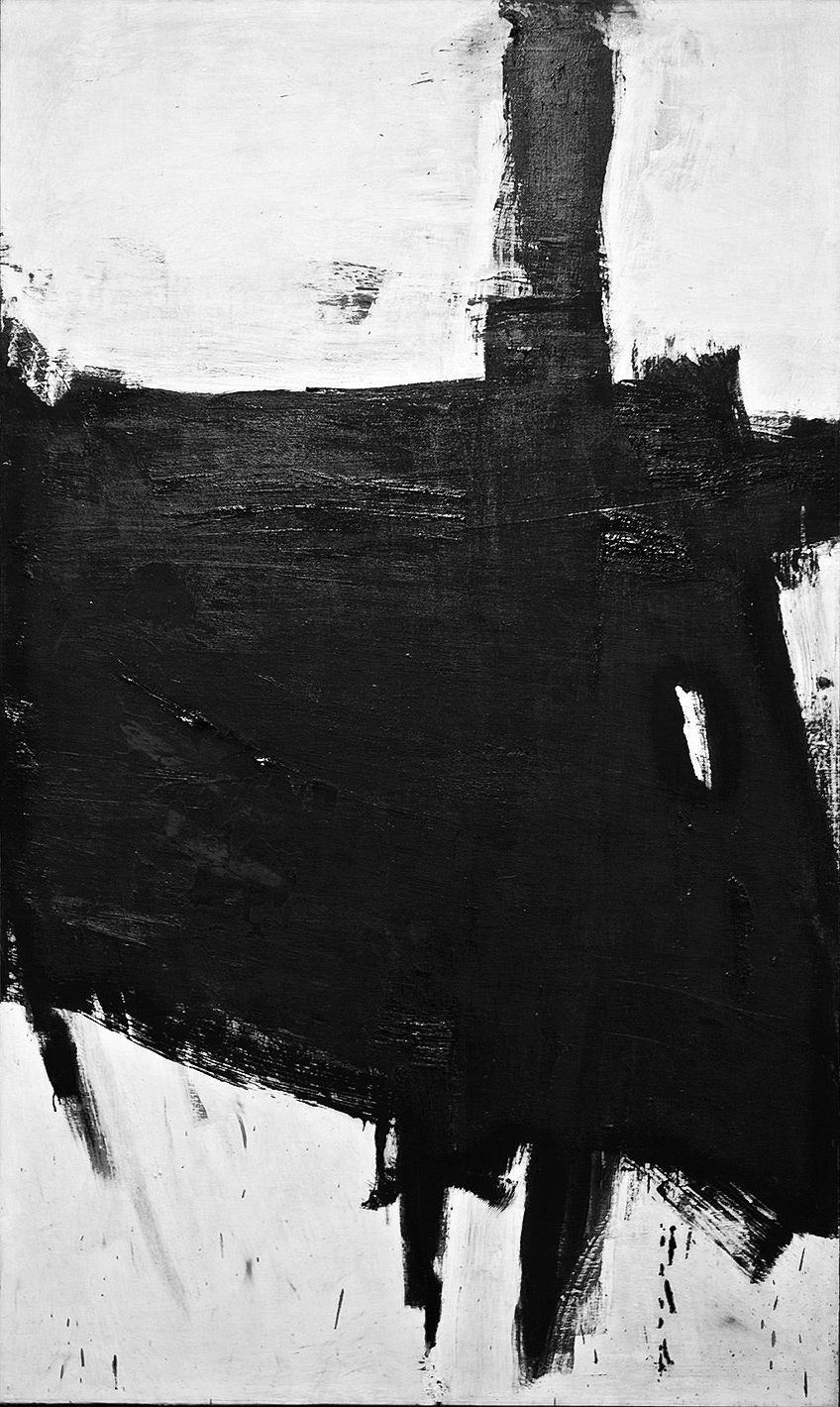 Sabra (1966) by Franz Kline; Pedro Ribeiro Simões from Lisboa, Portugal, CC BY 2.0, via Wikimedia Commons
His artworks demonstrated his developing aesthetic as his work progressed, spanning from black-and-white paintings that played with negative spaces to vibrant original compositions that were very dynamic and packed with vitality. His abstractions, particularly his neutral pieces, were compared to New York skylines, the environment around his boyhood home, and Asian calligraphy.
Kline's refusal to attach any concealed or subtle connotations to his works was an intriguing attitude to take since it meant that his works might be suggested to future groups of famous Abstract artists without predefined and perhaps outmoded interpretations.
By the time it came to the end of his life, Kline had received widespread international praise for his unconventional attitude to gestural abstractions, and his work had influenced the minds of other Minimalist painters.
Jackson Pollock (1912 – 1956)
| | |
| --- | --- |
| Nationality | American |
| Date of Birth | 28 January 1912 |
| Date of Death | 11 August 1956 |
| Place of Birth | Cody, Wyoming |
Famous American artist Jackson Pollock is widely regarded as one of the most famous Abstract Expressionist paintings of all time, with his name associated with the whole Abstract Expressionist style. Jackson Pollock went on to invent one of the most renowned art methods to emerge from the movement, drip painting, which was inspired by the concept of spontaneous production and dynamic compositions.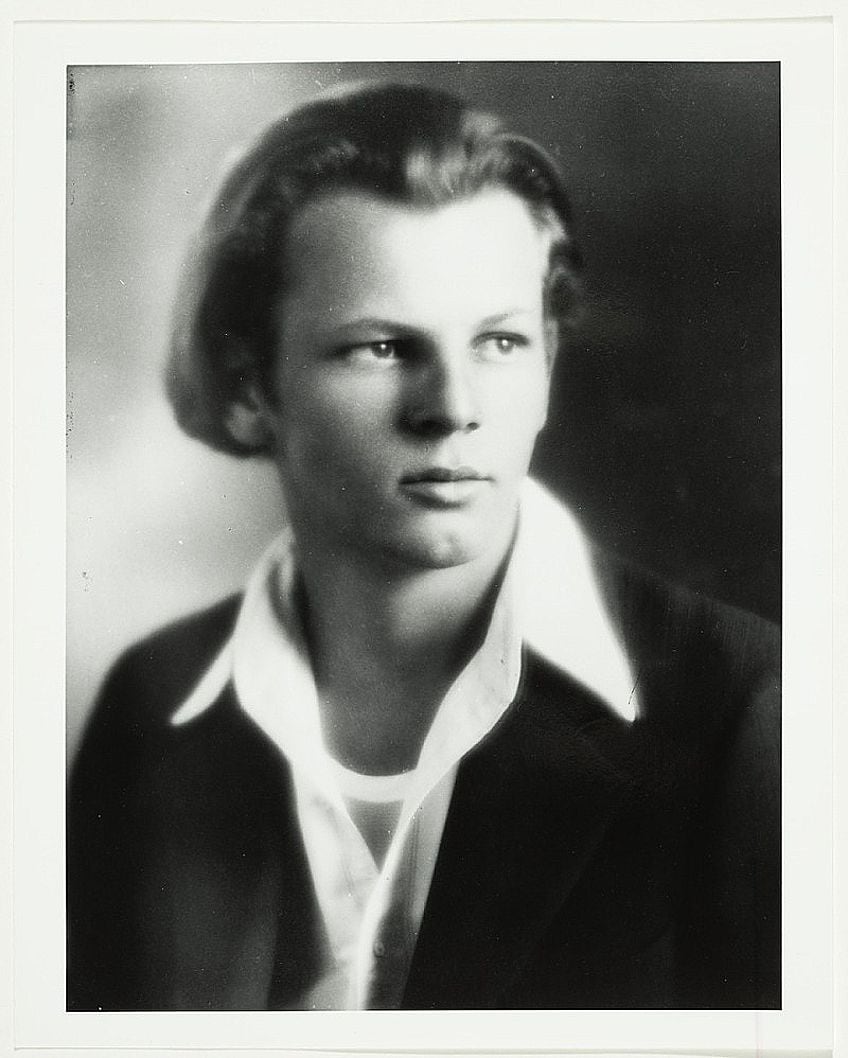 Portrait photograph of Jackson Pollock (1928);  Smithsonian American Art Museum, Public domain, via Wikimedia Commons
Pollock's famous drip paintings were created by dripping, pouring, and splashing paint onto gigantic canvases set up on the floor, enabling him full accessibility to the whole canvas. Jackson Pollock arrived in New York City at the age of 18 and was exposed to liquid paint methods, which he proceeded to play with. This eventually led to the development of his notorious "drip paint" method, in which he painted canvas lay flat on the floor using his entire body at varied angles.
During Abstract Expressionism, drip painting popularized the term "Action Painting," which related to the physical process of painting itself being considered as a significant component of the finished piece.
Jackson Pollock's drip painting was inspired by a number of cultural influences throughout his life. Immediately prior to his renowned works, Pollock was creating realism murals in the 1930s, which taught him the potential of large-scale paintings. Surrealism also fostered his research of the unconscious state, which can be seen in his later paintings, while Cubism influenced his idea of image space or how it ought to be employed.
Regarded as America's earliest prominent postwar painter and, later, its absolute greatest, Pollock used this expressive paint methodology in all of the key paintings he created. Every one of his pieces, notably Number 31 (1950), Number 5 (1948), and Number 11 (Blue Poles) (1952), have a distinct style.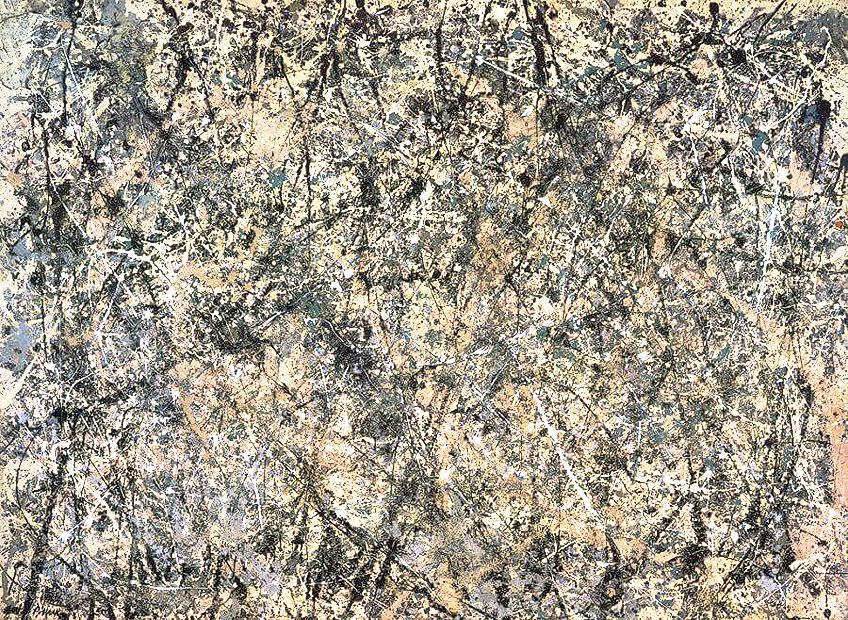 Lavender Mist (1950) by Jackson Pollock; Jackson Pollock, CC BY-SA 4.0, via Wikimedia Commons
Pollock rose to fame as a result of the paintings he made utilizing his drip painting method. At the height of his career, however, he discarded this approach in an effort to accomplish a fusion of abstractions and forms in a new series of works. In comparison to his drip works, these works were immensely disliked, since none of them were ever purchased.
Jackson Pollock went on to establish one of the most extreme abstract techniques ever seen in Modern Art history. His dissociation from line and color, as well as his redefining of the notions of painting and drawing, gave different significance and meaning to the imagery that has since been elaborated on.
Pollock's drip works from the late 1940s constitute one of the most inventive bodies of artwork of the whole era, with Pollock gaining a degree of popularity unrivaled until the arrival of fellow painter Andy Warhol in the 1960s. As a result, in addition to being regarded as the most famous Abstract Expressionist artist of all time, Pollock is also regarded as one of the major exponents of 20th-century art in general.
Helen Frankenthaler (1928 – 2011)
| | |
| --- | --- |
| Nationality | American |
| Date of Birth | 12 December 1928 |
| Date of Death | 27 December 2011 |
| Place of Birth | New York City |
Helen Frankenthaler, the famous American painter who came to celebrity status during the Abstract Expressionist era, is another important female on the list of Abstract artists. Frankenthaler, regarded as one of the most significant artists of the 20th century, devised a process known as the Soak Stain method, which solidified her place as an extraordinary artist. Frankenthaler used this method by pouring diluted paint straight over untreated canvases and allowing the paint to soak through to create brilliant floods of color.
Frankenthaler began her work at a young age and was exposed to significant painters like Jackson Pollock, Robert Motherwell, and Franz Kline, whose methods affected her vision of Abstract Expressionism. Observing renowned Abstract works inspired Frankenthaler to create her own unique methodology to the form, which resulted in the development of her Soak Stain process.
Her success in the art world paved the way for the creation of Color Field Paintings, of which she was a founding participant.
Her paintings were light and airy, depicting abstracted but delicate demonstrations of the pleasures associated with the use of pure color. Most of her signature pieces, including Canyon (1965), Mountains and Sea (1952), Savage Breeze (1974), and Madame Butterfly (2000), exhibit this approach. Frankenthaler moved on to other creative mediums after playing with phosphorescent and foggy compositions characterized by large regions of organic color.
She began experimenting with the adaptability of woodcuts, which she was then able to obtain painting-like features by reproducing the physical effects of her notorious Soak Stain process. Frankenthaler was regarded as a distinct Abstract contemporary artist owing to her emphasis on natural settings, which she frequently imitated in her works.
Instead of exploring spiritual conflict, Frankenthaler created peaceful and dreamy abstractions of the environment and the sublime. Frankenthaler's career spanned many generations of Abstract artists, and she went on to display her work for almost 60 years while continuing to create important and ever-changing paintings.
Numerous notable and famous Abstract artists first arose from this period of creation during the 20th century, which in turn resulted in the development of many classic artworks that are being discussed to this very day. If you enjoyed our list of Abstract painters, we invite you to look into more Abstract modern artists that may not be as well-known but are nevertheless noteworthy in their own way.
Frequently Asked Questions
What Is Abstract Art?
Abstract Art was a tremendously significant style because of its complete abstraction from reality. The visuals shown were entirely non-objective and non-figurative, with no genuine link to anything remotely factual or representational in the works created. Earlier art historical tendencies, such as Impressionism, Romanticism, and Expressionism, began to lean toward abstraction.
What Was Unique About the Abstract Art Period?
The works of this era placed a higher focus on visual emotion than object portrayal. Abstraction as a visual style aided in the implementation of the concept of "artwork for the sake of art," which maintained that artworks and sculptures should be free of any external meanings. As a result, Abstract artists created art with the belief that it should exist just to be appreciated for what it is. During this period, the emphasis was on the substance of art itself, with artworks stressing materials, textures, line, tonality, colors, and composition above accurate depictions.